1999 Nigl Riesling Senftenberg Piri, 12.5% alc.: "Upon opening very angular and sharp but after airing, beautiful floral, mineral, white fruit and citrus nose with a palate that was textural and concentrated while still holding its finesse; very long finish. A wine in need of time and time in the decanter but most impressive." – Jim
"Pale to medium straw; bright apple/pear bouquet follows through on the palate with added notes of mineral/detergent and good acidity. Lovely floral notes come out with air, as the detergent evaporates and the hard edges soften." – geo
"Hints of wildflower and fresh soap in the nose – which is meant to be a complimentary descriptor, indeed – smooth entry with lovely texture in the mouth - the floral notes follow on the palate – lovely hints of white stone fruits – and a long, long finish - immensely enjoyable." - Bree
"Has a citrus-y pucker factor." – Bob
At that point, we were called to the table for the first dinner course. We asked Diane if she'd care to expound on her creations, and she had this to say:
"I have become interested in pairing foods with wine, but we always discuss that together. In anticipation of your arrival, we had several conversations about what to serve. Jim wanted to share the Austrian wines with you all so we started there. We were also trying to anticipate what wines you and Bree might bring so that we could have a course that would go well with them. What we ended up agreeing upon was a first course of a salad of mixed baby greens with pears, toasted pecans, and a blue cheese dressing. As Jim was concerned about vinegar, the dressing was made with olive oil, plain yogurt, domestic dolcetta gorgonzola, and red verjus."
1999 Nigl Senftenberg Piri – Privat, 13% alc.: "Almost flabby at first taste but after opening in the air, full of both the flavors and textures that set this wine apart from its junior sibling above. Through the night, I returned to this wine often and it became even more impressive and textural. Really very special stuff." - Jim
"Pale to medium straw; stingy nose at first, but floral green apple begins to emerge with a little air. This is vinted dry, but is bit sweeter on the palate than the last wine, due to higher sugar must; lovely fruit, great acidity, hints of mineral and a long, long finish." - geo
"The equivalent of a Reserve bottling – the difference being about 5% sugar in must weight. Much more restrained in the nose with hints of Riesling spice and faint wisps of floral bouquet – less "steely" in the mouth – more of a "flinty" characteristic – this wine has a pleasant sweetness, but has not yet integrated, and requires more time in the bottle to show it's stuff. Paired beautifully with Diane's salad of bitter greens, ripe pear, toasted pecans and gorgonzola." – Bree
"The next course was small meat balls en brood; this is based on an Italian recipe but has been fiddled with by me since I don't eat meat. I use free-range antibiotic-free ground turkey, mixed with onions, garlic, grated carrots, chives, an egg, a small amount of catsup, herbes de provence, and, in this particular instance, a small amount of couscous and bread crumbs. The meat balls are browned in olive oil, the pan is then deglazed with a little of the organic chicken broth that will become the soup and then it's all put together to heat with a handful of chopped watercress. (Couzzi told me it tasted like something his grandmother would have made, though she would have used Italian parsley instead of watercress.) Salt to taste and add freshly ground pepper. This course was also served with one of those Austrian whites that Jim wanted to share with you." - Diane
1999 Hirtzberger Gruner Veltiner Rotes Tor: "Very young on the nose and palate but with an almost Alsatian Pinot Gris profile mixed in with the GruVe greens, minerals, pepper and musk; great length. Young but on its way to being a fine GV." – Jim
"Medium straw with a rich apple/pear bouquet that follows through on the palate, again with good acidity and a long finish; somewhat viscous and slightly oily in the mouth. A hint of spice adds charm and complexity; just lovely." - geo
"Scents of wildflowers, wet stones and minerals – lovely texture in the mouth, with restrained Riesling fruit and minerals that follow the aromatics. An absolutely delicious wine in the mouth, and matched perfectly with the light turkey-based soup with cress that Diane prepared for us." – Bree
"The main course was our guessing game. Jim thought that because of Bree's love of old zinfandels, we should lean in that direction for matching foods so we came up with the Gruyere Gratin with Thyme. This is a 'do ahead' sort of dish which can even be done the night before. It is basically an egg, bread, and cheese strata that when baked becomes this lovely puffy, almost soufflé-like, dish. This one was particularly decadent with the inclusion of heavy cream, but this was a special occasion! Because I think we all need more vegetables in our diet, Jim deferred to me and I made a vegetable side of caramelized onions, with lightly sautéed sticks of yellow and green zucchini with fresh basil." - Diane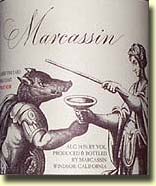 1996 Marcassin Sonoma Coast Pinot Noir, 14.1% alc.: "Can you say Chambertin? I knew that you could; (and this from a man who has little use for Cal. Pinot) stunning wine; as close to perfection as any young wine can show and a potential that is virtually unlimited.; to taste this wine in ten years is a pleasure that I wish each of you. Maybe the finest pinot based wine I have had but nowhere near ready." – Jim
"Dark garnet, with gorgeous smoky black cherry perfume that follows through on the palate, taking on a chocolate note with great power, yet great finesse. As youthful as it is, still one of the finest California Pinots I've ever tasted, and it will only get better and better." - geo
"I first tasted this wine shortly after it was released, and the wine was closed, yielding little in the way of aromatics and flavor, and only hinted at the power that lay sleeping in the bottle. Tonight the wine was decanted for two hours prior to pouring, and reveals seductive and lush aromas of dark black cherry fruit, as well as dark exotic spice, and is captivating and fascinating in the nose. In the mouth, there is an amazing combination of power and finesse, and it has an elegance that belies its concentration. This wine truly has it all – loads of upfront fruit, extraordinary aromatics, ample tannins to assure ageability, and flavors that go on and on and on. I, and indeed, several of the tasters at the table agreed that we had never tasted a California Pinot Noir of this magnitude. A truly extraordinary wine tasting experience. A splendid match with Diane's Gruyere Gratin and sautéed summer vegetables." - Bree
1990 Calera Harlan Mills Pinot Noir: "Eleven years old? Horse hockey; young on the nose and palate with big tannins and acids and well concentrated fruit; if the fruit lives as long as the structure, this will be one of the great pinots of our time." – Jim
"Slightly rusty ruby dark garnet, with sweet, smoky black cherry/cinnamon flavors and aromas that show hints of cedar; still has tannins to resolve, with good acidity. Deep, dark and delicious." – geo
"Rich dusty blackberry in the nose – amazingly fresh and youthful with good acid structure – concentrated Pinot fruit in the mouth – hard to believe that this wine is ten years old – there are still some tannins that suggest further aging is possible – it probably has a long future ahead of it – beautiful balance on the palate and bright acids - a big surprise and an absolutely delicious wine to drink right now." - Bree
"Easily one of the two best Pinots I've ever had." - Bob
1992 Ridge Lytton Estate Zinfandel ATP, 88% Zinfandel, 7% Petite Sirah, 5% Alicante Bouschet, 14.7% alc.: "The Rhone Port of Zins. (That's quite a mix!) Big alcohol carries big flavor and exotic overtones in a wine that is some dream of zinfandel incarnate. Nothing fresh and young and vibrant here; but so much character and power; amazing juice." – Jim
"Dark garnet, no rust yet; huge plum/blackberry/black raspberry/chocolate/Draper perfume, with a hint of the barnyard. Flavors echo, and the huge fruit still has good tannins and acidity. More perfume comes out with air." – geo
"Jim is not a big fan of this varietal, but this wine remains as one of the few Zinfandel based wines that has impressed him. It opens with dense, black plummy flavors across the palate with still significant, but relatively smooth tannins – the wine's structure is completely intact – and bodes well for additional aging of this already ten year old wine. As intense and interesting as you could want a Zinfandel based wine to be – this wine delivers a concentration and a complexity in the mouth that is quite unique. A great bottle of this fascinating juice." - Bree
"Very Rhone-ish; reminds me of the '89 Coudoulet de Beaucastel; has a liqueur kind-of-thing going on." - Bob
1989 Sean Thackrey Orion Napa Syrah (Rossi Vineyard), 13.4% alc.: "The only Orion I have ever had that was ready and it was not just ready, it was perfect. Big but not overdone, powerful but no lack of finesse, deep and pure but elegant; the paradox that is great wine finds a home here." – Jim
"Still dark garnet with little if any rust; nice deep blackberry/plum throws a natural perfume on the nose. Rich, deep earthy flavors echo loudly, and have the tannins, acidity and fruit to go awhile yet, and the finish lingers with a slight astringency. Excellent California Syrah." - geo
"Offers dense compote of black stone fruits, both freshly cut and gently warmed – rich, full and focused on the palate – with no evidence of age – a wine just entering it's window of prime drinkability, and I think in no imminent danger of headed anywhere quickly." – Bree
"And then there was dessert. Sautéed bananas in brown sugar and butter, with a dollop of yogurt cheese mixed with brown sugar and vanilla, topped with chopped, toasted macadamia nuts." - Diane
1972 Bodegas Toro Albala Don Pedro Ximenez Gran Reserva, 375 ML.,
17% alc: "Take one part motor oil and one part soy sauce and mix; add sugar to taste; good grief, this is wine!? Unbelievable density and power. Will last forever." – Jim
"Add some raisin/black cherry syrup to Jim's and my previous note. Kim really likes this, and it worked perfectly with the desert." - geo
1992 Amity Oregon Riesling Late Harvest – Select Cluster Juliard Vineyard, 7% alc.: Nose of plastic but the palate is extraordinary with caramel, apricot, peach, cinnamon, apple and white fruit; very harmonious with a soft but vibrant palate that echoes the nose; long finish. Something special. – Jim
Bronze color; hint of leather over soft apricot with a slight hint of petrol on the nose. Flavors expand considerably, with lots more apricot, a soft mouthfeel and a long finish. – geo
At that point, everyone except Jim was ready to turn in. He stayed up long enough to post his impressions of the wines on the Internet! But then, it had been a very special evening; the wines were fabulous, and Diane's menu more than proved that cuisine doesn't have to be meat laden to be delicious and wine friendly. And, best of all, there was the friendship and camaraderie among us all. Perhaps the best way to sum it all up would be to borrow a simple phrase that both Florida Jim and Dick Enberg favor.
Oh, my!