Tasting Lenko's low yield, deftly crafted French Oaked Chardonnay, one can see his wines are pretty serious stuff.

DANIEL LENKO ESTATE WINERY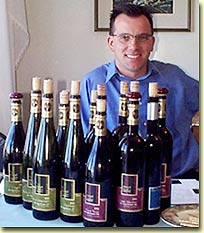 Lenko Estates wines recently appeared on the market and instantaneously received glowing reviews and accolades from local critics. The tasting room, which doubles as the family kitchen, was full of warm comforting spicy aromas of freshly baked apple pie, out of the oven moments before we arrived.
Dressed in fatigues, Daniel Lenko greeted us with a firm handshake and a warm smile.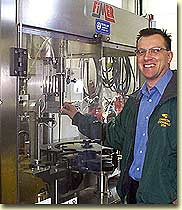 Daniel with his new bottler

He had taken time out from his busy schedule to meet with us. His father planted what may have been the first Vitis Vinifera on Ontario. These Chardonnay vines started their quest for deep rooting in the rich limestone layer beneath a cover of clay, more than forty years ago. Previously these vines have supplied quality grapes to several Niagara wineries until Lenko decided to get in to the winemaking business himself. Jim Warren, former winemaker of Stoney Ridge Cellars, now consults for Lenko.
Tasting Lenko's low yield, deftly crafted French Oaked Chardonnay, one can see his wines are pretty serious stuff. 1998 was a stellar growing season, especially for red grapes in Niagara. The fruit driven Old Vine Merlot and Cabernet Franc, picked up gold and silver medals at the All Canadian wine championships last year. After tasting Lenko's entire inventory, including the aforementioned apple pie with the sublime Vidal ice wine, we took a tour of the estate vineyards.
In Europe, it is unheard of to plant rows of Gewurztraminer next to rows of Merlot that reside alongside rows of Chardonnay, but in Niagara it works. The view of Toronto directly across Lake Ontario was crystal clear, but the icy wind that blew off the water made me wish I had my coat. I was surprised to learn that the grapes at Lenko, with the exception of late harvest and Ice wine, are mechanically harvested. Nonetheless, every other precaution is taken to ensure the wines are fashioned as naturally as they can be.
Our next stop down highway 81 was at another recently opened winery called Malivoire.
© Alan Kerr, May 2001


Index
Daniel Lenko
Estate Winery
Tasting Notes
Malivoire Wine Co.
Tasting Notes
Cave Spring Cellars
Tasting Notes
Burgundy Side Trip
Rochester N.Y.