There are several wineries in the Niagara region that have gone the extra mile and opened up onsite restaurants to feed the weary traveler.
The kitchen team at Cave Spring's Inn On the Twenty is conducted by Chef Roberto Fracchion who, despite the large number of diners served daily, tirelessly produces meticulously composed meals that taste as good as they look. I have had a number of fabulous meals at this restaurant.
CAVE SPRING CELLARS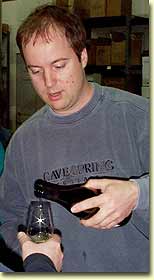 Cave Spring Cellars, our last destination, is located in the former premises of the now defunct Jordan Winery. The building housing the winery is an historic one that dates back to 1871, and boasts the oldest working wine cellars in all of Ontario. Angelo Pavin has been making wine at Cave Spring since he opened for business in 1986, in conjunction with his partner Leonard Pennachetti. Pavin and Pennachetti were out of town on the day we toured, but my good buddy Charles Baker (pictured) offered to take us through the winery and give us a tasting. Charles works in the sales division. His sound knowledge of viticulture and winemaking made for an interesting afternoon.
Unlike many area wineries, Cave Spring only grows and ferments Vitis Vinifera. I am not a big lover of Riesling but the CSV bottling did impress me. I have for a long time been a fan of Bench Chardonnay and the 98 Reserve is one reason why. The vines are approaching their twentieth birthday and consequently the wine has great flavour and intensity. Even better is the 98 CSV Chardonnay. This consignment of fruit is from twenty-five year vines, cropped at fewer than three tons per acre and fermented in 100% new French oak.
The 98 vintage made me appreciate how great the red wines of Niagara can be. The nice sweet fleshy cherry aromas and pepper found in Cave Spring Gamay is really appealing. However the red that blew me away was the 1998 Merlot. Beneath the cloak of rich silky tannin is a dense layer of ripe blackberry fruit and chocolate. Given some time, I think this will be a magnificent bottle of wine. Both the Merlot and CSV Chardonnay are $35.00 but for this type of quality, they are worth every penny.
I think the wine that impressed us all was the 1999 Indian Summer Riesling. Personally I prefer these late harvest style wines to Ice Wine. Sadly too many people have jumped on the Ice Wine wagon and subsequently, quality can vary. The Cave Spring version has always been my favourite late harvest wine made here. When I first started tasting with the Gang a few years ago, I had bought a bottle of the '95 with me to Detroit. It impressed Kim and Geo then, but the 99 is better, full of pear and apple flavours, with perfect sweetness and a refreshing streak of acidity.
Cave Spring is a great destination for folks touring the wine country. It is set in the heart of Jordan Village, a small rural hamlet located on the bank of Twenty Mile. Driving distance to all the wineries in the Niagara Peninsula from Jordan Village is twenty minutes at the most. Cave Spring offers upscale accommodation across the street at Inn on the Twenty. Guests come back across the street for breakfast at On the Twenty, the winery's stellar restaurant. There are also antique stores and curiosity shops to appease any none wine shoppers in the group.
Onward to a side trip to Rochester, N.Y. for burgers and Burgundy.
© Alan Kerr, May 2001


Index
Daniel Lenko
Estate Winery
Tasting Notes
Malivoire Wine Co.
Tasting Notes
Cave Spring Cellars
Tasting Notes
Burgundy Side Trip
Rochester N.Y.