Sadly many people still think Canadian wines suck, thanks to some wine critics who have had little, if any, exposure to them.
A TOUR OF THE BEAMSVILLE BENCH
It was not that long ago when the very thought of transporting Kim and Geo away from Gang Central to subject them to a weekend of tasting Canadian wine was a far distant one. The Detroit duo has tried, on many occasions, several bottles of what I consider to be some of Ontario's finest wines.
Whenever I travel south to the Motor City, or Day-twah, as Geo fondly labels it, I do try to bring at least one bottle of Canadian juice along with me. Gang Central has a reputation for only releasing the imprisoned corks from truly stunning wines and frankly sometimes my humble offerings can be lost amongst the magnificent array. Consequently, I would hear the dutiful commentary of "It's ok, it's not bad and it's quite nice," all of which really translate to mean "He just drove two hours, much of that in Detroit traffic, to get here so lets be nice to him."
Well, I figured it was about time they cross the border to explore a parcel of Ontario's own "wine country."
Sadly many people still think Canadian wines suck, thanks to some wine critics who have had little, if any, exposure to them. It is true that good wines produced in Canada a decade ago were a rarity indeed. My primary encounter with an Ontario wine left me one painful head, a vile taste in my mouth and cold sweats. I also spent a considerable amount of time scrubbing several layers of Vitis Labrusca's penetrating pigmentation from my teeth and tongue. It was a sobering experience. Those wines of yesteryear were best laid down and forgotten. Currently in Canada the only uses for Labrusca is Port, Sherry, jams and jellies.
Since the appointment of the VQA (Vintners Quality Alliance), wine making across our home and native land has improved by leaps and bounds. The VQA was the vision of several Ontario wine makers who were totally frustrated with the reputation bestowed on Canadian wines. It was founded back in 1988 in Ontario. Subsequently in 1990 it also became a part of life for the wineries of British Columbia and Nova Scotia. The desire of so many Canadian grape chefs to craft optimum wine has escalated Canadian wines dramatically and now they can take their rightful place among the best.
The Niagara Peninsula, one of Ontario's three viticultural growing areas, is divided into two districts, Niagara on the Lake and the Niagara Escarpment. The Escarpment, varying in height from 30 to 50 meters, acts as a buffer for the on-shore winds from Lake Ontario. The resulting convection effect ensures a continuous airflow, minimizing the risk of frost damage to tender vine shoots in the spring. The prime area on the escarpment is a narrow strip of land, three to six kilometers from Lake Ontario, known as the Beamsville Bench. The escarpment prevents frost damage during the winter and in the spring it traps warm air given off of the lake. The hillside exposure provides natural drainage, forcing vine roots to search deep in to the mineral rich clay/loams oils for moisture.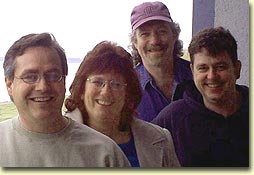 Stacy, Ruth, Geo and Alan
Ruth and Stacy, our Albertan associates had planned an excursion to Ontario and wanted to check out Niagara. Bonus… perfect timing. I really wish Ruth and Stacey were not so far away. It was great to see them again. Maybe I will have to check out Alberta's privatized wine industry and compare it to Ontario's monopoly! And as always a pleasure to entertain my American buds especially on Canadian soil.
We began our tour with the wines of the newest star on the Bench – Lenko Estates
© Alan Kerr, May, 2001


Index
Daniel Lenko
Estate Winery
Tasting Notes
Malivoire Wine Co.
Tasting Notes
Cave Spring Cellars
Tasting Notes
Burgundy Side Trip
Rochester N.Y.
The VQA, unlike its European counterparts, is a self-imposed industry-regulated system of controlling quality. Some of the meticulous controls they adhere to would make many a French winemaker's baguette go limp.
Regrettably, there are few British Columbian (BC) wines and even less Nova Scotian wines (as far as I know) on the shelves of any of Ontario's six hundred plus government controlled liquor stores. Periodically, some BC wines are released into the Vintages system but the better ones are scooped up very quickly.