"Cote-Rotie Condrieu Masterclass"
Saturday, June 17, 2000 at 10:15 a.m.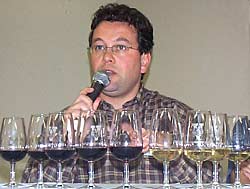 The winemaker panelists were Yves Cuilleron, Pierre Gaillard, Yves Gangloff, and François Villard, importer, Patrick Will, for Guigal, and Michel Chapoutier (right). The Condrieu wines are on steep granite soils on the right bank of the Rhone River, and are made from 100% Viognier. The Cote-Rotie wines are also on steep granite terraces of the right bank of the Rhone River. Cote-Rotie wines are made from a minimum of 80% Syrah, with 10-20% Viognier permissible. Cote-Rotie is the northern-most Syrah appellation in the Rhone Valley. According to Michel Chapoutier, the Hermitage wines are distinguished by their ripe fruit and inky tones, where the Cote-Rotie wines are distinguished by the spicy, black olive, and/or rosemary tones.
The panelists discussed the blending of Viognier with the Syrah in Cote-Rotie. Blending the Viognier into the wine yields softer tannins and a more expressive wine, but it also reduces the weight of the wine. In better vintages, the wines can support a higher percentage of Viognier, whereas in lesser vintages, the Viognier leads to color dilution. The yields for Viognier are less than for Syrah. The panelists commented that over time, with better viticulture and more mature Syrah, there will be less need for Viognier in the blend.
1. 1998 Villard Condrieu Poncins. Each of the Condrieus was different in style, and I found the Villard Condrieu to be the most distinctive. According to Villard, this wine really needs 2-3 years of aging before it is close to maturity. Very expressive nose of pear/apricots, smoke, and minerals. Same elements in the taste, with relatively high acidity in the fruit/acid balance, a heavier mouthfeel, and a relatively long finish. My favorite of the four Condrieus; a Bruce L. 91+.
2. 1998 Guigal Condrieu. Unlike La Dorianne, which is made from Guigal's estate grapes, this wine is produced from mostly purchased grapes. I believe the comment was made that Guigal purchases a substantial portion of the appellation's grapes for this blend. This is a fairly forward, soft wine, full of ripe pear/peach tones throughout. A fruit-driven wine that lacked the complexity and vibrant acidity of the others; a Bruce L. 87 - 8.
3. 1998 Cuilleron Condrieu Les Chaillets. This wine is made from vines that are 30-60 years old. Almost over-the-top, an extremely ripe nose, nearly syrupy peach, with a touch of rhubarb. In the taste, noticeably higher relative acidity than the Guigal, with a finish that was more suggestive of apricots. A Bruce L. 90+.
4. 1999 Gaillard Condrieu. The distinction of this wine was the extremely floral, expressive nature of the Viognier--lots of ripe, floral peach throughout, and fairly elegant in style. Perhaps the best wine by itself, whereas I see the Villard as being best with food; a Bruce L. 91.
5. 1997 Villard St. Joseph. The St. Joseph appellation has sandy soils (as opposed to clay soils), and is warmer than Cote-Rotie. This wine is 100% Syrah. Nose of earthy blackberry with some slight game. More of the same in the taste, with a slightly tart midpalate, and a medium length finish. Good but somewhat rustic; a Bruce L. 88.
6. 1996 Guigal Cote-Rotie Chateau d'Ampuis. The bottle served at the seminar was a bit strange. The nose was a bit pruny, with an overwhelming rhubarb character, along with blackberry and herbs. A tiny bit spritzy in the mouth, with a long, herbal/rhubarb finish. The rhubarb domination was not to my taste; a Bruce L. 88? Later at the grand tasting, I tried this wine from a different bottle. The rhubarb qualities were still present, but much diminished and much better integrated. Still not entirely my preferred CR style.
7. 1998 Cuilleron Cote-Rotie Bassenon. I found this sample to be overwhelmingly corked. A very mute nose that was mostly musty and dusty. In the taste, there was extremely little midpalate fruit, and the finish was exceedingly tart. Judgement reserved.
8. 1997 Gangloff Cote-Rotie Vieilles Vignes. Made from 40 year-old vines. My clear favorite of the CR's. Very aromatic nose of huge roasted coffee, blackberry, earth, and slight herbs. The taste added very dark plums (almost pruny), with lots of roast and earth tones. A fairly rich, ripe, and long finish. Although approaching overripe, it was still nicely balanced; a Bruce L. 91 - 2+.
9. 1998 Gaillard Cote-Rotie Rose Pourpre. Made from 100% Syrah. A very floral and elegant wine. Nose of purer ripe blackberry, with a touch of game. In the taste, violet and lavendar notes emerge. Slightly less complex than the Gangloff, and slightly lighter mouthfeel, but still excellent; a Bruce L. 90+
.