"Grenache: Down Under & Up & Over" Friday, June 16, 2000
at 10 a.m.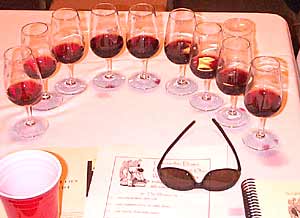 The purpose of this seminar was to compare and contrast what is being done with Grenache-based wines from Australia and the Rhone Valley. Each of the producers (Louis Barruol, Château de Saint Cosme; Pascal Roux Château du Trignon and Domaine de Sénéchaux; Bill Hardy, Hardy's; Charlie Melton, Charles Melton and Chester Osborn d'Arenberg), discussed their individual wineries and wines, with relatively little discussion of topics among the panel as a whole. There was general agreement among the panel, however, that using all new oak would typically swamp the character of the Grenache fruit.
1. 1999 Jacob's Creek Grenache/Shiraz. Interesting nose of plums, rhubarb, and strawberry. In the taste, there was plenty of ripe fruit on the entry, but quite tart in the midpalate, followed by drying tannins. A bit awkward; a Bruce L. 85 - 6.
2. 1999 St. Hallett Gamekeeper's Reserve Barossa. The nose was a bit muted compared to the others, but a very interesting clovy plumminess. A very good fruit/acid balance in the taste, with a much softer finish; a Bruce L. 88+. One of panelists said that he thought this wine included Tauriga as well as Shiraz.
3. 1998 Charles Melton Grenache Barossa. Very aromatic nose of herbs, OAK, raspberry, and vanilla. In the taste, the OAK/vanilla tones dominated, with a little raspberry and rhubarb, followed by a tart finish. Overly oaky for me; a Bruce L. 85 - .
4. 1998 d'Arenberg The Custodian McClaren Vale. The first pour of this wine was quite corked--there was a musty, chemical aroma, and the midpalate fruit was almost gone. Towards the end of the seminar, there was a quick repour, and it was a completely different wine--minty, syrupy raspberry, and somewhat viscous.
5. 1998 Hardy's Grenache Tintara McLaren Vale. In this wine, the nose was more interesting than the taste. Aromas of herbs, spice, raspberry, and noticeable alcohol. Nice fruit on the entry, but a bit tart and alcoholic in the midpalate, followed by a rather oaky finish. A Bruce L. 85.
6. 1997 Ch. de St. Cosme Gigondas Classique. The 1997 vintage was said to be unusual, with a higher percentage of Syrah used than usual. It's mostly Grenache, with some Syrah and Cinsault. A very aromatic, complex nose -- lavendar, violets, pepper, game, and raspberry/blackberry. More of the same in the taste, with excellent ripe fruit levels. Although a bit rustic for some people, this was my clear favorite in this lineup; a Bruce L. 91+.
7. 1998 Ch. de St. Cosme Gigondas Classique. Although from a "better" vintage, the 1998, this wine lacked the complexity of the 1997. It's possible that it's just a bit shut down. Relatively mute nose, with dark plums. More dark plums in the taste, without much complexity, followed by substantial tannins. A Bruce L. 86 - 7.
8. 1999 Ch. du Trignon Gigondas. Medium aromatic nose of ripe raspberry, alcohol, and cloves. Nice ripe raspberry fruit in the taste, but rather one-dimensional; a Bruce L. 87.
9. 1999 Dom. des Senechaux Chateauneuf-du-Pape Rouge. A slightly muted nose of alcohol, spice, cherry, and raspberry. More complexity of flavors than the 99 Trignon, with a relatively smooth finish. Lacks the extra depth that would take it to the next level; a Bruce L. 87+.
On to "Gigondas Masterclass with Louis Barruol (St. Cosme) and Pascal Roux (Trignon)"