ver the past few years, Pritchard Hill, on the eastern side of the Napa Valley has been attracting a lot of interest, due to an influx of high rent vineyards and wineries, including the likes of Colgin, David Arthur and Bryant Family. But the Chappellet Winery has been making wines from their mountain vineyards there since the late '60s, producing not only high quality Bordeaux varietals and Chardonnay, but also a very fine Chenin Blanc, not exactly one of the "glamour" varietals on the Left Coast.
Lake St. Clair and Detroit's Belle Isle as seen from the 72nd floor of the Renaissance Center in downtown Detroit - a beautiful backdrop for a fine lineup of Chappellet wines

This is truly a family - run operation; Donn and Molly Chappellet, along with sons Jon - Mark and Cyril, have maintained their winery on top of Pritchard Hill for well over 30 years. In fact, Donn was the first Napa Valley vintner to establish a winery above the valley floor. The site presents many of the advantages that you'd expect from an elevation of 1,800 feet, being located above the fogline, which allows for an extra two hours a day of sunlight, and cooler, moderating temperatures at night, resulting in more concentrated fruit than that grown down in the valley. Over the years, the vineyards have been replanted to mostly the Bordeaux varietals, but a 7-acre parcel has been dedicated to Chenin Blanc, representing a tangible commitment to this delicious, but underappreciated varietal. Phillip Corallo - Titus has been making the wines for the last decade, and, output is up to 25,000 cases a year, with 180 acres in production. The Chappellet philosophy is that the quality of the fruit is as important as having a great winemaker, and therefore the focus is on winemaking and vineyard management working hand - in - hand.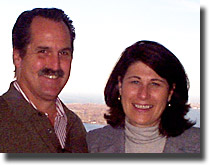 A few weeks ago, Cyril and his wife Blakesley (right) came to town on a promotional visit, as well as to attend the Detroit Wine Auction. A luncheon featuring their wines was held at the Coach Insignia, on the 72nd floor of the Renaissance Center in downtown Detroit, providing not only gastronomy worthy of the fine wines being presented, but also a breathtaking panoramic view of the Detroit River, Lake St. Clair and broad swaths of southeastern Michigan and southern Ontario. As is so often the case, the event started off with some whites.


Foie Gras Tourchon with Three Onion Jam
Caramelized Onion & Double Smoked Bacon Gruyere Tarts
Petite Tomato Tarte Tatin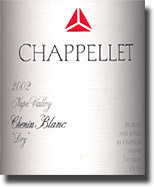 2002 Chappellet Napa Dry Chenin Blanc, $13.99, 13.5% alc.: There's not much Chenin Blanc left in Napa these days, which makes this all the more special; the fruit for this medium straw is sourced from estate - grown fruit supplemented with grapes from an eight - acre vineyard in St. Helena. 25% of the wine sees one and two - year - old French oak, while the remainder is fermented in stainless steel. Featuring a fragrant, slightly floral bouquet of apple, white peach and a hint of banana that follows through on the palate with a silky texture, good acidity and a lingering finish, this serves perfectly as an aperitif, matching well with the delicious hors d' oeuvres. Cyril says that the Fog City Diner has paired this wine for years with their crab cakes, and it would also serve well with moderately spicy Asian cuisine. Chappellet first made their Dry Chenin Blanc back in 1968, and it continues to perform very well, being one of those "deserving of greater recognition" kind of wines.



Navarin of Poached Maine Lobster
Root Vegetables & Vanilla Broth


2002 Chappellet Napa Chardonnay, $22, 14.5% alc.: It's too warm to grow Chardonnay on Pritchard Hill, according to Cyril, so Chappellet sources the fruit for this medium straw from vineyards overlooking San Pablo Bay, 70% from Truchard and 30% from Bay View. It features toasty oak over pretty Chardonnay - apple and pear characteristics, accented with hints of pineapple, honey, créme Brule and a little mineral on the finish. While it does show its oak (new and one - year - old French, medium toast), adding some subtle spice notes to the package, and it underwent 100% malolactic fermentation, it's not at all a fat, flabby Napa Chardonnay; it has good acidity and works very well with the lobster.



Crispy Duck Confit
Baby Spinach, Fingerling Potatoes, Green Lentils & Porcini Vinaigrette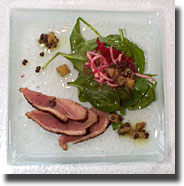 2002 Chappellet Napa Merlot, 89% Merlot, 9% Cabernet Franc, 2% Cabernet Sauvignon, $30, 14.5% alc.: Made entirely from estate fruit, this dark garnet colored Merlot looks viscous to the eye, leaving long, lazy legs down the inside of the glass; it spends 18 months in a combination of French and American oak, 40% of which is new. It gives up rich, creamy flavors and lovely aromatics of toasty oak over red currant, raspberry, black cherry and even some red plum, with moderate tannins, a nice viscosity and a good long finish. Simply luscious Merlot.



Pan Roasted "Double" Colorado Lamb Chop
Goat Cheese Gratin, Baked Cabbage Purse & Red Wine Lamb Jus


2001 Chappellet Napa Cabernet Franc "Pritchard Hill Estate Vineyard", 75% Cabernet Franc, 13% Merlot, 10% Cabernet Sauvignon, 2% Petite Verdot, $60, 14.5% alc.: Another dark garnet in color, this shows toasty oak that's a little less accentuated than the Merlot, with flavors and aromas of black currant, black cherry and a little blueberry on a moderately tannic, medium - full to full bodied frame, and a hint of maple syrup emerges on the nose with air. Rich and luscious, with a nice long finish, this is very nice now, but even better to cellar for a few years. The wine spent 18 months in 60% new French oak.

2001 Chappellet Napa Cabernet Sauvignon "Signature", 79 % Cabernet Sauvignon, 13% Merlot, 4% Cabernet Franc, 4% Petite Verdot, $36.99, 14.5% alc.: Like the Merlot, this dark garnet colored blend looks extracted, and the big bouquet shows what is obviously the "house style," exuding toasty oak over red and black currants, black cherry, black raspberry and hints of chocolate and coffee. These impressions follow through in the big flavors, with velvety tannins, but without excessive weight. Not quite as opulent as the following selection, but it does feature an opulent style and presence all the same, and look at the difference in price.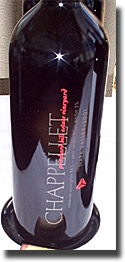 2001 Chappellet Napa Cabernet Sauvignon "Pritchard Hill Estate Vineyard", 86 % Cabernet Sauvignon, 9% Petite Verdot, 5% Merlot, $99.99, 14.5% alc.: Here's the "big dog," the one that Chappellet tried for years to make before it finally came together in 1997. This deep dark garnet saw two years in 100% new French oak, and like the other reds, its density is visually evident. The toasty oak overtones are somewhat more subtle than in the previous two selections, with an added nuance reminiscent of an aquarium over black currant, cassis and blackberry, making for a lovely perfume, and the flavors mirror those characteristics, picking up an added note of leather and some subtle earthiness. Velvety and opulent, this is a beautiful, ravishing Napa Cabernet, great for drinking now, even better three to five years down the pike.



Lemon Polenta Cake
Apricot Mascarpone Ice Cream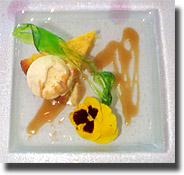 1999 Chappellet Napa Late Harvest Chenin Blanc "Moelleux," 375 ml., $60: Cyril and Blakesley gifted this amber-gold late harvest Chenin Blanc to Coach Insignia Wine Manager/Sommelier Rick Rubel, who in turn presented each of the attendees with a pour to accompany the delicious desert dreamscape finale. The wine is only produced in exceptional vintages, and indeed, there hasn't been another made since. It's all about extracted sweet apricot, with smoky overtones and plenty of acidity in the mouth, which bodes well for long term development. In fact, this is almost too intense right now, and really needs some time in the bottle. I'd like to try it again in about ten years to see how it's coming along.

All of these wines are unabashedly Napa in character, and if that might sometimes be considered less than a complement, in this case, it's quite another story, because they are all very well made and downright drinkable. The Chenin Blanc is a delight, and I quite enjoyed the Chardonnay and Merlot, despite a personal disinclination toward most Californian versions of those varietal persuasions. All four reds work well with food, show great balance and good extraction that avoids any excess. I would recommend all of these with no hesitation whatsoever, and in fact, am sipping on a glass of the Chenin Blanc as I finish this report.

Many thanks for a marvelous Friday afternoon to Cyril and Blakesley Chappellet, Rick Rubel and the staff of Coach Insignia and Brandon Persinger, Joe Careira and the good folks at the Arbor Beverage Company of Ann Arbor.

Chappellet Winery
1581 Sage Canyon Road
St. Helena, CA 94574
1-800-4-WINERY
http://www.chappellet.com/index.html



Reporting from Day-twah,

Bastardo