Part 1 | Part 2

e get lots of samples here at Gang Central. Sometimes they come with goofy labels and questionable contents, and sometimes, they're significant bottles that we might rarely get a chance to try otherwise. Such was the case a week ago, when I brought home an '01 Etude Heirloom Pinot Noir, a wine that maintains a lofty position in the pantheon of Left Coast Pinots. Once in the house, we didn't waste any time pouring glasses, since we've been fans of Tony Soter's wines for a long time, and wanted to see what this one's all about. Here's what we found:

2001 Etude Carneros Pinot Noir Heirloom, $100, 14.5% alc.: Only 34 barrels of this almost inky colored Pinot Noir were produced; it shows deep, dark smoky plum and black cherry with a significant overlay of what seems to be French oak (a quick check on the Etude website confirms this) on the otherwise stingy aromatics that need to be coaxed from the glass with vigorous swirlatude. The big, ripe flavors pick things up with some serious concentration, formidable structure, a little earth, a bit of heat and a certain green streak. This is a big, big wine that needs substantial cellar time; it has the fruit, tannins and acidity to age for 5 - 10 years, but the heat concerns me. With extended air, it mellows a bit, but doesn't quite lose the hot quality. Try it in '09 to see how it's coming along.

Fast forward a few days: I got a call from a simple country wine retailer, one Bill Schwab, asking me, in much the same manner that he'd use to inquire whether I wanted tuna or chicken salad for lunch, if I cared to interview Tony Soter the following day.
Like he needed to ask...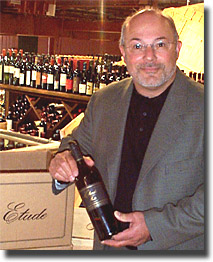 Tony Soter is only one of the most talented and influential winemakers in the world. After graduating from Pomona College in Claremont, California, a summer job selling wine steered him in the direction that his life has taken so successfully. He began as a cellar rat at Stag's Leap Wine Cellars in 1975, did postgraduate study in Enology and Viticulture at U.C. Davis, and moved on to Chappellet, where he took over the position of winemaker in 1977. In 1980, Soter began his business as a consulting winemaker, and over the years, his clients have included some of the biggest names in Napa Valley, including Araujo Estate, Dalla Valle, Neibaum-Coppola, Shafer, Spottswoode and Viader. At about that same time, he launched his own Etude brand, developing it into a highly successful producer of Pinot Noir and Cabernet Sauvignon.

So yes, I was definitely interested in an interview, and in fact, I had some ideas for topics that I thought might be interesting to explore. Arrangements were made, and the next day, I met Mr. Soter, accompanied by Decanter Wine Imports' Operations President Michael Kilano, Beringer Blass District Manager Wendy Sue Johnston and Etude National Sales Manager Steve Starke at Papa Joe's Gourmet Market in Birmingham, Michigan. After a quick photo op at a stacked display of Etude Merlot, we sat down amidst the hustle and bustle of "Café Joe" for the following conversation.

GoP: What brings you to Detroit, Etude business, Soter Vineyards business, or both?

Soter: I'm here because first, it's an opportunity to go to the Wine Experience in Chicago, starting tomorrow and through the weekend. It's a big event sponsored by the Wine Spectator, and we'll be presenting both Soter and Etude wines there, the Etude wines at the Grand Tasting two nights in a row. There's also a special feature on Saturday where Chef Charlie Trotter of Chicago and other chefs in his group will be offering food and wine pairings. Chef Trotter was kind enough to select my Soter Vineyards Pinot Noir to be part of his presentation, so I'll have an opportunity to shepherd both of my wines in Chicago.
Detroit is a new market for the Soter wines that we've just assigned the Decanter Wine Company as our distributor, and the first wines are just coming into the market as we speak. So, it's a timely opportunity to introduce the Soter wines to the Detroit market, and say thanks for all the great patronage we've had over the years for the Etude wines.

GoP: Over the years, you developed Etude into a highly respected, top - notch producer of Pinot Noir and Cabernet Sauvignon, among other varietals. Then, in 2001, you sold the brand to Beringer Blass. Can you explain how this came about?

Soter: I started the business way back in 1980 as a labor of love, and a bootstrapping entrepreneurial venture, where I worked my day job as a consulting enologist to other wineries, which was great creative work, but also allowed me to develop my own business called Etude, that was focused around the challenges of making Pinot Noir. Etude, as many people know, is a French word that means "study," and in classical music, etudes are compositions that have a technical motive, and I take that as kind of an analogy to my approach to winemaking. There's no better vehicle with which to study, if you will, the winemaking craft than Pinot Noir, because it's reputed to be the most challenging and difficult, and indeed, it is the most transparent and unforgiving and quixotic of all varietals, and so one is always humbled by it, even this many years later. But, when it's right, Pinot Noir is a glorious thing, and it really takes your breath away, and it's always in pursuit of that that we work.
"It allowed me not to sell OUT the business, but to sell it UP..."
Now, to your question about the Beringer acquisition; as I grew the business over the years, I came to a transition in my own awareness of what it meant to me, and what potential it had, and being a small company with no particular capital means in Napa, and trying to grow a business presented certain challenges and hurdles. It became apparent to me that if I were to grow the business at all, I would have to either take on partners or take on a huge amount of debt. Private partners was one alternative, and a partner that could be a strategic partner, such as a wine company like Beringer Blass, that really understood the wine business, proved to be a really great opportunity.
It allowed me not to sell OUT the business, but to sell it UP, to a vision of what I had that I couldn't achieve otherwise. What I mean by that is that it wouldn't have been possible to afford a new state - of - the - art winery, which Beringer has provided the capital to fund and execute, and it wouldn't be possible for me to own and control our own grape sources, so that I can grow the world's best Pinot Noirs and make that attempt without that control of the land, and that resource is also available to me. These things could not have been achieved otherwise, and I really welcomed the partnership. It doesn't come without obligation, so I didn't sell out the business, I'm not moving away or sailing to Hawaii or something like that. I'm there every day, obligated and motivated, and in fact, quite stimulated to be part of the development of the business. Designing a winery of your dreams is a great example, and working with a new vineyard of which you have complete control is everything a winemaker would dream of and desire in his attempt to create the best wines he possibly could.

It's a great marriage for me. Beringer has been a most honorable and supportive new partner to Etude, and they only want us to achieve at the highest level possible, and to carry the banner of the fine wines that they represent globally, but really, they're not meddling or trying to co-mingle things. They want Etude to survive and thrive much as it has to date, maintaining its fine reputation for Pinot Noir and Cabernet wines in particular.

GoP: That pretty much answers the next two questions I had regarding Beringer Blass providing the capital responsible for building the new winery and you still retaining control at Etude.

Soter: Correct, and beyond the production and winemaking, it extends to supervision of all the viticulture and grape growing; it also extends to the commercial side of the business. Etude is actually responsible for its own wine sales. Now, imagine what a mind - bender that is, because the Beringer Blass organization has a vast network of sales representatives throughout the country, and we could take more advantage of that, but we would be sort of diluting the impact of our sales message, and we're trying to do it in a very specialized way, only selling the wines to the best kinds of customers and shops and fine restaurants around the country, and it takes a specialized point group of people to do that. So, that's why I travel, and that's why we have two dedicated salesmen who wake up every day knowing that they only have one product to promote, and not a whole portfolio, and we have that luxury like no other brand in the Beringer portfolio. So Steve Starke and Chris Blanchard are our dedicated sales representatives; one manages the California market and the other ex - California, across the country. MORE====>
Part Two of the Tony Soter Interview
Back to the Underground Index

Back to the Top



© George Heritier November 2004