got a hot tip from a geek named Squeemus a few weeks back about a Napa winery that we hadn't heard much of before. This guy was raving on about Ladera Vineyards and the great wines they were producing, urging us to check them out, and thanks to his insistence, we did. Some calls and arrangements were made, and within a few days, we received four samples for evaluation.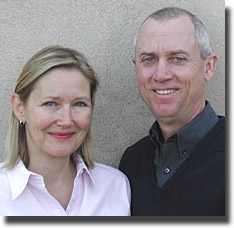 In 1997, Pat and Anne Stotesbery (left) purchased Lone Canyon Vineyard on Mount Veeder, where they farm 75 out of 480 acres on steep terrain. Then, in 2000, they sold their Montana cattle ranch and bought Chateau Woltner, on Howell Mountain, complete with another 75 acres of vineyards and the historic Brun & Chaix Winery, built in 1886, and still in operation, using a three story gravity flow system. They proceeded to build an 18,000 square foot system of caves, where the wines are aged for two years in French oak. They also pulled the Chardonnay vines on the Howell Mountain property after the 2001 vintage, replacing them with Bordeaux varietals, primarily Cabernet Sauvignon. They hired Karen Culler as winemaker; Ms. Culler's credentials include Vichon Winery and her own well-received Culler Wines.

Now, rave reviews are all well and good, but it's what's in the bottle that counts, so when we got our hands on those four samples from Ladera (Spanish for hillside, or slope) and Chateau Woltner, Kim and I didn't waste any time tasting through them, since I was somewhat concerned that they'd been opened the day previous. We'll take it as a testament to their quality that the wines all showed very well.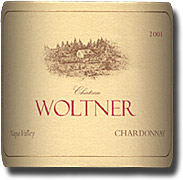 2000 Chateau Woltner Napa Chardonnay, 100% Chardonnay (74% Carneros, 26% Howell Mountain Titus Vineyard), $32.99, 14.1% alc.: This pale gold is the last Chateau Woltner Napa Chardonnay, a fact that will sadden longtime fans like our friends Bill Lucas and Souixsan Miller; future vintages will rely on Russian River Valley sources. Despite having been opened on the previous day (Ladera - Woltner's regional Josulete Wines rep Rob Knue warned that it wasn't quite as crisp as it had been earlier), the wine showed quite well. The color is brilliant to look at, and it throws a pretty chardonnay - apple and pear nose, with some honeyed notes and relatively subdued oak by Napa standards; while the aromatics aren't quite restrained, they don't exactly jump out of the glass either. Fairly big in the mouth, and by no means flat or flabby, it shows a little more oak and tropical fruit in flavor, with good presence, balance and concentration. If this stuff is this good on the second day, I'd love to try a fresh bottle; what's more it seems to show good aging potential, which has always been a Chateau Woltner trademark.

2000 Chateau Woltner Napa Cabernet Sauvignon, 73% Lone Canyon Vineyard Cabernet Sauvignon, 14% Howell Mountain Cabernet Sauvignon, 9% Howell Mountain Cabernet Franc, 4% Lone Canyon Vineyard Malbec, $32.99, 14.2% alc.: A dark garnet, almost opaque in color, this one shows a pretty red currant, cherry and blueberry nose; flavors turn towards the dark side, with more cassis and black currant, and the red currant, cherry and blueberry elements playing supporting roles. It's smooth on the palate, with good acidity, moderate tannins a nice finish. Some creamy chocolate makes itself known as it opens in the glass, but there are more than enough bass notes for balance, making for a very nice 2000 Napa Cab, with at least five years of improvement ahead of it.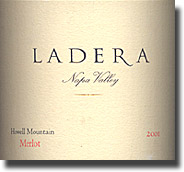 2001 Ladera Napa Merlot Howell Mountain, 100% Merlot, $46.99, 14% alc.: Another inky, almost opaque garnet here, with a lovely perfume that features a little sea air - aquarium over rich black currant, blackberry and some blueberry, along with a perfect kiss of oak that gives it a stylish appeal. Flavors echo and expand, with deep, dark bass notes and some cinnamon and nutmeg in good proportion to the fruit. Significant tannins and balanced acids give this a solid anchor and excellent prospects for at least five years of improvement for those who can still get their hands on it (it's sold out at the winery, and limited amounts available at retail here in Michigan have mostly, if not entirely disappeared). Tannins try to clamp down on the finish, but can't restrain the exuberant fruit, and a nice note of chocolate emerges with air. I've never been big on California Merlot, but this is one that I could definitely get to know better. Yum!

2000 Ladera Napa Cabernet Sauvignon Howell Mountain, 94% Cabernet Sauvignon, 3% Merlot, 3% Cabernet Franc, 22 months in new (54%) and 1 to 3 year old (46%) French oak barrels, $56.99, 14% alc.: This opaque purple garnet looks as if it has a little white chocolate in it, and smells a little like it too, while mostly showing a deep, dark cassis, blackberry, blueberry and cherry perfume, again, with that perfect kiss of sweet oak, and just a hint of the aquarium. The flavors echo, though not quite as exuberantly as the nose promises, and in fact, it's actually a little less impressive than the Merlot, but then, this IS of the 2000 vintage. Still, it has nice presence, good structure and balance, and the promise of at least three to five years of improvement. Hints of coffee and cedar emerge as it opens, and it's very smooth on the palate, almost a camouflage for the fairly substantial tannins.

A few weeks after tasting through those four wines, Rob Knue got me a fresh sample of the just released '01 Ladera Lone Canyon Cab, and it too is most impressive.

2001 Ladera Napa Cabernet Sauvignon Lone Canyon, 100% Cabernet Sauvignon, 14.5% alc.: Even when decanted, this opaque purple garnet is slow to open, but with air, it becomes more and more beguiling, with a lovely perfume reminiscent of black currant, cassis, blackberry and blueberry, again, with that perfect kiss of oak that seems to be Ladera's trademark. The medium full - bodied flavors mirror these impressions, showing primary fruit with earthy undertones and significant tannins that add a bite on the palate, but over the next three hours, the wine really smoothes out, becoming more and more attractive and harmonious. Despite its sweet, perfumed character, it finishes dry, making for a very fine, food friendly Napa claret, but it needs at least a few years to begin to show at its best.

These are delicious, well made wines all around, even those tasted the day after being opened. They show concentrated fruit, with oak in good proportion, and an enchanting, perfumed style that doesn't come off as forced or contrived; indeed, they have a certain something reminiscent of those qualities that made us fall in love with the wines of Burgess in the '70s and Ridge in the late '80s. The Chateau Woltner wines are well - priced for what's in bottle, and while the Ladera line costs a little more than I usually like to pay, they're worth the money. After tasting these, I can only say that I'm a fan of Ladera.

Ladera Vineyards
150 White Cottage Road South
Angwin, CA 94508
Phone (866) 523-3728
or (707) 965-2445
Fax (707) 965-2446
www.laderavineyards.com/


Reporting from Day-twah,
Bastardo