upé Wine Cellars' National Sales Representative Rick Morrison was in Day-twah two weeks ago to promote the Santa Maria, California winery's line of fine wines with a luncheon at Shiraz Restaurant, in Bingham Farms. The wines were sampled casually in advance, and then favorites were poured by none other than everybody's favorite "wine girl," Master Sommelier Madeline Triffon, of the Unique Restaurant Corporation during a four course sit - down. A past winner of the Metro Times "Best Steakhouse in Detroit" Award, Shiraz provided a fine setting for this affair.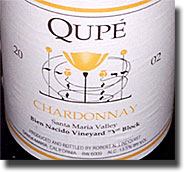 Founded in 1982 by Bob Lindquist, Qupé specializes in Rhône varietals, and also chardonnay, since it grows so well at Bien Nacido Vineyard, where winemaking facilities are shared with Jim Clendenen and his Au Bon Climat label. About half of Qupé's wines come from Bien Nacido, with the rest being sourced from Ibarra - Young Vineyard in Los Olivos and other Central Coast vineyards.

I sipped on a few whites before the luncheon, while chatting with friends and acquaintances in the trade.

2003 Qupé Santa Ynez Valley Marsanne, 87% Marsanne (Ibarra - Young Vineyard), 13% Roussanne (Stolpman Vineyard), $15.99 - 17.99: I got a very quick "snapshot" of this pale to medium straw, and while I wasn't able to revisit it, I enjoyed the tropical fruit, melon and hint of banana character. With moderate acidity, decent length and a note of anise that adds some interest, this is a good buy for the money.

2003 Qupé Santa Maria Valley Bien Nacido Cuvée, 50% Chardonnay, 50% Viognier, $15.99 - 17.99: Another one that I was only to get a quick take on, the viognier is obvious here, with it effusive floral bouquet of honeysuckle and lilac; rich on the palate, with decent acidity from the chardonnay, this is a good choice for a "summer quaffer" or as a match for spicy Asian food.

2002 Qupé Santa Maria Valley Chardonnay Bien Nacido Y Block, $19.99 - 21.99: "Click," another snapshot: This pale straw, Qupé's "regular" bottling, exudes a perfumed floral bouquet that follows through on the palate, showing pretty pear and pineapple - chardonnay fruit, with oak (French, 20% new Francois Freres) in good proportion, decent acidity and good length. What's not to like here?

The call went out to be seated for lunch, and from there on I was able to spend a little more time getting to know the wines.

2002 Qupé Santa Maria Valley Chardonnay Bien Nacido Reserve Block Eleven, $22.99 - 25.99: The first vintage of a "reserve" block planted by the Miller family (the owners of Bien Nacido) for Qupé, this medium straw colored chardonnay shows toasty oak (2/3 new and 1/3 one year old Francois Fréres) first and foremost on the nose, and falls very much into the tropical fruit spectrum. It shows good acidity on a medium bodied frame, and presented an odd contradiction for this taster, because while it has lots of what I normally don't care for in chardonnay, I like this one just fine. And it's food friendly, as it worked well with the Jumbo Lump Crab Cake, with Roasted Corn Sauce.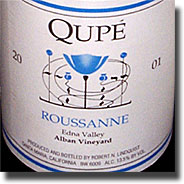 2001 Qupé Edna Valley Roussanne Alban Vineyard, $22.99 - 25.99: Very much in a different style than the previous selections, this medium straw shows a much more "Franco" character than Cali - centric, with moderate oak (one year old Francois Fréres) at best and as much earth as fruit on the nose; this is not a "fruit forward" wine by any means. The flavors show a certain stony quality, and others agreed, throwing out descriptors such as "slate," and "flint." Madeline herself found it reminiscent of "hay and dried flowers, like gruner veltliner." The last Qupé Alban Roussanne that will be made, and a very fine one indeed, this also matched quite well with somewhat reserved flavors of the crab cake, and shows good aging potential.

At that point, we switched to reds, starting with Qupé's entry level syrah.

2002 Qupé Central Coast Syrah, 86% Syrah, 6% Grenache, 4% Counoise, 3% Mourvédre and 1% Cinsault, $14.99 - 15.99: Sourced from eleven different vineyards in Santa Barbara and San Luis Obispo counties, this dark garnet Rhône blend features fragrant plum and blackberry aromas that carry over in the flavors with a touch of cream, a smooth texture and moderate tannins and acidity. Aged in mostly neutral French oak; a good value and a solid California syrah.

2002 Verdad Santa Ynez Valley Tempranillo Blend, 67% Tempranillo, 17% Syrah, 16% Grenache, $20: From the fledgling Spanish varietal project of Louisa Sawyer Lindquist, wife of Bob Lindquist, this dark garnet blend shows sweet oak over black currant, blackberry and black cherry flavors and aromas, with good depth of fruit, good structure and tannins that need three to five years to mellow some.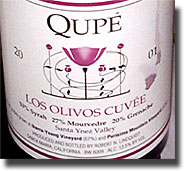 2001 Qupé Santa Ynez Valley Los Olivos Cuvée, 53% Syrah, 27% Mourvedre, 20% Grenache, $21 - 23.99: From fruit sourced at the Ibarra - Young and Purisma Vineyards, the dark garnet color of this Rhône blend shows a purple - ish tinge, and the character of the wine lives up to that French heritage, with tight, dark plum and blackberry shaded with some underbrush on the nose, and earthy flavors to match. A good dose of tannins and plenty of acidity give this a somewhat "burry" quality on the palate, and while it needs at least a few years of cellaring to show its best, the earthiness of the dark fruit works quite well with the Warm Wild Mushroom Salad with Wilted Greens and Basil Lemon Oil (which is different and delicious, I might add).

2001 Qupé Santa Maria Valley Syrah Bien Nacido Vineyard, $25.99 - 28: Aged in French oak (25% new, mostly Francois Fréres, with some Remond and Taransaud) for 15 months, this dark garnet shades to purple at the rim, and exudes a nice perfume of rich dark plum, blackberry and black currant, all with a kiss of sweet oak; flavors echo, with a creamy texture, and while the wine is dense and full bodied, it's not at all ponderous. Despite obvious aging potential, this is drinking very well right now, and matched up nicely with the Roasted Lamb Loin with Prosciutto and Syrah Demi - Glâce.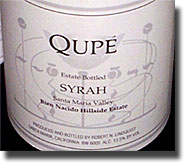 2001 Qupé Santa Maria Valley Syrah Bien Nacido Vineyard Hillside Estate, $42 - 46.99: Bob Lindquist calls this deep dark garnet (shading to purple at the rim) "probably the best Syrah I've ever made," and while my experience with his wines is fairly limited, it is indeed terrific stuff. Made with grapes from the original "Z" block at Bien Nacido, planted for Qupé in 1992, it shows rich extracted dark plum and blackberry flavors and aromas with subtle accents of underbrush and mocha. Despite significant tannins and good acidity, there's a creamy texture to this, and while those tannins clamp down some, they don't entirely restrain the length on the finish. One especially interesting aspect of this wine is that around day five of fermentation, some of the juice is drawn off (saignée) into two new Francois Fréres barrels and barrel fermented, then blended back into the final assemblage, adding "a toasty mocha note in the aromas along with silky, rich tannins," according to Lindquist. As per my notes, this is quite evident when tasting the wine. Aged for 20 months in Francois Fréres barrels (2/3 new), it was was bottled unfined and unfiltered. No reason to think that this is not at least a ten - year wine.

We finished off with a lovely Grand Marnier Créme Brulée that needed no wine; cappuccino served admirably instead. It was a very fine finish to an excellent effort by Shiraz' Chef de Cuisine Jackie Williams. And of course, it's always nice to see Madeline Triffon again.

As for the wines, they were all good to very good to even better than that, and they're fairly priced for what's in the bottle. There wasn't one that I wouldn't mind getting to know better, and some that I'd like to acquire in numbers. And, these are by no means the only wines that Qupé makes; there are presently four other single vineyard syrahs, a 20th Anniversary Special Bottling syrah, a single vineyard grenache and a single vineyard viognier being offered on their online "store." Bob Lindquist is one of the original "Rhône Rangers" in California, and he's obviously doing something very "right," what with 22 years and counting since founding the winery, and the quality of the wines tasted on this occasion solidly reinforces that impression. Our past experience with Qupé may be somewhat limited, but that will certainly change in the future.

Reporting from Day-twah,
Bastardo