s has been previously reported on this website, Kim and I cut our wine teeth on Burgess Zinfandel and Petite Sirah back in the late 70s, and have had a special place in our hearts for them ever since. So, when I received an invitation from John Marasco, Vice President of Sales for the Vintage Wine Company in Roseville, Michigan to attend a Burgess luncheon at 220, a trendy restaurant in Birmingham two weeks ago, I stepped right up to the proverbial plate. We have fond memories of our visit with Tom Burgess, Catherine Eddy (both shown below) and winemaker Bill Sorensen at the estate a few years back, and knowing that Tom and Catherine, on a week - long promotional trip through Ohio and Michigan, would be in attendance made this one a no - brainer.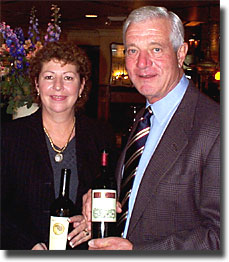 As we gathered and chatted before the event, Tom filled some of the other attendees in on the winery's background. He bought the old Inglenook winery in 1972, and at that time, the vineyards were planted not only to Cabernet Sauvignon, but also Petite Sirah, Grenache, Green Hungarian and Chenin Blanc, among other things. (Our love for those old Burgess Petite Sirahs has already been documented, but we also have fond memories of a shared bottle of Green Hungarian on a deserted beach on Round Island, in the middle of the Straits of Mackinac one sun - baked July afternoon back in the late '70s. We chilled the bottle right in the lake and found it to be a delicious, if off - the - beaten - path white.) Over the years, the estate vineyards were gradually replanted to Cabernet Sauvignon and small amounts of other Bordeaux varietals.

Tom, who just completed his 33rd harvest, told me that the '04 rendition was ten days to two weeks early, but because of an early bud break, the growing season was of normal length, with plenty of hang - time. He says the fruit shows good concentration, and while quantities are down some, "it should be an outstanding harvest." He added, "We used to think that rain was our worst enemy, but after '03, we found that it can also be heat. Last year, there was a heat spike in the middle of September, and all of the fruit matured within a two - week period, which kept Bill (Sorensen) very busy. He's still complaining!"

Burgess Cellars is one of the few wineries that uses 100% rotary fermenters to make their wine, which Tom says is an invaluable aid in tannin management. The fermenters "rotate at 2 rpms, like a concrete mixer," which allow for quick extraction of fruit and flavors, but can be stopped once positive extraction and the desired tannin levels are achieved.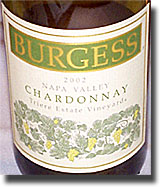 The Chardonnay and Merlot come from the Estate Triere vineyard in Yountville, where the winery is also located, so everything for those wines is done right on location until the bottles are shipped. That vineyard was replanted in the '90s, due to an infestation of phyloxera. The Estate Cabernet vineyard consists of mature, 25 year old vines, mostly Cabernet Sauvignon, replanted in the '70s. Although located on Howell Mountain, it is not in the Howell Mountain AVA, being below the 1,400 - foot boundary on the mountain. Still, Tom claims that, because of the elevation, you don't get the vintage variation that you do on the valley floor.

We started things out by tasting through all of the wines, with appetizers that included delectable broiled shrimp, and tomato and wild mushroom bruschetta. (Prices listed are based on discounts currently being offered in Michigan.)

2003 Burgess Napa Chardonnay Triere Estate, $11.99, 14.1% alc.: Very pale in color, with restrained toasty oak over pretty Chardonnay - apple and pear aromatics; these follow through on the palate, with a rich, not quite unctuous mouth feel, good acidity and a nice finish. A subtle note of butter adds complexity and interest, and the wine pairs well with the shrimp splashed with a little lemon. There's a somewhat Burgundian character to this, and it's one of the rare Californian Chardonnays that I could drink on a regular basis, much like the 1990 model that we loved so well ten to twelve years ago. Made from several clones, the grapes are whole cluster pressed, and aged sur lies for nine months in Voges oak with a medium plus toast, 25% of which is new. Burgess states that the Yountville location gives this its apple character, which it certainly shows in spades.

2000 Burgess Russian River Valley Zinfandel, $13.99, 14.4% alc.: Tom described this pretty dark garnet colored Zin as "the last of its breed;" there's now a housing tract where the vineyard that produced the fruit once stood. It shows a spicy raspberry and black raspberry perfume that echoes in the medium full bodied flavors, with a hint of earthiness, moderate tannins and excellent balance. There's a nice blend of bright and dark fruit character here, and the wine saw 60% American oak. (Tom added that the 2003 Burgess Napa Zinfandel will be the last Zin that the winery makes; after that, they intend to concentrate on Syrah to compliment their Bordeaux varietals.)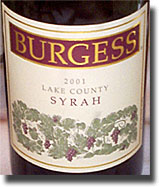 2001 Burgess Lake County Syrah, $14, 13.9% alc.: The vineyard from which the fruit for this dark garnet Syrah is sourced is located in an old river bed on an alluvial plain, and bears some resemblance to Chateauneuf du Pape, with large stones throughout. A somewhat reticent black cherry, plum and blackberry perfume echoes and expands on the palate, with added hints of smoke and leather and a subtle earthiness. Medium full bodied, rich, smooth and creamy, with an elegant mouth feel, this is very food friendly, but can also be enjoyed on its own. It seems to emphasize the "house style" at the expense of some distinct varietal character, and reminds me a little of Ridge's Lytton Estate Syrah in that regard. It was aged in 70% American oak. (When asked by one attendee why some wines saw all French oak, while others saw a good portion of American, Tom replied that there is no set regimen, he simply likes to try different treatments with different wines to see what he gets.)

2001 Burgess Napa Merlot, $24.99, 14.4% alc.: Burgess describes this dark garnet as "a Cabernet or Bordeaux lovers' Merlot," and I find it to be quite appealing, despite my general antipathy for the Californian version of the varietal. It features sweet oak in good proportion to the red currant and black cherry flavors and aromas, again, with just a hint of earth. Rich and round, balanced and harmonious, with a slightly creamy quality, what's not to like here?

2000 Burgess Napa Cabernet Sauvignon Vintage Selection, $21.99, 14.3% alc.: Approximately 10% Cabernet Franc was blended into this dark garnet California claret, adding to the earthy undertones of its cassis, red and black currant characteristics, and prettied up nicely with subtle sweet oak. Obviously bigger, deeper and darker than the Merlot, its soft tannins and balanced acids contribute to the smooth, rich texture, making for a delicious wine that seems to have avoided the pitfalls of a supposedly so - so vintage.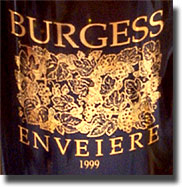 1999 Burgess Enveiere, $45.99: "Enveiere" is the old French spelling of the word that translates as "to send" (as in "to send a message"), and this deep, dark garnet is the third vintage of Burgess' proprietary red blend, created in 1997 to celebrate the 25th anniversary of the fully matured Estate vineyards. All six Bordeaux varietals went into this, including Cabernet Sauvignon, Merlot, Cabenet Franc, Petite Verdot, Malbec and Carmenere. The wine saw 100% new French oak, and approximately 800 cases were produced. It's all about rich, creamy sweet oak, red currant, cassis and black cherry in flavor and aroma, with soft tannins and a nice, earthy finish; with air, a hint of vanilla ice cream cone emerges on the nose. A very nice Napa - esque Bordeaux blend, this (and the following selection) paired quite well with 220's excellent beef panini.

In the early '90s, Catherine Eddy bought ten acres of land on top of Howell Mountain, situated between the Bancroft, La Jota and Liparita vineyards, at a little over 1,700 feet above sea level. She told me that "ten years ago, buying land up there was doable for a normal person," which is no longer the case. She planted vines that are now eight years old, and produced the following lovely wine, made at Burgess Cellars, of course. Tom laughed when asked if he purchased grapes from Catherine, saying, "No, they're too expensive!"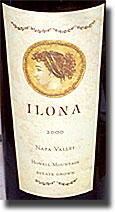 2000 Ilona Howell Mountain Estate, $34.99, 13.1% alc.: Ilona is the westernized version of Elaine, Catherine's mother's name. Consisting mostly of Merlot, with lesser amounts of Cabernet Franc and Cabernet Sauvignon, this pretty dark garnet colored claret shows a more feminine personality than the Burgess reds, and is undeniably charming. There's a more delicate perfume here, though no less lovely, showing red currant, black cherry and the faintest hint of rhubarb. These impressions carry over into the ultra - smooth, medium - to - medium full - bodied flavors with nice intensity, soft tannins, balanced acidity and a somewhat earthy finish. Sleek, streamlined, elegant and delicious to drink now, and over the next five years; 800 cases made.

Frankly, I'm not surprised that these wines showed as well as they did; I had much the same impressions two years ago when we tasted through some of their then - current offerings, and this '03 Triere Chardonnay is head and shoulders in quality above the '99 Napa that we tried at that time. Burgess Cellars continues to go quietly along their way, making smooth, well - priced wines that strive for balance and drinkability, and they succeed admirably, in this taster's opinion. It was nice to tip a few glasses with Tom and Catherine again, and 220 provided great food and an elegant setting for the luncheon. Many thanks to John Marasco for including me on the guest list for what was a very fine afternoon of food and wine.
Burgess Cellars
1108 Deer Park Road
St. Helena, CA 94574
Mailing Address:
P.O. Box 282
St. Helena, CA 94574
phone: (800) 752-9463
fax: (707) 963-8774
www.burgesscellars.com

Reporting from Day-twah,
Bastardo