A Quirky Vertical | Virtual Angwin


n a couple of different occasions during our sojourns out left, Kim and I have indulged in leisurely drives up Howell Mountain, taking a different road up each time, getting a little lost during both, and ultimately finding ourselves in the little town of Angwin, a Seventh Day Adventist community whose main features are a small post office and the college located there. Those two times were both during the summer months, so there wasn't much going on, but things are likely to be less sleepy during the school year.

I bring this up because Angwin's only other claim to fame (that I know of, anyway) is that it is surrounded by the likes of Ladera, Ilona, Bancroft and La Jota Vineyards and thus home to some very fine sources of high quality wine grapes. It's an area I'd love to explore more extensively, getting to better know those and other vineyards and wineries, but simple logistics make that rather difficult for someone based in Day - twah.

But, like Mohammed and another hill, when Bastardo can't get to Howell Mountain, sometimes Howell Mountain comes to Bastardo, figuratively, of course, and in the form of bottles of fine wine. Inspired by our recent encounters with the likes of Ladera and Ilona, we've indulged in a random sampling from a few other producers, most of which proved to be very fine indeed. We got things started with some things from one of Catherine Eddy's neighbors.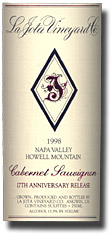 These four wines are all from late in the period when the La Jota Vineyard Co. was still owned by Bill and Joan Smith, before being bought by Markham Vineyards in 2001. The La Jota website gives only minimal information about the previous owners, who established a marvelous track record for making great wines, causing us to rue the fact that we didn't discover them long before now. It should be interesting to see if the new owners and winemaker Kimberlee Nicholls can maintain the high standards established by the Smiths.

1998 La Jota Napa Cabernet Sauvignon Howell Mountain Selection, $39.99, 13.2% alc.: A deep dark garnet in color, this doesn't give much on the nose when first poured, but it gradually opens to show black currant, cassis, earth, leather, cigar box and what Kim describes as "a really nice baryardy quality about it." These echo loudly in the deep, dark, dry flavors, with at least five years worth of development ahead of it, thanks to the solid structure. Still, it drinks well already, especially with a good steak (medium rare), a radish and potato gratin and pan roasted asparagus spears. By no means a fruit bomb, this comes off with a much more Bordeaux - like character than Napanese, and we like that just fine; in fact Kim likes it even more than the following, pricier selection.

1998 La Jota Napa Cabernet Sauvignon Howell Mountain 17th Anniversary Release, $82.99, 13.9% alc.: This inky purple - garnet throws a somewhat stingy nose of slightly dusty fennel over black currant and cassis; in the mouth it gives richer, more refined flavors and texture than the Howell Mountain Selection, despite a very similar black currant, cassis and tobacco profile. The excellent structure should provide this full bodied Cabernet with at least ten years of development, but now, the silky tannins clamp down on the finish some. The rich, refined character emerges more and more with air, along with a little dark chocolate, and this also works quite well with the menu noted above. And, like the HMS, this more closely resembles Bordeaux than your usual Napa Cab. Very nice stuff here, but be patient, because it's years away from optimum drinking.


"I am convinced La Jota is making the finest Cabernet Franc produced in California." - Robert Parker, 1997
1998 La Jota Napa Cabernet Franc Howell Mountain, $76.99, 14.7% alc.: A deep, dark garnet in color, this top o' the mountain Cabernet Franc shows a bit of the barnyard right off the bat, with plenty of black currant, black plum, blackberry and some licorice also in evidence in the aromatics. The big, rich, concentrated flavors echo on a full - bodied frame, with excellent structure and a slightly astringent finish, where the tannins show the most. This is drinking well right now, becoming more perfumed as it opens, but it would seem to be a ten - year wine and more, and certainly not a casualty of the vintage. Some leather and bramble emerge with air, along with a hint of blueberry in the background; it's interesting to compare this to the memory of the last Joguet Chinon that we had, because the two give rather different variations of the Cabernet Franc experience. A marvelous wine that garners two thumbs up from the tasters at Gang Central.
1999 La Jota Napa Cabernet Franc Howell Mountain, $76.99, 14.8% alc.: This opaque purple garnet was tasted a few weeks after the '98, and like the earlier model, it has impressive size and structure; on the nose, it shows deep dark black currant and cassis, subtly perfumed with blueberry and sandalwood, all of which follow through on the palate, with considerable power. Kim added impressions of a hot pepper streak, and a note of cola, bordering on rock and rye. Although there are considerable tannins here, they only become somewhat intrusive on the finish; otherwise, the wine smoothes out nicely with air, making for some very good drinking already. Still, it would be prudent to give this delicious wine another five years in the cellar for it to start to show its best.
~
1998 Robert Craig Napa Cabernet Sauvignon Howell Mountain, $48.99: Dark garnet in color, showing just the faintest hint of rust at the rim, this gives up very appealing flavors and aromas of cassis, black currant and blackberry, accented with notes of leather, smoke and even a little bacon. Nope, it's not Syrah, but it IS sleek, streamlined, rich and very tasty, being medium full - bodied, with a nice long finish. No valley floor Cabernet this, but rather the kind of California claret that I can really get behind; all the components are well proportioned, blending seamlessly into the greater whole. Very nice indeed!

1999 Robert Craig Napa Cabernet Sauvignon Howell Mountain, $48.99, 13.8% alc.: Sweet spice and chocolate give the dark fruit in this dark garnet Cabernet a nice tone, and although Kim mentions a "green streak," it's not a prominent component, showing just enough of itself to remind that it is there. Alan Kerr mentions some mocha java accents to the black fruit character, along with "something medicinal." The wine opens dramatically with air, gaining a sleek, streamlined character, and while it's drinking well right now, it's not quite up to the '98 noted above. I've read that there was some difficulty reaching phenolic ripeness on Howell Mountain in '99, perhaps accounting for the green streak.
1998 Cornerstone Napa Cabernet Sauvignon Howell Mountain, $45, 12.8% alc.: Like the '98 Robert Craig Howell Mtn. Cabernet, this has an oddball Rhone - like characteristic about it, one that we find rather enjoyable. Dark garnet, pink at the rim, it features some funky barnyard and leather over cassis, black cherry and black currant, being full bodied, with a good dose of tannins still, and a certain creamy quality underneath the funk. It seems to lose a little something on the mid - palate and finish, but not enough to turn me off; it's probably safe to speculate that it reflects something of the character of the vintage, no matter what some may say about mountain fruit being less susceptible to vintage variation than that on the valley floor. Whatever the case, it certainly presents an interesting and enjoyable personality, even if it will never be a "great" wine.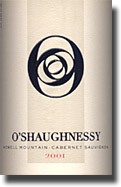 2001 O'Shaughnessy Napa Cabernet Sauvignon Howell Mountain, 94% Cabernet Sauvignon, 6% Merlot, $52.99, 14.8% alc.: This new Howell Mountain operation gets lots of extraction out of the six year old vines of Del Oso Vineyard; it gives up big oak right away on the nose, with huge fruit to soak it all up; black currant, black plum, cassis, toast, coconut, tar and a little barnyard are all jumbled together in a massively effusive bouquet, and the equally massive flavors pick it up with even more coconut, gaining some chocolate as well. The significant tannins can't quite reign in the power and exuberance here, and with some time in the glass, it really opens up, showing (I almost hate to say it, but) gobs of sweet, rich fruit. It doesn't seem like a steak or lamb chop kind o' wine, but I could be wrong; as it is, there're all kinds of things going on with this, and while it may not be my preferred style of Cabernet (the La Jotas are much more in that category), I'll be damned if I don't like it anyway.

1996 Beringer Napa Merlot Howell Mountain Bancroft Ranch, $50, 14.1% alc.: About this dark garnet (the only Merlot in this report), Kim opined, "It tastes like Port, it's over the top," and it certainly does show a big, sweet Beringer "house" character, with a good blast of oak, toast, black currant, blackberry, black cherry and a little underbrush in flavor and aroma, and a subtle earthiness underneath it all. The wine still has at least a few years of optimum drinking left, and perhaps it will even improve, shedding some of the soft tannins. Not silky, not velvety, but definitely tasty, this is one that I can enjoy more than Kim seems to, even if it is a little sweeter than I normally prefer.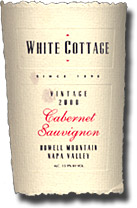 2000 White Cottage Napa Cabernet Sauvignon Howell Mountain, $57.99, 13.9% alc.: This monster features your usual dark garnet color, but that's pretty much where the resemblance to any of the other wines in this report ends. Unlike the dry, claret - like La Jotas, this is more like something made by some crazed wizard from Oz, and not something from Napa or Howell Mountain. It exudes big oak, soft brown sugar, and spicy overripe black plum and blackberry aromatics, being downright pungent in its expubidence. Though not quite as extreme on the palate, it still expresses the same characteristics, and despite the fact that Dennis Johns' intention is reportedly to make wines that are ready to drink, this is deep and dark right down to its core. It's full bodied and densely textured, with fairly low acidity and three to five years worth of tannins, but to me, the wine is like some kind of mutant fruit bomb; it almost drinks more like a Shiraz than Cabernet. The wine obviously proves that Cabernet CAN be like this, but is it SUPPOSED to be like this? And while I can drink it for what it is, it's not what I want in my glass when I want claret with my filet. Bizarre stuff.

A Quirky Vertical | Virtual Angwin



Reporting from Day-twah,

Bastardo