ho says wine and hockey don't make a good match? Certainly not this taster; I've been pairing big red Rhônes with Detroit Red Wings games for years now, and some of our players here in Day-twah seem to feel the same way. Steve Yzerman, Brendan Shanahan and Ray Whitney all follow the way of the grape, and perhaps no Red Wing, past or present has gotten into wine in a bigger way than Igor Larionov, who doesn't just drink and collect the stuff, he's taken the plunge and gotten "in the biz," as the saying goes.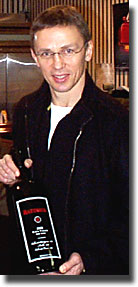 Larionov was an international hockey superstar before ever playing an NHL game, having been a mainstay on the Soviet Red Army, National and Olympic teams going back to 1977. He reached the pinnacle of success in the NHL in a Red Wing uniform, making major contributions to the '97, '98 and '02 Stanley Cup championship teams, adding to his Olympic Gold Medals from 1984 and 1988, multiple World Championships and a 1981 Canada Cup victory. During that time, he became good friends with Mike Davis, Sales Manager at A.H.D. Vintners, a wine distributor in Warren, Michigan, and even before announcing his retirement from hockey as a member of the New Jersey Devils last spring, he and Davis had already formed a business partnership with the primary intent of exporting Australian and Californian wines to Switzerland and Russia, with limited distribution in Michigan as well. They call their operation the Triple Overtime Wine Company, an obvious reference to Larionov's game winning goal in the 3rd overtime period of Game 3 of the 2002 Stanley Cup Finals, an amazing goal to culminate an amazing game.

And so, I was quite geeked to attend a benefit wine tasting held on November 29th at Champanes Wine Cellars and International Marketplace in Warren, Michigan featuring the Triple Overtime Wine Company's triple threat lineup. Besides ticket sales, a portion of the sales of Davis' and Larionov's 2002 Hattrick Napa Red Wine was donated to the Ted Lindsey Foundation for Autistic Children. Both ex - Red Wings, Hall of Famer Lindsey and future Hall of Famer Larionov were on hand to autograph bottles and photographs, and to chat and pose for photos with fans and wine lovers. After taking advantage of a few photo opportunities, I got right to trying the wines.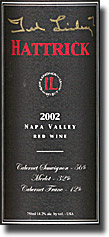 2002 Hattrick Napa Red Wine, 50% Cabernet Sauvignon, 32% Merlot, 12% Cabernet Franc, $50, 14.2% alc.: Made by Miner Family Vineyards for Triple Overtime, this ruby dark garnet colored Bordeaux blend is sourced mostly from the Oakville AVA, and includes some fruit from the Stagecoach Vineyard; only 211 cases were produced, with 28 slated for the domestic market, and the rest headed to Switzerland and Russia. It exudes a pretty bouquet of perfumed red currant, black cherry and cassis that follows through in the flavors, gaining a little sweet spice and a touch of chocolate, on an elegant, medium full bodied frame. With silky tannins, good acidity and a nice long finish, this is already very approachable, and indeed, a pleasure to drink, especially with some extended air, but five years and more in the cellar will reward those with patience. Find this wine

The two Triple Overtime Shiraz were made by Kevin Mitchell of Kilikanoon Wines, in Australia's Clare Valley.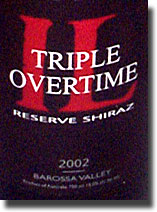 2002 Triple Overtime Barossa Shiraz Reserve, $37-40, 15% alc.: No Aussie ooze monster this, but rather a balanced glass of Shiraz with a nice sense of proportion; dark garnet in color, it shows perfumed aromatics of blackberry and black currant, with hints of chocolate and tar. The concentrated flavors echo without being over the top; Kim would describe it as being "eminently drinkable." You can enjoy it now, or you can try it two or three years down the road; either way, you'll have yourself a delicious, satisfying Shiraz. 800 cases produced, with 100 cases for the Swiss market, 80 cases for Michigan and the remainder for Russia. Find this wine

2002 Triple Overtime South Australia Shiraz, $20-21, 14.5% alc.: One taster described this ruby dark garnet as "very peppery and cherry - like," and I wouldn't disagree; the peppery quality is quite evident, especially on the palate. Though not as concentrated as the Reserve, this is also nicely balanced, with black cherry and blackberry flavors and aromas shaded with a little chocolate and the afore - mentioned pepper. Made from Clare Valley and Barossa fruit, this is a "tweaked" version of Kilikanoon's Killerman's Run Shiraz, according to Davis, with an added component to the original blend, and is very nice for drinking now and over the next few years. 1,500 cases made, with 100 cases for the Swiss market, 222 cases for the Michigan market and the rest for Russia. Find this wine
"Hockey is my life, wine is my passion."
- Igor Larionov
Larionov and Davis are currently in the midst of a trip to Europe to promote their wines, with a tasting already having taken place in Lugano, Switzerland on December 2nd. Another tasting is scheduled in Moscow for Tuesday, December 7th. Igor will also play his "Farewell Game" in Moscow on the 13th in a "Russia vs. the World" format, made all the more possible by the work stoppage in the NHL. The game will feature players such as Steve Yzerman, Chris Chelios and Ray Whitney.



Besides promoting their Triple Overtime lineup, they will also be marketing wines from the likes of Patz and Hall, Miner Family Vineyards, Lewis Cellars and Jade Mountain, with Randy Lewis, Dave Miner, Donald Patz and Doug Danielak along to introduce their respective wines at the December 7th tasting, all of which will have an Igor Larionov Select Wines sticker on them. Peter Weygandt will also be showing wines from Australia and France.

"The Russian wine market right now is in its infancy, and we're getting in on that infancy, " Davis explained. "Actually, they have a lot of Italian and French wines already, but very little from the United States. They have stuff like Beringer and Mondavi; from Australia, they basically have Seppelt and Penfolds, their more generic stuff. I'm not saying Mondavi's bad wine by any means, but it's more mass produced. So we're introducing New World wines over there; that's why we came out with Triple Overtime from Australia and the Hat Trick from California, and that's why we're going to market wines from Patz and Hall, Miner, Lewis, et cetera over there also.

"Then we're going to go into a lower end wine of quality, and that's where the mass distribution is going to play. This stuff will sell two or three thousand cases of Triple Overtime; we'll give them a little taste of Hat Trick and California wines to see how we'll go from there."

When asked if he was trying to establish a wine culture in Russia, Larionov replied, "Well, the market is there. It's been 10 years since the Soviet Union disintegrated, so my goal is to give the Russian people the culture to steer them from vodka to the good wine. Obviously, alcohol gives you some big damage, but when you're drinking some good quality wines, I think it's going to give you some more peace and tranquility."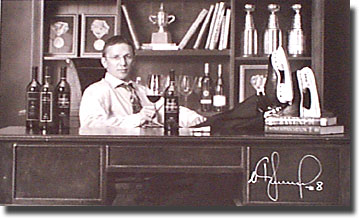 Larionov, who recently returned to live in the Detroit area, told me he was introduced to wine after playing three years in Vancouver (1989-92), but not because of the B.C. wine industry. "I decided to take a year off, so I went to Europe. I signed a contract with (HC) Lugano, in the Italian part of Switzerland, and after a hectic schedule of 82 games a year, I have only two games a week, Tuesday and Saturday, so I have so much free time. In Europe, the quality of the cuisine and the wine is outstanding, especially in the Italian part, so after every game, the fans bring me two or three bottles when I score a big goal or make a couple of good passes, because they appreciate my style of game. So I start to get a little taste of the wines, and from that point, I start to taste the wines, drink the wines, read about the wines and meet some people and that's where it's coming from. Now I'm going back to Lugano for the first time in twelve years to introduce Triple Overtime."

Igor said his personal wine collection weighs in at around 450 bottles. "When you play hockey, you travel so much; I moved 18 or 19 times in 15 years. It's not easy to keep your cellar. It would be nice to have a wine cellar built in the basement. But I got a custom made unit, a nice 600-bottle unit, so I keep my wine in my house in Florida. And I have some wines here, maybe 120 bottles."

As for the future, Larionov said, "We're going back to Napa at the end of February, beginning of March, and we're gonna keep the local Hat Trick label, and this time we're gonna have three winemakers who've agreed to collaborate and make Hat Trick wine, Randy Lewis, Dave Miner and Ray Courson from Elyse Winery. Mike (Davis) obviously will be there too to be part of that blending, and it's maybe gonna be some different varietals, like Syrah; we'll find out when we go to Napa. After that, we're going to Australia for ten days and maybe do some Australian wines there too."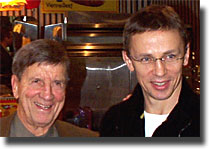 The benefit for the Ted Lindsey Foundation was Mike's idea. Lindsey explained that all the money raised by the foundation goes to research conducted by Dr. Andrew Wakefield to find the cause of the autism epidemic. "In this country, it used to be 1 in 100,000 children (afflicted with autism), now it's like 1 in 165 children, and this is what Dr. Wakefield is working on. He has theories, but theories have to be proven, and then when they're proven, they have to be proven again. I became involved because of a good friend of mine whose son was normal, and then became autistic at four years of age. So I just thought, let's put something together here where we can raise money, and finance Dr. Wakefield's research; we're not the only ones who finance his research, but we get into different phases of it, and that's my satisfaction. I know where the money's going, I know Dr. Wakefield, and I know every dollar that we give him goes to that. Before I go to my grave, it'd be wonderful if Dr. Wakefield could find the cause."

I asked Ted if he was a wine lover, and he responded, "I've always been a wine lover. When I quit playing, Marty Pavelich, my teammate and business partner, we'd go skiing, and after, we'd come in and always have wine. And then we took a couple of wine classes, because if we're going to drink wine, we might as well know what we're doing. Whether you're an expert or not, you want to look like one!"

The benefit was well attended, raising valuable funds for Lindsey's worthy cause. Champanes Wine Cellars and International Marketplace is a large, well stocked retail outlet, one of the few in the Detroit area with an on premises license to serve beer and wine in their pub, located in the southwest corner of the store. I'd attended a previous tasting there, and have found the prices to be very competitive, with one of the largest wine selections in the Midwest; kudos and many thanks to Dean Champane.

It'll be interesting to follow the progress of Davis and Larionov's venture, and best wishes to them in that regard; they've certainly gotten off to an excellent start with Hattrick and the two Triple Overtime Shiraz.

IL Triple Overtime
Wine Sales
PO Box 5389
Dearborn, MI 48128



Reporting from Day-twah,

Bastardo