4 First Time French Reds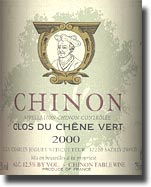 2000 Charles Joguet Chinon Clos du Chene Vert, $29, 12.5% alc.: I was quite jazzed to find this lone bottle sitting on the shelf of a local retailer recently. I'd found Kermit Lynch's account of meeting Charles Joguet and tasting his wines to be tantalizing, to say the least. Add to that the fact that Bobby Parker cites Joguet as the finest producer of Cabernet Franc in Chinon, and here was a no-brainer "tasting opportunity." Deep dark garnet, with earthy, poopy iodine and black fruit on the nose when first poured, the funk blows off quickly to reveal rich, intense blackberry, black currant and black plum, with those same iodine overtones, and some subtle hints of violets. Full bodied flavors generally echo, very dry, and not quite astringent; tannins are silky, with good acidity and a fairly long finish. As it opens with air, it softens and rounds out nicely, becoming more and more attractive. Nice density here, and a subtle note of oak makes itself known, adding another interesting element to the overall package. It probably needs three to five years to be at its best, if not longer, yet it still has charms that are very apparent already. As it continues to open, it shows the promise of leather and tobacco down the road, never losing that earthiness, and why would you want it to?

1999 Charles Joguet Chinon Clos de la Dioterie, $33.99, 13% alc.: A few weeks after trying the '00 Chene Vert, I ran into a bottle of this, made from Joguet's oldest vines, and of course, I had to try it. A ruby dark garnet, it throws a pretty perfume of sweet spice, black currant, black plum and blackberry, shaded with some mushroom, earth and underbrush. These follow through beautifully in the flavors, with silky tannins and a smooth, almost velvet-y mouth feel. Kim added an impression of "chocolate covered cherries, but more on the chocolate than the cherry side," and this becomes more apparent with a few hours of air. Elegant, and not as muscular as the Chene Vert, the wine has an almost Burgundian quality about it, and while it's drinking well right now, it's in no danger of fading any time soon. Give this at least another two or three years to improve; it'll probably peak sometime around its tenth birthday. Very nice indeed.

Imported by Kermit Lynch Wine Merchant, Berkeley, CA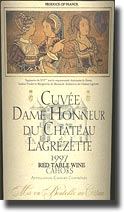 1997 Cuvee Dame Honneur du Chateau Lagrezette Cahors, $19.99, 91% Auxerrois (Malbec), 9% Merlot, 14% alc.: At first, I thought the nicest thing about this effort (from a winery that recently celebrated its 500th anniversary of winemaking) is the label, which really is quite striking. The wine itself undergoes a metamorphosis over a period of hours. A deep dark garnet, it immediately shows toasty sweet oak (from the twenty-four months it spent in barrel), coconut and band aid aromatics that are most effusive, gaining hints of chocolate as it breaths. Flavors echo, with fairly hard black fruit underneath it all, a good dose of silky tannins and a decent, if unspectacular finish. Some nice leathery notes emerge with an hour of air. I'd been familiar with this producer by reputation only, mostly for their Le Pigeonnier, and as the Cuvee Dame Honneur is made with fruit from the oldest vines on the estate (one of the very best in Cahors, by all accounts), I figured that this was too good to pass up at the price listed. And my first impression was that it's not a bad $20 wine, all things considered, if one has a good tolerance for oak. It's certainly in no danger of fading any time soon, so maybe it really WILL age gracefully for 25 years as is claimed on the Lagrezette website, but I didn't intend to buy anymore to put down and find out.

However, after two hours, the wine opens considerably, soaking up a lot of the oak, which otherwise takes on spicy, creamy qualities while losing the band aid, and giving a much better read on the dry, leathery black fruit. It definitely needs further bottle age, but this has more promise than the early snapshot revealed. Right now, the oak and fruit are still mostly separate components, but I think they will integrate and evolve. At this price, it might be worth putting a few away and pulling one out in five to eight years to see how it's progressing.

Appellation Imports LLC, Annapolis, MD

2000 Mas Champart Saint – Chinian Causse du Bousquet, $24.99, 14% alc.: While not the first wine from Saint – Chinian we've had, this not quite opaque inky garnet is certainly the most impressive. It shows an enticing, smoky, crushed blackberry bouquet with overtones of sea air that more than echoes in the flavors. Four or five years' worth of tannins can't hide the lovely texture or the promise of an elegant glass of wine down the road. As it opens, it more and more resembles a fine Chateauneuf - du - Pape, especially as the smoky quality accentuates, and although it's very good now with Kim's pot roast or any grilled red meat, it will be so much better given time to fully mature.

Imported by Kermit Lynch Wine Merchant, Berkeley, CA




"B" Wines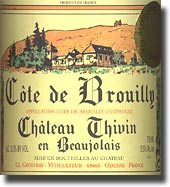 2001 Chateau Thivin en Beaujolais Cote de Brouilly Cuvee Zaccharie Geoffray, $28.99, 12.5% alc.: Ruby garnet, with that rich, bright raspberry, strawberry, cherry character (even crossing over into the red plum spectrum) that is uniquely gamay, and in turn Beaujolais, this exudes a lovely, almost floral perfume. Not terribly tannic, although it can undoubtedly improve over at least the next few years, this has a nice density to it, showing hints of chocolate as it opens. Smooth and seamless, from entry through finish, this is one very satisfying glass of wine, and a Beaujolais that Kim and this taster could really get to know better. Very nice indeed, and a fine match for Kim's pan roasted fennel pollen rubbed pork loin.

2001 Chateau Thivin en Beaujolais Cote de Brouilly, $19.99, 12.5% alc.: We tried this about two weeks after the Cuvee Zaccharie Geoffray, and while I fully expected a wine that would not be up to the quality of the earlier taste, I wasn't ready for one that resembled nothing so much as a parking lot paving project. Ruby dark garnet in color, with the typical raspberry, strawberry and cherry personality, though not as deep or dense as the Cuvee Zaccharie Geoffray; so far, so good. However, there is an almost overwhelming blotch of asphalt and road tar in both flavor and aroma that makes for one very strange glass of wine. I can handle these characteristics in small to moderate proportions in anything from zinfandel to grenache, but here, it dominates in a way that's hard to take. Add to that a certain underlying green streak throughout, and you have a wine that may be "interesting," but isn't all that enjoyable. A second taste of this one month later showed a rather different character than the earlier one. There was none of the overwhelming asphalt ­ road tar that we found before, but rather bright, clean raspberry, cherry and strawberry flavors and aromas, moderately tannic, with good acidity. Will the real '01 Thivin Cote de Brouilly please stand up?!

Imported by Kermit Lynch Wine Merchant, Berkeley, CA

1998 Domaine du Gros' Noré Bandol, $26, 13.5% alc.: The aromatics of this deep dark garnet open gradually, becoming "very perfumed," according to Kim, with fragrant black currant and plum shaded by hints of black olives. These follow through in the decidedly dry flavors with dusty cocoa powder and drying tannins on the finish. I decanted this an hour before we tasted it, and as the wine continues to open, the fruit sweetens up some, and some brown, leathery notes emerge, adding a nice complexity. It needs at least another four or five years to show everything that it has, but even so, this is a fine glass of Bandol.

Imported by Kermit Lynch Wine Merchant, Berkeley, CA

2001 Domaine Tempier Bandol, $37.99, 11 – 14% alc.: This deep dark garnet shows a funky butt mourvedre nose of barnyard and black fruit, with undertones of decaying vegetation. These follow through on the palate with the emphasis on the earthy black currant and blackberry, accented with a dusting of cocoa powder. Tight and fairly dense, with good acidity and not quite astringent drying tannins on the finish, this does open with extended air, but despite the fact that Kim is very enthusiastic about it already, it really needs a number of years to mellow and improve.

Imported by Kermit Lynch Wine Merchant, Berkeley, CA




From the Right Bank:

3 from Michel Rolland...



I've never been much of a Right Bank kind of guy, but wines like these could certainly change that.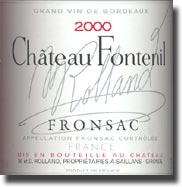 2000 Chateau Fontenil Fronsac, $35.99, 13.5% alc.: "The sandstone soil with a high clay content provides a perfect environment for old Merlot vines which make up almost the entire vineyard." - Michel Rolland
From one of Michel Roland's flagship estates, this deep, dark garnet shows a little pink at the rim of the glass, and exhibits a sweet oak, cherry vanilla bouquet that follows through on the palate with plenty of added depth and dimension, including deeper, darker cassis, black currant and hints of tobacco beneath the brighter high notes. Medium full to full bodied, with a good dose of tannins (five years easily), this opens to show more and more toasted bread, becoming the dominant characteristic as the cherry vanilla takes a back seat. I rather quite enjoy this, and would like to try it again in a few years, and then again on its tenth birthday.

2000 Chateau Bertineau St. – Vincent Lalande – de – Pomerol, $27.99, 13.5% alc.: This deep dark garnet, nearly opaque, throws a pretty bouquet of rich cherry with not – so – subtle vanilla that follows through on the palate, along with some deeper black currant, an earthy base underneath it all and accents of tobacco. A medium full bodied wine, the tannins could use three to five years to mellow, but are so unobtrusive, that this is easy to enjoy already. While showing some obvious new oak, it's in proportion to the greater whole, making a nice match for braised lamb shanks; with four hours of air, it drinks amazingly well for such a young wine.

2000 Chateau Rolland – Maillet Saint – Emilion Grand Cru, $27.99, 13.5% alc.: Another deep dark garnet, this one shows vanilla, cake spices, tobacco and black currant on the nose. Medium full bodied flavors emphasize the black currant at the expense of most of the oak nuances, with some added black cherry, a deeper, drier profile and somewhat more assertive tannins than the Bertineau St. – Vincent. The oak on the nose tones down considerably as it opens, with a hint o' chocolate emerging. Very smooth, with fairly low acidity, this will also improve with three to five years of cellaring, and yet again, like the Bertineau St. – Vincent, (as evidenced by Kim's enthusiasm for both), this is remarkably approachable already.

Imported by The House of Burgundy (New York), New York, NY




...and Two from Château St. Georges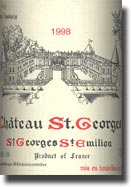 1998 Château St. Georges St. Emilion, $24.99, 60% Merlot, 20% Cabernet Sauvignon, 20% Cabernet Franc, 12.5% alc.: Initially rather reticent aromatically, this dark garnet claret gradually opens to show flavors and aromas of cassis and black currant, with notes of tobacco and dusty cherry vanilla, due no doubt to the barrel regimen that includes 30% new oak. The wine is quite dry, with silky tannins that need at least a few more years for this to show at its best, moderate acidity and a reasonably long finish; the oak becomes more and more apparent as it continues to open over a period of three hours or so, but never unduly so. This is a nice St. Emilion that I'd like even better priced at around $20.

1998 Trilogie du Château Saint - Georges St. Emilion, $44.99, 12.5% alc.: Oddly enough, the Château St. Georges' website makes no mention of this, obviously the estate's prestige bottling. One may or may not assume that the varietal makeup is essentially the same as in the regular bottling. Whatever the case, the wine is a deep dark garnet in color, with subtle vanilla over cassis and black cherry on what is initially a pretty stingy nose. Very dry on the palate, it shows textbook cassis and black currant flavors, with accents of earthy underbrush, tobacco and hints of cedar as well. Less flashy than the regular bottling (which is no showgirl itself), but deeper and more age worthy, this has significant tannins, good acidity and a fairly long finish. And like so many fine French reds, this continues to open and evolve as long as there's some left, becoming more and more agreeable. Still, it has a fine future ahead of it, and should be much nicer on its tenth birthday and beyond, but it strikes me as being overpriced by about $10.

Imported by NWS, Inc., Chicago, IL




Four from Burgundy



1999 Domaine de Roally Macon Village, $19.99, 13% alc.: This pale gold chardonnay shows intriguing flavors and aromas of hazel nuts, wet stones and some bees wax, accented with a certain honeyed aspect. As it opens and improves, a dry pear quality emerges as well, making for a delicious complexity. Medium full bodied, with a smooth, rich mouth feel, good acidity and a long finish with a nice minerality to it. A nice glass of wine here, unadorned by oak, and one that some Cali-philes might not know what to do with, I'd go for more of this, but it was the last one on the shelf. Bummer.

A Louis/Dressner Selection – Imported by LDM Wines, Inc., New York, NY 10012

2001 Olivier Leflaive Bourgogne Les Sétilles, $11.99, 13% alc.: Pale to medium straw in color, with what Kim describes as "beautiful, tart Granny Smith green apples, aquarium evolving into sweaty armpit" on the nose, along with a good dose of lemon-y citrus. These follow through on the palate with an added minerality, medium intensity, good acidity and a decent finish that also shows a hint of detergent. The wine evolves constantly, with some butterscotch emerging with air, and more and more mineral. A nice enough every day white Burgundy at a friendly price.

Imported by Frederick Wildman and Sons Ltd., New York, NY

These two red Burgundies were tasted side – by – side, both providing good accompaniment to Kim's delicious fennel pollen rubbed pork loin, pan roasted and nestled atop braised lentils and kale, with sides of caramelized onions and mushrooms. Both wines were decanted nine hours before tasting, and show rather differing qualities.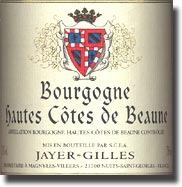 1999 Jayer-Gilles Hautes Côtes de Beaune, $39.99, 13% alc.: This ruby dark garnet shows effusive aromatics of deep dark plum, black cherry, cola, smoke and what Kim describes as "a weird, funky rubber, lay a patch kind of thing." The latter quality strikes me as more of a tarry element, and I don't find it nearly as objectionable as she does. The dense flavors generally echo with an earthiness to it all, substantial tannins, good acidity and a fairly long finish. The food brings out the cola aspect in the flavor profile, making this more user friendly, but it should rest for at least another five years to start drinking at its best.

1999 Albert Morot Beaune – Bressandes 1er Cru, $39.99, 13% alc.: This ruby dark garnet is neither as effusive nor as heavy as the Jayer-Gilles; it shows a smoky black cherry and plum personality shaded with earth, underbrush and some toast and bacon with air. Medium full bodied, this is the lighter of the two wines, and also shows better with the food, which brings out a dry cherry and red currant quality. As it opens, it seems to put on some weight, and by hour number eleven, I find myself liking this better than the Jayer-Gilles. Like that wine, this one should be showing well around its tenth birthday and beyond.

Imported by Robert Kacher Selections, Washington, D.C.