Alan's April 2nd and 16th, 2005 Vintages Release Tasting Notes - Preceded by "A Diversion in Day-twah"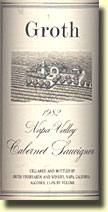 Spring is officially here, although so still is the snow, and the sub zero temperatures. Yet somehow the urge to spring clean did get the better of me last week so off to the cellar I went. A few hours later I clambered up the stairs, having several bottles tucked under arm, all of which I thought best be drunk soon. Most of the geriatric wine troop was composed of treats I knew would survive the test of time, but one bottle in particular had me perplexed. Would a 1982 Groth Napa Cabernet have held up, would it be on its last legs, or had it gone to meet its maker years before?

Well, its maker was none other than Nils Venge, so maybe there was hope left for this vinous veteran after all. Even though '82 was not a banner vintage in Napa, this was clearly not a wine I wanted to open on my own. I picked up the phone invited myself to Gang Central and moments later I was heading west towards the sun as it set over the clear blue skies of the Motor City.

As soon as the capsule came off my worst fear was about to become a reality. The cork crumbled as I tried to remove it and much of it ended up floating in the wine. I poured the first three glasses, complete with cork crumb, and dove in, eager to get the first impression. Oh my golly, was there was still life in this old timer?

1982 Groth Napa Valley Cabernet Sauvignon, 13% alc.: Nose is full of balsa, cedar and vanillin, but escalating waves of stewed plum and organic aromas quickly overwhelm the latter. I note mushroom stems, forest floor, dead leaves, sweet spice, dried porcini, thyme and Szechwan peppercorn. The palate really shows fruit in the form of ripe creamy blackberry, red cherry, blackcurrant and dusty Moroccan spice. The finish echoes the latter, adds some lead pencil, the acids are refreshing and the leathery texture is full. What a nice surprise!

1995 Chateau Corbin Michotte Saint - Emilion Grand Cru Classe, 13% alc.: This is a still a very tight wine. It has a dense meaty leathery and alluring aroma that develops to show both green and Kalamata olives, wet potato skin, arugula, coffee and a touch of burnt toffee. At this stage, little fruit is showing on the nose, but the palate does show a silky textured base of dark raspberry and currant. A second glass shows much more fruit in the form of dark plum and cranberry, along with Dutch salted liquorish, sage leaf, tobacco and coffee. The intensity amplifies to render a silky consistency on the palate. Although time in the decanter helps to bring this around, the tightly wound finish suggests a rest in the cellar will turn this sleeping beauty into a babe.

2002 Carlisle Russian River Valley Two Acres Red Wine, 15% alc.: A huge nose of sweet blackberry essence, cream soda and blackcurrant jam with a background of violet leaves and sage. This is drinking well; the palate is balanced, rich and creamy, and the acids and the dark fruit are in harmony. There are traces of white pepper on the finish along with dusty tannin, cocoa powder, a sugar syrup texture and a slight discernable note of alcohol.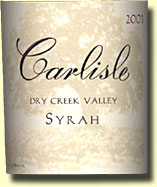 2001 Carlisle Dry Creek Syrah, 16.5% alc.: Here is a captivating monster of a wine showing aromas of blueberry fruit popsicle, blackberry, bubble gum, sawdust, toffee and black pepper. The palate is rich and laden with dark exotic flavours of fruit. A second glass gives up cocoa powder, coconut shell, underbrush, plum, blackberry, nutmeg and sage. The palate deepens giving a texture comparable to that of a Piña Colada. The fruit is still angry and young; it needs time to age to loose its sugar syrupiness and develop. It is still growing in the glass; pepper is becoming prominent, as is the alcohol. However, there are subdued layers of coffee, caramel and toffee that are starting to show as well. It still features that dense dark fruit on the palate that confirms it to be a classic Carlisle.

(Editor's note: It's always a treat when Mr. Kerr comes to visit, but on this occasion, it was a complete surprise to me. I stumbled home after a rather long workday, and my spirits were immediately lifted when I saw that familiar "Zinfan" Ontario license plate on the car parked in our driveway. Alan and Kim were busily preparing a marvelous dinner of rack of lamb, sautéed mushrooms and caramelized onions over beluga lentils and asparagus spears, and he poured me the last glass of a very nice 2003 J. Wilkes Santa Barbara County Pinot Noir Solomon Hills Vineyard Block 3; it wasn't until much later that I discovered that they'd already ravaged a lovely 2002 Thackrey Aquilla Sangiovese! Ah well, they were having fun, and we have more of the stuff in the cellar from heck.

It was so refreshing for me to be able to sit back and not have to record tasting notes on this occasion, and of course Alan is a master scribe. I would add these comments to his: The Corbin Michotte Saint - Emilion might have been better served before the Groth, rather than after; it also could have used some extended air, not to mention more time in the cellar, as CZ observes. The Groth was almost shocking in its pure loveliness, at once so smooth and harmonious, showing no secondary characteristics whatsoever. Regarding the Carlisles, I concur with Alan's assessments, which is why we have none of the Two Acres left, having consumed all of ours, and why we'll keep our hands off of the remaining bottles of Syrah for some years yet.

We now return you to your regularly scheduled Canadian Zinfan.)


~

Here are a few notes on April's wines. I must confess I had to struggle to find really good wines at an appealing price. Good news is there are one or two up for grabs.



A few wines slotted for release on April 2nd


Wine of the Month
590216 CLOS DU VAL ZINFANDEL 1999 $19.95, California
This is an endearing little wine, but I think it may just be past its prime. It has some stewed plum, nutmeg, cooked raspberry, burnt sugar and sweet spice on the nose. The palate is mostly cooked fruit and the acid levels are certainly discernable. It is by no means dead, but it is not a wine to put away.

589945 WOLF BLASS 'GOLD LABEL' CABERNET SAUVIGNON 2002 $29.95, Coonwarra, South Australia
A fruit driven, rather clumsy wine that offers aromas of ripe blackcurrant along with a pleasing touch of earthy moss to offset its jammy character. The acids are in balance and there is a tasty layer of vanilla to compliment the fruit on the finish.

974816 D'ARENBERG 'THE IRONSTONE PRESSINGS' GRENACHE/SHIRAZ/MOURVEDRE 2002 $47.95, McLaren Vale, Australia
Oh my golly, here is a wine to lay down and forget about for a long, long time. It currently has a hard texture on its dense and tightly wound palate. It teases by suggesting plum skin, damson jam, black raspberry, cedar and violet. Due to its intense level of tannin, it is showing so little right now. The structure is all there; one just has to be patient.

650887 WAYNE THOMAS PETIT VERDOT 2003 $35.95, McLaren Vale, South Australia
I liked this wine until I got home and discovered the price. The nose tenders white pepper, sweet maraschino cherry, some lavender and plum. The palate is well rounded and the finish shows some mineral and slate. As I said, I like it, but not that much to pay the asking price.

731620 E&E BLACK PEPPER SHIRAZ 2001 $99.95, Barossa Valley, South Australia, Barossa Valley Estate
A creamy fruit based aroma oozes from my glass, featuring blackberry, plum, black pepper, thyme, dark chocolate and floral notes. It is a big wine; yet again it comes with a big price tag. I imagine this will be a nice wine a few years down the road. The fruit is there and so is the structure and balance. I am just not sure it is worth a C note.


963751 CH

Â

TEAU POTENSAC 2001 $35.95, M

é

doc
This is showing some nice fruit; it is medium bodied, clean and simple. However, I am not overly impressed.

680736 LES GONDATS DE MARQUIS-DE-TERME 2000 $39.95, Margaux, Second Wine of Ch

â

teau Marquis-de-Terme
This is hard to describe, as it seems to have shutdown quite substantially. There are notes of earthy mineral, a wet leather aroma and lots of dried fruit. I would say it is quite full bodied, the fruit is there, but I just can't get to it.

654574 CHATEAU MERVILLE 2001, CORBIERES. $15.95
At last a wine I can call a bargain. It explodes with aromas of bramble, thyme, black fruit coulis, pond water, toffee and black candy. The palate does match the price, meaning it is a little light, but its well balanced and quite refined. The finish is dusty with a touch of pepper and a small degree of heat.

597138 CUSUMANO 'BENUARA' 2002, $22.95, Nero d'Avola, Syrah, Sicily
Here is a lovely concoction of dark chocolate, tea, liquorish, redcurrant and blackberry. It has a huge degree of extraction that runs black fruit all across my tongue. The finish is long exhibiting fruit, pepper, clove and more fruit. Good stuff indeed.



A few wines from the release of April 16th


590380 D'ARENBERG 'THE BONSAI VINE', GRENACHE/SHRAZ/MOURVEDRE, 2001, $25.95, McLaren Vale, Australia
This particular d'Arenberg, unlike its brawny big brother, delivers instant gratification. It is showing dark jammy fruit, damson, dark cherry, some floral notes and a little cedar to pull it all together. The palate is sweet, but not overly so, just enough to render it lip smacking. The finish has lots of that aforementioned fruit and a layer of milk chocolate tannin that does throw a touch of astringency into the mix. The latter will soften, I am sure, with very short term cellaring or a little aeration.

594903 SEPPELT 'CHALAMBAR' SHIRAZ 2000 $24.95, Victoria, Australia
The bottle is adorned with stickers boasting of its triumphs in down under competitions. I can see why it performed so well; it is a pleasurable wine that has a thick, slightly sweet and silky palate. It has notes of dark chocolate, spearmint, vanilla and blackberry. A nice bottle!

593657 'MOCULTA' CABERNET MERLOT 2001 $19.95, Barossa Valley, South Australia, Barossa Valley Estate
A nice funky little nose of Portobello mushroom, dried leaves, blackcurrant and black fruit jam. The mid palate is quite bracing, the acids are that of red currant, but the finish does not stick around as long as I would like it to. It is nice enough though to warrant trying again.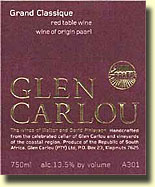 651521 GLEN CARLOU 'GRAND CLASSIQUE' 2001 $21.95, Cabernet Sauvignon/Merlot, Paarl, Walter and David Finlayson, South Africa
On the palate this is warm and silky. The alluring nose offers up some potato skin, leather, tar, mint chocolate candy, shoe polish and a whack of tasty blackcurrant. The finish is full of black fruit, both currant and berry along with a rich crŠme brulee texture. Great stuff.

933317 FONTODI CHIANTI CLASSICO 2002 $31.95
Lots of red fruit, tangerine peel, juniper berry and tar on the nose. The mid palate is balanced. Raspberry and milk chocolate flavours arrive on the finish.

982298 'TINTO ARROYO' CRIANZA 1998, $17.95, Ribera del Duero,
Bodega S. Arroyo
Save the best for last they say. Well this intriguing wine is full of herbaceous notes of sage, lavender and thyme. There are also earthy/sewer notes, a touch of sandalwood/coconut aroma, but the gorgeous wave of blueberry, strawberry, plum and black currant take the principal role on the palate. It has chocolaty tannin and plenty of gusto to take some further aging. Given the price this has to be the QPR wine of the release.

Cheers
CZ

Alan Kerr's Home Page and Main Index