Left: Mark Criden, Tim Thomas, Roland Riesen, Trinka Dykes, John Blackwood, Jeff Faunce, Amy McClellan, Dave Nelson, Rick Dayan, Larry Meehan, Jeff Gillikin, George Heritier, Pam Gillikin
Down in Front: Bob Graeter, Larry the Little, Mary Meehan, Michael Meehan, Kim Adams
Friday

I changed my MO from previous years in Toledo, in that I didn't try to taste everything that was opened, but instead, focused on specific groups of wines, most of them European. For the most part, the only Californian wines I tasted were those made by personal favorites, such as Mr. Ridge and Sean Thackrey. The evening started off perfectly, with a "grower Champagne" from a producer that I'd never encountered before.



Champagne Jose Dhondt Blanc de Blancs à Oger Vieilles Vignes NV, 12% alc.: Medium straw color, with lots of yeast and flint-y mineral, a solid core of under-ripe apple and a little smoke in the background. Lots of zip and a heady mousse; this gives a ton of everything I love about Champagne! Find this wine

Unfortunately, the whites that I tasted this evening were rather underwhelming, which is somewhat surprising, considering some of the producers.

1997 Luneau - Papin Le L d'Or Muscadet Sèvre et Maine Sur Lie, 12% alc.: Pale straw color, with flavors and aromas reminiscent of wet stones, under-ripe apples and rain water; only moderate acidity here, which is surprising, especially considering a brilliant and still very lively '93 that we enjoyed on Friday of Toledo 5. Maybe you need to sit down with this and drink it with a bucket of mussels to consider it on its own terms, or maybe it is just a tired bottle; whatever the case, it was lost in the crowd, and it was only the 2nd wine of the night! Find this wine

2002 Phillipe Tessier Cours-Cheverny Les Sables, 12.5% alc.: Pale to medium straw color, with dust on the nose; not dusty fruit, just dust, and some alcohol as well. Pleasant enough apple and melon flavors, with mineral and again, some alcohol. I'm ambivalent about this one. Find this wine

Francois Chidaine Montlouis Sur Loire Brut, 12.5% alc.: Medium straw color, with one-dimensional apple flavors and aromas; little here to hold my attention, but it might make good vinegar. Find this wine

2000 Hirsch Zobinger Gaisberg Riesling Alte Reben Kamptal/Osterreich, 13% alc.: Medium straw color, with petrol, mineral and green apple aromatics that promise more than the flavors deliver; relatively low acidity, and frankly, disappointing. Find this wine

2003 Paul Zinck Tokay Pinot Gris Prestige, 13% alc.: Pale to medium straw color, with a surprising note of licorice muscling in on the melon and peach on the nose; pleasant enough flavors echo, with less acidity that one would expect and a slightly oily texture. This was a sample given to me by the local distributor, and based on its performance, I didn't buy. Find this wine
With five white duds in a row, it was time to cut my losses and switch to the reds, and what better to Go-to than our #1 Go-to, Mr. Ridge?
1990 Ridge York Creek Petite Sirah, 86% Petite Sirah, 14% Zinfandel, 13.9% alc.: Still a deep, dark garnet color, with just a hint of rust; deep, dark plums and berries with earthy undertones and a good dose of Draper perfume on the nose. Flavors echo, with still significant tannins and acids, and even more earth. This needs years to mellow; it's all there, just give it more time (10 years isn't at all out of the question). Find this wine



1987 Ridge Monte Bello, 92% Cabernet Sauvignon, 5% Merlot, 3% Cabernet Franc, 11.7% alc.: Dark garnet color, with little rust to speak of; big dense black currant nose, with some lavender, a nice whiff of Draper perfume and a surprising note of bell pepper. Flavors echo with less bell pepper; well structured and still a young wine in many respects, if this bottle is any indication, with a solid core of fruit that's not going to fade anytime soon. Some found this a little "weird and atypical," but I think it just needs a good medium rare rib eye steak to really set it off. Find this wine
1995 Sean Thackrey Orion Rossi Vineyard, 13.9% alc.: Some commented on the overwhelming mint-eucalyptus that predominates in this deep dark garnet colored wine, but neither Kim nor this taster had the same impression; Kim got little if any mint, and while I may have detected a little, what I really get from this is a lot of rich, dark plums and berries that show a nice note of perfectly integrated oak; this is a little more fruit forward and less Euro than the '98 and '99 models, being dense, well structured and not that complex. It seems to have the guts to develop and improve for some years yet, and I like this more than those that are put off by the so-called mint. Just my 2 oz. Find this wine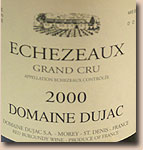 2000 Domaine Dujac Echezeaux, 13% alc.: Slightly rusty, smoky ruby garnet color, with lovely aromatics of mahogany, roses, smoky plums and black cherries that echo and expand on the palate; well structured for further development, but already drinking REALLY well, and everybody loves it. Find this wine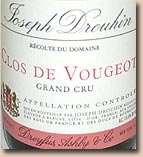 1989 Joseph Drouhin Clos de Vougeot Grand Cru, 13.5% alc.: Slightly rusty ruby garnet color, with a stingy nose and middleweight earth, plums and cherries on the palate; somewhat silky, with moderate tannins and acids, and a different animal than the Dujac and Chevillon, but just as interesting in its own, more well-behaved way. Find this wine
1990 Robert Chevillon Nuits-Saint-Georges Les Saint-Georges, 13.5% alc.: A rusty dark garnet color, offering flavors and aromas of BIG smoky plums anchored by a solid earthy base; substantial and full bodied; the smoke sets the tone here, and there's still some structure here to take this further on down the road. Some found this disappointing, and while I don't have a lot of experience with these, it does seem to be in an intermediate phase, not being terribly complex and by no means fully mature. Find this wine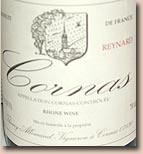 1998 Allemand Cornas Reynard, 12.5% alc.: Like drinking a glass of ink, this is all bacon, black olives and floral fruit on the nose, so much so that I just want to sit and smell it, but taste it I do, and while it's not quite as generous on the palate, it still shows that intense syrah character, turning somewhat astringent on the finish. I usually take that astringency as an indication of a wine that needs more time, and this one certainly does, but it has the structure and depth of fruit to develop and improve for many years. Hopefully, we'll be around when Blackie opens another one, in, oh, say five years or so…Find this wine

2001 Vernay Côte-Rôtie, 12.5% alc.: Dark garnet color, fading to pink at the rim; a middle weight pretender that's out of its league after the Allemand – earth, plums and red berries. Not a "bad" wine, but… Find this wine

1978 Olga Raffault Chinon, 1.5 L, 12% alc.: This old gal shows a rusty ruby garnet color, and gives up a grudging nose that only offers a little dust; more dust on the palate, along with earthy red currants and berries shaded with a bit of bell pepper. My initial notes read "not dead by any means, but too much dust for this taster." This wasn't exactly a big hit, so there was a goodly amount left in the magnum that was packed up and brought home for Kim's vinegar crock. When I returned home after work on Sunday evening, she exclaimed, "The Raffault Chinon ROCKS!" I poured myself a glass and damned if it wasn't showing better than it had two nights before, with more fruit and far less dust, a fine testimonial indeed to this 29 year-old middleweight Cabernet Franc. It still did contribute to next autumn's vinegar, however…Find this wine

1999 Charles Joguet Chinon Clos de la Dioterie, $33.99, 13% alc.: I've been following this ruby dark garnet colored Cab Franc since March of 2004, and it still has a long life ahead of it; it shows nice herbal tinged black currant and blackberry flavors and aromas, underpinned with an earthy core. Well structured and slightly astringent, and my initial impression that this would have benefited from as much as three hours in a decanter seemed to be vindicated the next afternoon, when I had a glass that was more harmonious than the evening before. We have some magnums of this resting comfortably that we'll be in no hurry to open anytime soon. Find this wine

1995 Joseph Phelps Insignia, 90% Cabernet Sauvignon, 7% Merlot, 3% Petite Verdot, 13.5% alc.: Slightly rusty dark garnet color; my notes read, "Yup, it's Insignia all right – big spicy oak and fruit. I'm sorry, I just don't like this wine – DUMP!" Find this wine

1991 La Jota Cabernet Sauvignon Howell Mountain Selection, 13.5% alc.: La Jota is a winery I wish I'd gotten to know better back before the Smiths sold to Markham; they made long lived Cabernet that didn't cater to trendy styles and this dark garnet is a good example. It gives up slightly herbal black currant – cassis with a note of mushrooms, solid earthy undercurrents and big bones, but they're kindly big bones. A solid, if unspectacular Cabernet that probably needs to pair with a good steak to show its best, and I'd STILL rather drink it than Insignia. Find this wine

2002 Gunderloch Nackenheim Rothenberg Rheinhessen Spätlese, $28.99, 9% alc.: I took no notes on this wine, but it's very much as I remember it from last July, when I was most impressed with it. At that time, I wrote: "Medium straw to pale gold in color, with a steely undercurrent, river stones and petrol over peach and apricot in both flavor and aroma; excellent cut, with a not quite unctuous density to it, and a long, long finish." Others seemed to like it as well, and there's still no reason to be in any hurry to open one, because it will only get better over the next five years or more." This one didn't live to see the morning. Find this wine
And then there was this little oddity brought along by David Nelson; I took one sip and cried, "NO MAS!"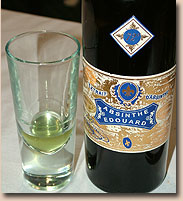 Absinthe Edouard Distiller's Proof. 72% (yeah, that's 144 proof to us on this side of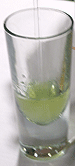 the pond). A recreation of one of the finest Absinthes of its time from the fine folks at Jade Liqueurs, this pours a clear, viscous luminescent greenish yellow. Undiluted the nose is powerful anise, cut with some dark woody notes. Dilution with cool water (no sugar for me thanks) to a 3:1 ratio of water/Absinthe yields a lively swirling louche, and releases a range of lemony citric aromas, as well as some bready licorice. Surprisingly floral in the mouth, but then a rush of anise simply overwhelms the palate. It has a lovely, satiny mouthfeel, and the finish, at least at this level of dilution, rings for minutes. I prefer this as a digestif, as it can overwhelm and numb the palate if taken before a meal. An interesting history lesson, and worth trying for that reason alone in my book, though I expect my bottle will be enough to last for quite a while. Tasting Note By David Nelson

Saturday

I started off with some bubbles on Saturday, and if I could have, I would have stuck with them, but these bottles have a way of being drained; it seems I'm not the only one who likes them. Like the Jose Dhondt Blanc de Blancs from Friday, these were "grower" Champagnes, and all three were wicked good.

Champagne Diebolt-Vallois Tradition à Cramant NV, 12.5% alc.: Medium straw color, with a tinge of peach; fine active bead, with an impressive mousse and a smoky peach and apple nose. Very dry, with lots of minerality in the mouth, under-ripe to the nth degree, and deliciously so; the yeasty quality comes out with air as it opens and warms, getting better and better. Excellent presence and intensity. Find this wine



Champagne Varnier-Fannière Brut Rosé Grand Cru NV, disgorged 05/25/06: Salmon straw color, with the big mousse and the very active bead; the tight nose only gives a hint of cherry-ish aroma, but the flavors pick it up big-time with plenty of cherry and strawberry underscored with a fine, earthy minerality. Rich, with excellent cut and yet a certain smoothness to it; I could drink this stuff all night. I actually tried to go back for more, but the rabble had had their way with it and there was nothing but an empty husk of glass. Find this wine

Champagne Larmandier-Bernier Brut Rosé de Saignée Premier Cru, 12% alc.: This make an immediate impression by way of its intense dark raspberry pink color, probably as dark a rosé as I've had the pleasure of knowing, sparkling or otherwise; it has all the activity you could ask for in the glass and in the mouth, and dishes out intense cherry-raspberry flavors and aromas with the requisite subtle earth and mineral underneath. Excellent cut and very good intensity here, making for one very fine Brut Rosé indeed. Find this wine

Two of the following wines were opened for comparison, one being the retail release and the other for auction.

1999 Dönnhoff Oberhäuser Brücke Riesling Spatlese Nahe, 9% alc.: (Retail) Pale gold color, with a tinge of lemon; ripe apple, apricot, some nice mineral and more than a hint of petrol on the nose, all following through on the palate, being just a touch sweet and very smooth, with moderate acids. Nice wine!
(Auction) A little less intensity of color and a little less minerality, otherwise pretty much the same wine; by the time I got to it, it had lost the intense slate characteristic that it had an hour earlier, according to Larry Meehan. Find this wine

2000 Domaine de Bellivière Coteaux du Loire "Hommage à Louis Derré, 13% alc.: My very first Pineau d'Anuis, this smoky ruby garnet offers earthy berry and cherry on the nose, along with somewhat divergent dry earthy red currant and berry flavors that show good grip and intensity. Kim calls it "black pepper juice," and it delivers more than you might expect from the color. Find this wine

Someone had suggested a "mini-theme" (always a tricky proposition with this crowd) of wines from 1990, and there were some damned good things brought along and opened, starting with a wine from one of our favorite producers here at Adams, Heritier and Associates.

1990 Domaine Tempier Bandol Cabassaou, 11-14% alc.: Deep dark garnet color, with just a hint of rust; flavors and aromas of earth, leather, dark plums and prunes. Soft texture, fine presence, a lovely Bandol, with the leather driving the character of the wine and beautifully so. Find this wine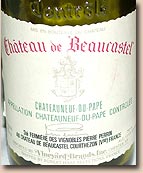 1990 Château de Beaucastel Châteauneuf du Pape, 13.5% alc.: Dark garnet color, with a slight tinge of rust, fading to pink at the rim; wonderful Châteauneuf character, with a note of sweaty barnyard, earth, leather and rich plum, prune, currant and berry. Still well structured and on the way up; a deep wine, smooth and seamless. Find this wine

1990 Domaine du Pegau Châteauneuf du Pape, 13.5% alc.: Dark garnet color with a hint of rust; classic Pegau aromatics, deep, dark and earthy, featuring leather, mahogany and black fruit, all of which follows through on the palate; like the Beaucastel, still well structured and not yet at its peak, and as it opens, it becomes more and more gorgeous. Find this wine

1990 Vieux Télégraphe Châteauneuf du Pape, 1.5 ml, 14% alc.: Rusty dark garnet color, and sweet and savory at the same time, with black olives, leather, earthy black fruit and a note of mahogany; drinking really well now, and while I think it will improve, it's not quite as deep and as structured as the Beaucastel or Pegau. Classic Châteauneuf du Pape. Find this wine

1990 Verset Cornas, 11-14% alc.: Looks like a glass of cloudy ink; vegetal black olive and black fruit flavors and aromas, being smooth, dense and righteous. My only complaint is that it's a little too veged-out. Find this wine

1990 Sean Thackrey Napa Syrah Orion, 13.1% alc.: Rusty ink in a glass; deep, dark and dense black fruit with minty (I know, I know…) overtones and a little oak in the background; still tannic, powerful and monolithic, but it opens nicely with a little air, becoming more harmonious. Find this wine

1997 Jamet Côte Rôtie, 13% alc.: More ink in a glass, with smoky, meaty black olives and black fruit flavors and aromas; dense, structured and ultra-smooth at the same time. My kind o' stuff! Find this wine

I didn't know that a 1990 theme had been suggested; I simply brought the next wine along because it had been in the cellar for eight or ten years and I was concerned that it might be starting to fade. I needn't have worried…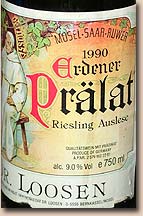 1990 Dr. Loosen Erdener Prälat Riesling Auslese Gold Capsule Mosel Saar Ruwer, 9% alc.: Medium gold color; medium sweet, but not at all cloying, with nice notes of mineral and petrol that take a backseat to the lovely ripe apple and apricot until the finish, where the mineral takes over again. Lovely texture, with perfect acidity and in no danger of fading anytime soon. A real treat, and I took an extra pour just to be sure. I need to drink more great Riesling! Find this wine

By the time I got to this last wine, my scribe skills were rapidly fading, but how could I not scratch something briefly about a beautiful 17-year old J.J. Prum Auslese?

1990 Joh Jos Prüm Wehlener Sonnenuhr Riesling Auslese Mosel Saar Ruwer, 7.5% alc.: Classic Prüm here, with its vivid golden color and rich, sweet apricot and honey flavors and aromas, excellent cut and long, long finish. So much more than these few words can convey, and along with the Dr. Loosen, the perfect way to finish up with the wine before switching to a great cup of Graeters' Black Raspberry Chip Ice Cream. Find this wine