MARCH 2 0 0 2
T A S T I N G N O T E S
1990 Ridge York Creek Cabernet Sauvignon, $15, 80% Cabernet Sauvignon, 15% Merlot, 5% Franc, 13.6% alc.: Thereís some rust to the dark garnet color here, with nice aromatics of dusty cassis, plum and black raspberry and some earthy underbrush lurking; a bit of "Draper perfume" (that certain something that just says Mr. Ridge) emerges with air. These follow through on the palate with some added red licorice; itís not too tannic, has good acidity and a nice finish. The fruit is still more primary than otherwise, but itís drinking so well right now, Iím not sorry that I didnít wait a few years to open it. Very nice!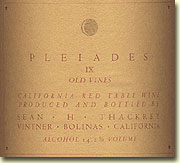 Sean Thackrey Pleiades IX Old Vines, $18, 14.2% alc.: The first time we tried this dark garnet last summer, the color seemed to give a hint as to the non-vintage nature of this wine, as it didnít have the pink rim of a younger model. Like the wide spectrum of varietals in its makeup (including Syrah, Merlot, Carignane, Petite Sirah, Zinfandel, Mourvedre and more), there was a broad band of red fruit in the flavors and aromas as well. Some initial burnt rubber blew off to reveal an interesting mixture of red currant/raspberry/strawberry/rhubarb that gained notes of gunpowder from the profusion of fireworks that were blown off in our neighborhood on the 4th of July. It had an earthy depth to the flavors, with a medium full to full body, resolved tannins and just enough acidity to keep it lively and do what itís supposed to do. Perhaps surprisingly, none of us noted any eucalyptus. We enjoyed this quite a bit with our friend Rod Leon, finding the $18 price tag very reasonable for what is in the bottle.
Interestingly, since then weíve gone through eight of our nine remaining bottles, and while all showed a brighter, less earthy character, the red fruit flavor spectrum remains pretty much the same, minus the rhubarb. All of these have shown more tannins, more acidity and a nice kiss of oak that the first bottle didnít seem to have. The fact that we only have one left shows that these delectables are hard for slugs like us to keep our hands off, but it will likely improve some with short term cellaring. Weíll hold off on this last one until at least next July 4th.
Sean Thackrey Pleiades X Old Vines, $18, 13.9% alc.: Another everything-but-the-kitchen-sink blend of red varietals, this inky dark garnet exudes a pretty bouquet of red currant and raspberry prettied up with toasty oak that compliments, rather than dominates. The luscious fruit flavors echo loudly, and Alan Kerr added impressions of "damson and really nice stewed plums." Not too tannic, with more than enough acidity to keep it lively, a smooth mouthfeel and a nice finish, this received three big thumbs up from the Zinfan, Kim and me.
BACK TO THE TOP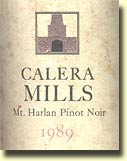 1989 Calera Mt.Harlan Pinot Noir Mills Vineyard: Weíve been enjoying bottles this wine and its 1990 successor for at least five years now, and theyíve never failed to satisfy. The nose on this rusty dark garnet was reminiscent of something from the RhŰne, exploding from the glass with big Brasso, smoke, plum, black cherry, some sweet oak aromas and a slight dustiness. In the mouth, itís more Pinot Noir-ish, with remarkably sweet yet earthy fruit, good acidity and some tannins still lingering. Both flavors and aromas just get sweeter and sweeter as it opens. If it could finish a little longer, thatís only a minor complaint about this beautiful big-boned red. I wondered if it wasnít just coming into its peak, but then I wondered the same two years ago. By the end, it seemed to start to fall apart just a bit, but by then, it was the end anyway. A fond farewell to an old friend.
1996 Landmark Sonoma Mountain Pinot Noir Grand Detour Van der Kamp Vineyards, $49.99, 13.5% alc.: The perfume from this ruby dark garnet isnít overt, but it is pretty, featuring smoky black cherry/plum/chocolate/violet aromatics, and flavors to match. Thereís good acidity and some tannins still to resolve, and while it is soft and somewhat feminine, thereís also some real density to this as well; it ainít no wallflower. However, the bottle we tasted may have been just a bit past its prime; there was something slightly lacking in the intensity of flavor. While it is still enjoyable, especially with food, I got the distinct impression that it would have shown better a year or so ago. Fortunately, the bottle was purchased at 30% off the price listed.
1996 Etude Carneros Pinot Noir, $39.99: Dust and tar obscure the black cherry and plum bouquet of this ruby dark garnet, but while the fruit emerges on the palate in a big way, they still donít completely lose the earthy elements. Dense and full-bodied, this has racy acidity and a good five years of tannins to resolve; the tar becomes accentuated on the finish. After an hour, the funky qualities begin to dissipate and the fruit starts to become ripe and intense. Finally, towards the end of my second glass and a half, some typical Pinot Noir nuances like smoke, cola and tealeaf show up, but by then the wine is almost gone. I should have decanted this for a few hours before drinking, or better yet, held off on it completely until 2006. It would have been well worth the wait.
1996 Robert Stemmler Sonoma Pinot Noir, 1.5L, $45, 13.5% alc.: Thereís no doubt in my mind that this ruby dark garnet suffered in comparison to the í93 Morot Beaune Cent-Vignes noted below, so perhaps itís unfair to say that the best thing about it is the colorful Breugel-esque label. Itís a little dusty on the nose, with one dimensional black cherry character that while inoffensive, shows nothing whatsoever to distinguish itself. A hint of tar and a note of cola add a little complexity to the flavors; tannins are fully resolved and it has good acidity. This has a soda-pop quality about it that turned me off; I might have felt better about it if the magnum had cost $15 or $20. I honestly donít think itís worth a penny more than that.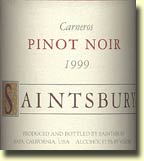 1999 Saintsbury Carneros Pinot Noir, $16.99, 13.5% alc.: Ruby dark garnet, with a little tar over something like a hint of shortbread, vanilla and candied black cherry on the nose and flavors that generally echo. Not too tannic, with good acidity and a decent finish, but Iíd like a little more fruit in proportion to the shortbread and vanilla. An added "pefume-y" (read alcohol) nuance detracts some for this taster.
2000 Saintsbury Carneros Pinot Noir, $40 (at The Whitney in Detroit), MI, 13.5% alc.: Despite the fact that Mary Adams declared that we were committing infanticide by drinking this dark garnet libation, it is actually quite approachable and tasty. It shows toasty sweet oak smoky black cherry flavors and aromas, with hints of vanilla and a Flowers-like yeasty quality. Subtle spice and floral nuances come out with air and add to the appeal. Not exactly zippy, but with more than enough acidity to keep it lively, this needs 3-5 years to resolve the tannins, which turn the finish a little tarry and earthy; at that point, it should be a pretty, feminine Pinot Noir. It was a fine match for the Maryís and Kimís scallops with saffron risotto, and my mushroom dusted swordfish.
1993 Albert Morot Beaune-Teurons, $34.99, 13% alc.: I took a chance on this slightly rusty ruby dark garnet Burgundy not only because of a 30% discount off of the price listed, but also because Morot is supposed to have a reputation for producing wines of good intensity at reasonable prices. And, after the first few whiffs, I thought perhaps Iíd hit upon a good one, because the nose is lovely, showing pretty plum/black cherry, a certain candied aspect and a note of alcohol that strangely didnít detract at all. Unfortunately, the flavors arenít nearly as expressive, having rather hard, under ripe plum and black cherry characteristics that are dominated by not particularly attractive elements of forest floor and earth. It has good acidity and some tannins still to resolve, and the finish is all earth. While it does open some after eight hours, it wasnít enough for us; we just donít care for a wine thatís all bouquet and no flavor. The shelf talker lied about this one.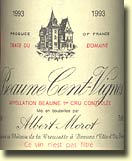 1993 Albert Morot Beaune Cent-Vignes, $34.99, 13% alc.: I bought this at the same time as the Beaune-Teurons noted above, and on the whole, it performed at a much higher level. Itís a slightly cloudy, slightly rusty ruby garnet with dusty, earthy forest floor that all but dominates the smoky black cherry flavors and aromas. I gave it four and a half hours in a decanter before pouring glasses, and it developed some nice spicy nuances on the nose as it continued to open. Thereís good acidity here, and a good five years worth of tannins, but with extended air, itís very enjoyable already. About this, our old friend Mr. E said, "This is what I love about red Burgundy," and who are we to disagree?
1998 Michel Pont Beaune 1er Cru Cent Vignes, $19.99, 13% alc.: Kim picked up these two red Burgs from Laboure-Roi on a whim recently at Costco, and she hit upon a couple of good ones. This shows a dark garnet color, and features a deep earthy plum and black cherry nose with subtle overtones of alcohol that seem to evaporate with some swirlatude. The dense, concentrated flavors echo with the kind of tannic structure that youíd expect from a youngín, along with brisk acidity and a reasonably long finish. Itís still tight, even after eight hours in a decanter, but as it continues to open in the glass, hints of underbrush and tealeaf begin to sneak out, and it actually becomes approachable, and even enjoyable. Easily a 10-year wine.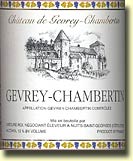 1998 Ch'teau de Gevrey Gevrey-Chambertin, $23.99, 13% alc.: A ruby dark garnet, the plum and black cherry flavors and aromas are a little cleaner and a little less earthy than in the other. More fruit forward and less tannic than the Beaune, itís not quite as dense or concentrated either. It also has good acidity and a reasonably long finish, and you can taste the tealeaf and forest floor that will develop, but itís not quite there yet. It needs at least 3-5 years, but Kim prefers it to the Cent Vignes right now for its more immediate accessibility and feminine charm.
Both of these sturdy, somewhat rustic wines are, as you would expect, all primary fruit at this point, and good candidates for the cellar. I liked the Beaune a little more for its depth and intensity, but we have found room for more of both down in the dreaded cellar from heck.
1998 Domaine Michel Modot Chambolle-Musigny, $29.99, 13% alc.: This ruby dark garnet is another one from Labourť Roi that we found at Costco at a relatively good price; the deep, smoky black cherry flavors and aromas are all primary fruit at this point, as youíd expect, yet the wine is quite approachable with extended air. Other than some little hints of spice and a certain candied aspect that come out as it opens, thereís not much complexity at this point, but the fruit is rich, the tannins are silky and the acidity is good. Thereís nice balance here, and the finish is decent, if not overly long. Very nice for a wine so young.
1998 Domaine Vincent Girardin Santenay "Les Gravieres" Vielles Vignes 1st Cru, $22.99, 13% alc.: We havenít had one of these since we tried the í93 model waaaay back when, so when I saw the two successive vintages, I figured it might make for an interesting comparison. The earlier model is a ruby dark garnet with a pretty bouquet reminiscent of black cherries, sweet cherries and strawberries, all with a kiss of sweet oak. The very dry flavors echo, more or less, with an earthy tone, good acidity, and itís not too tannic to drink right now. It is somewhat astringent from the mid-palate on back through the finish, which should mellow with some time in the cellar, but it does pair well with an ostrich burger. An interesting example of a West Coast nose offset by an Old World flavor profile.
1999 Domaine Vincent Girardin Santenay "Les Gravieres" Vielles Vignes 1st Cru, $23.99, 13% alc.: Identical in color to the í98, this elicited Kimís comment of, "I just want to sit and smell this." And indeed, the toasty oak black cherry bouquet could have come from the Russian River Valley; the flavors are sweeter than the í98 as well, with some earthiness and a hint of chocolate. Smoother and less astringent than its predecessor, it has good acidity and a fairly long finish that is somewhat subdued by the tannins, but 3-5 years should rectify that.
Both of these really open up with extended air, and they're tasty little numbers that will improve in a relatively short time. We both preferred the í99, hands down.
1998 Jaques Girardin Santenay Clos Rousseau 1st Cru, $16.99, 12.9% alc.: You can almost read a tasting note through this pretty ruby dark garnet, and it exhibits a slightly dusty black cherry bouquet that loses a slight vegetal streak and gains a little smoke and something reminiscent of a girly face soap as it opens. The flavors echo with an added earthiness, good acidity and a good five years worth of tannins anyway. Good QPR here, and worth putting a few down for the future.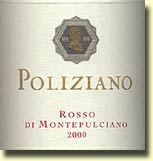 2000 Poliziano Rosso di Montepulciano, $15.99, 13.5% alc.: The least expensive of three wines sent to us recently by our friends at William Grant and Sons, but frankly, we found this more enjoyable than either the Vino Nobile or the "Asinone." The oak is toned down considerably in this dark garnet, compared to the pricier models; the muted earthy black cherry, black currant nose expands nicely on the palate, with just a hint of vanilla. With good acidity, tannins in check and a decent finish, this is pleasant to sip with or without food, but like the other two, doesnít seem very "Italian."
1997 Flowers Sonoma Coast Chardonnay Camp Meeting Ridge Moon Select, 14.2% alc.: After not having tasted it since we bought it about three years ago, this was our second (and last) bottle in a month. Brighter and more ebullient than the previous showing, thereís oak here, to be sure, with a subtle "yeasty" quality, and together these blend nicely to create the signature Flowers perfume. Thereís a basketful of tropical fruit flavors and aromas, with good acidity and some serious intensity, more than in the last taste. It has a nice long finish, and seems like it will hold and improve for a while in the cellar, contradicting the earlier impression. Will the REAL í97 Moon Select Chardonnay please stand up?!
1997 Flowers Sonoma Coast Chardonnay Porter-Bass Vineyard, 13.8% alc.: It had been a while since weíd had one of these medium golden lovelies, and after reading a comment that noted an excessive char in the flavor profile, I thought perhaps it was time to uncork one. Happily, we noted none of the aforementioned character; instead we found a fairly typical Flowers bouquet of tropical fruit/pineapple/canned peas/toasty oak and that slightly yeasty thing that always seems to be going on (in a good way) in these. Flavors echo in a big way, with a crisp acidity and an oily texture that compliment each other. Rich and intense, with a good long finish, I see no reason why this wonít hold for at least a few more years in the cellar, and yet, I wouldnít be averse to uncorking another next week.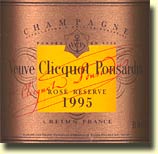 1995 Veuve Clicquot Ponsardin Rose Reserve, 12% alc.: Even The Director herself, not one that youíd call a "bubblehead," couldnít deny the obvious appeal of this, with its copper-salmon color, fine bead and delicious flavors. Not unlike a mature red Burgundy with bubbles, this shows dominant secondary characteristics of mineral, smoke, forest floor and what Mary Adams described as "a little toast on the back of the palate" that shade the stewed cherry fruit. We drank it with relish, deferring the mustard to a later time.
1994 Arrowood Russian River Valley White Riesling Special Select Late Harvest Preston Ranch, Natural sugar at harvest, 36.7 Brix, Residual sugar after fermentation 21.8%, 9.5% alc.: The nose on this golden-amber is effusive, and flavors and aromas are all about apricots, confectionerís sugar and a nice touch of petrol that Riesling wouldnít be Riesling without to me. Like syrup on the palate, with enough acidity and more than enough sugar to take it a looooong way down the road, it has a finish that is almost endless. I was surprised to read on the back label that it was fermented in stainless steel, because I could have sworn I noticed some pleasant oak nuances. The only thing wrong with this brilliant dessert wine is that it was consumed too young. Iíd love to try another in 10 years or so, after itís turned the color of a tawny port, and developed some subtle characteristics that one has to know that it will.
1972 Bodegas Toro Pedro Ximenez Gran Reserva, 375 Ml., 17% alc.: This is the third time Iíve noted this wild-ass wine, and every time we get a new description to contribute to the profile. Letís add them up, shall we? Almost the color of soy sauce was amended, because Mary Adams pointed out that soy sauce was to light; now let it be said that this is almost the color of tamari! It smells and tastes a little like tamari too. Add to that the impressions of Dolphin Girl (organic raisins, maple syrup and molasses), John Jenness (orange and nutmeg), Florida Jim Cowan (motor oil, no weight specified), this taster (black cherry syrup), and you have the stage set for Maryís observation that this is "the wine version of balsamico." And you know what? She was spot on.
BACK TO THE INDEX