By George Heritier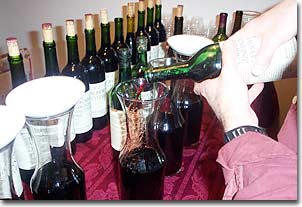 Ridge Geyserville would serve magnificently as the flagship wine for many, many wineries around the world. But at Ridge of course, it plays 2nd fiddle to Monte Bello, and how could it be otherwise? Still, itís world class stuff at a very reasonable tariff, especially when you consider the ridiculous price escalation that so many others have undergone. Sometimes itís a legal Zinfandel, though more often lately, it weighs in at less than 75%, but this quintessential California "field blend," with varying amounts of Petite Sirah, Carignane and Mataro has been a must buy for Bree for close to twenty years. Weíve been in the same boat for over a decade now, so we were looking forward to this amazing array of vintages.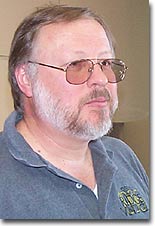 The opening night festivities were held at Chateau califusa, in Napa. There were 20 or so tasters present, most of whom are well acquainted due in large part to meeting through the Internet. Most of the wine came right from Allanís cellar, but longtime Ridge-rite Mike Ripley (left) also provided some of the oldest vintages.
I asked Alan Kerr aka Canadian Zinfan to stay close to me so that I could include his always-unique perspective on what we tasted. Occasionally, he had to lend a hand in the kitchen, and I soldiered on in solitary fashion as best I could. Here are the "snapshots" we took:
1976 Ridge Geyserville Zinfandel: Rusty garnet, but not THAT rusty; not too much on the nose. Excellent acidity, and still tannic! Deep dark black raspberry, with no secondary nuances, and a bit of a bitter, tannic finish. Alan got "a lot of cola," and "an earthiness, kind of like vegetable peelings." Donít know if the fruit will outlast the tannins; it might have opened with an hour in the glass, but I doubt it lasted that long.
1977 Ridge Geyserville Late Harvest Zinfandel: "Oh my God," CZ exclaimed upon his first taste of this brickish ruby red. He went on to add impressions of "fruit focused, coffee, sweet spice cinnamon, cedar, chocolate, stewed rhubarb in a good way, sweet and perfect." This is just brilliant, exploding in the mouth with good acidity, some tannins still to resolve and a loooong finish. Rob Adler added, "Now THIS is Draper perfume!" Doesnít taste like a late harvest, just amazing Zinfandel. Certainly one of the wines of the night; maybe my favorite.
1981 Ridge Geyserville Zinfandel: We tasted this rusty ruby garnet out of order, finding it less expressive than the í77, but still showing good black currant fruit, some tannins, good acidity and not much secondary action. I wondered if it might be starting to tire, but it may have just been a case of having the misfortune to follow the marvelous í77. Very good, but not great.
1980 Ridge Geyserville Zinfandel: Kerr got some "pig poo" on the nose from this slightly rusty ruby garnet, but I didnít. Had to swirl vigorously to coax some perfume out of this, but the flavors picked up nicely, giving sweet spice, raspberry and some "anise candy" according to Kerr. No secondary elements here either, but good acidity and some tannins still. Not quite as substantial as those already tasted, but no wallflower either. CZ called it "medium bodied at best," adding an impression of "black raspberry on the way down."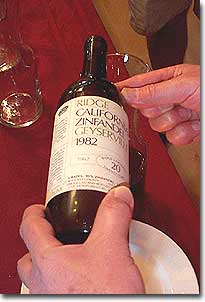 1982 Ridge Geyserville Zinfandel: Rusty ruby garnet with a hint of funk on the nose that blows off to reveal sweet red currant and coffee. CZ noted "a fuzzy texture," but I found it silky and elegant, with flavors echoing the aromas, with slight hints of secondary cedar. Still some tannins, and good acidity, though not nearly as much as those already tasted; fruit on the way down, but still delivering.
1983 Ridge Trentadue Zinfandel: Ruby garnet with sweet red currant and black raspberry flavors and aromas showing hints of coffee. Good acidity, not too tannic; lacking some concentration that the others have. A little past its prime; good, but not great.
1984 Ridge Geyserville Zinfandel: Some rust to the ruby garnet color; reticent spicy black raspberry nose, but the big fruit flavors pick it up nicely. Tannins mostly resolved, good acidity, medium full body, and a nice finish. At its peak? Just past? Solid Geyserville.
1985 Ridge Geyserville Zinfandel: Slightly rusty ruby dark garnet with all that Draper perfume; sweet spicy black raspberry cinnamon flavors and aromas, with good concentration on the palate. Not too tannic, with good acidity and a decent finish. At its prime, or just past. Nice, but the memory of the í77 lingers, having set a benchmark thatís hard to best.
1987 Ridge Geyserville Zinfandel: Ever so slightly rusty ruby garnet with just a hint of the barnyard over Draper perfume. More substantial and concentrated on the palate than the last few, with some silky tannins, good acidity and a nice finish. Very good Geyserville.
1991 Ridge Geyserville: Dark garnet with no rust to speak of; thicker than the others, with typical Geyserville character on a bigger frame. Good acidity, at least 5 years worth of tannins and a loooong finish. This one really picks it up a notch; the next best to the í77 so far. Kerr mentioned a note of "black strap molasses."
1992 Ridge Geyserville: Just a hint of rust to the dark garnet color; huge Draper perfume. Sweet cinnamon and black and red raspberry character. Henry "hank" Harris gushed, "perfect balance, hitting on all cylinders." He wasnít wrong, because this oneís right there, right now. Even better than the í91.
1992 Ridge Whitten Carignane ATP: Dark garnet, with "a little funky potato peel," according to Kerr, you can certainly recognize the contribution this makes to Geyserville. Really pretty Draper perfume red currant, raspberry flavors and aromas. Tannins mostly, if not entirely resolved, with a different level of acidity that sets it apart from the Zin-based wines. A little note of poop adds to, rather than detracts from the charm of this fine wine. Somehow, we missed the í94 Whitten Carignane, but Bree said it was also excellent.
1993 Ridge Geyserville: Dark garnet, with a hit of alcohol on the nose at first, then that same pretty red raspberry and cinnamon Draper perfume that itís had since release. Flavors echo so nicely, with some silky tannins still evident, good acidity and a long finish. So typical of the í93 Ridge Zinfandel based wines, just a very pretty Geyserville. George Palmerís and David Wrightís favorite of the night.
1994 Ridge Geyserville: Ruby dark garnet; the nose only hints at the lovely black raspberry and coffee flavors here. The best of the Ď94s, this has really evolved nicely. If itís not the gem that the í92 and í93 are, itís still a fine Mr. Ridge.
1995 Ridge Geyserville: Dark garnet; another explosion of fruit, only plum-like notes marry with the big spicy black raspberry character. Finally drinking really nicely now, this is an excellent big, dense Geezer.
1996 Ridge Geyserville: This rich dark garnet reminded CZ of "grilled Italian sausageÖ" (I just write it down, folks.) He later clarified that, explaining "Hey, the Italian sausage refers to hints of fennel and pepper, you wiener." Little notes of coffee and nutmeg add complexity and interest to the dense black raspberry Draper perfume. Kerr added impressions of "a little trace of licorice, and a little hot." Very yummy, and not too tannic to drink with some aeration. A worthy Geezer, to be sure.
1996 Ridge Geyserville Petite Sirah ATP: CZ had this to say about this inky garnet: "Tarry, a little green leaf forest, a little nuttiness, milk chocolate and pine cone." All of this adorned the deep dark black berry and plum flavors and aromas. Very smooth on the palate, this is almost a shock with considerably less acidity that the Zin-based wines. My notes read, "I want to sit and get to know this better, but there are other girls to flirt with." Did I say that?!
1997 Ridge Geyserville: Dark garnet; not as dense as the last several. Cleaner, more obvious oak, and some coconut to boot. Very consistent with previous encounters.
1998 Ridge Geyserville: Kerr doesnít like this dark garnet as well as the others, and indeed, itís not as boisterous as the í95 or í96. He mentioned a note of "violets," adding impressions of "medium flashy fruit." This suffered in comparison to the rest, but I can vouch from a recent taste thatís itís a fine wine on its own terms.
1999 Ridge Geyserville: CZ again: "Strawberry, cranberry, black raspberry, a lot of different fruits. A touch of white pepper under everything, and a little lavender." This had plenty of air by the time we got to it, so the tannins had smoothed out some, and it has the usual good acidity. Oh yeah, and itís a deep dark garnet.
There were other wines that those in attendance brought and opened, but it was all we could do to take notes on the main event. As it was, we didnít record our impressions of 4 Ridge Essence Zins that Bree opened for dessert, although Kerr and I put a good dent in the í91 and í93 whilst smoking stinky cigars out on the front porch after everyone had left. We found them to be wonderful, but I was surprised to hear that Kim found the í93 to be too sweet. Guess Iíll have to drink the one we have in the cellar from hell all by my lonesome.
It was a wonderful evening of good friends, great food and beautiful wines that maintained an amazing level of excellence and consistency. I would have been all warm and fuzzy and satisfied for weeks after this, but we had to wake up and do it all over the next day, with yet more wines. And we didnít have the luxury of waiting until the evening; kickoff was scheduled for 2 PM.
Fortunately, weíre the Gang of Pour, and these are the kinds of challenges that we train for, so we were up to the task.
B A C K T O T H E T O P

Introduction

Friday

Saturday
Sunday

Epilogue

Extra Stuff