By Bruce Leiserowitz


Friday May 10 through Sunday May 12 was the three-day festival of food, love, and wine that has been dubbed "Ridgestock 2002." If the original Woodstock took place during the Age of Aquarius ("and Jupiter aligned with Mars"), Ridgestock 2002 saw an historic alignment of five planets in the night sky—Mercury, Venus, Mars, Jupiter, and Saturn. For a fabulous photograph of the five planets framed by Stonehenge, go to:
http://antwrp.gsfc.nasa.gov/apod/ap020509.html
In much the same way, the wine planets aligned perfectly during this weekend (with some major human intervention) to produce linear and nonlinear formations of Ridge wines; three sets of comprehensive tastings of Ridge wines—Geyserville, York Creek, and Monte Bello. Despite my urging, though, the bottles weren't laid out in the shape of a big smiley face.
Indeed, this confluence of stars, wine, and people was foretold by my own horoscopes. As Dave Berry would say, I am not making this up:
Friday, May 10: Just one more big push and you'll be over the top. Make plans to hide out with friends this weekend in a beautiful, safe location. If possible, let somebody else pay for it.
Sunday May 12: Continue to keep your money in your pocket. You're not leeching off your friends, but you might be enjoying a fabulous day with them without breaking the bank.
So by immersing ourselves in the generous hospitality of those who hosted this festival, including Allan Bree, Kim Adams, George Heritier, Alan Kerr (chef extraordinaire), Barbara & Jim Richards, and Russell Bevan & Victoria DeCrecenzo, we were simply fulfilling a destiny decreed by the planets.
Of course, Ridgestock 2002 wasn't exactly like Woodstock in 1969. At Woodstock, some folks freaked out on bad batches of LSD. At Ridgestock, no one freaked out on a few badly corked batches of wines. At Ridgestock, purple didn't refer to a pill color (putting aside anyone taking Prilosec); it referred to the color of people's teeth and tongues. At Woodstock, it rained and people frolicked in the mud. At Ridgestock, there was no rain whatsoever, although there was some slight smearing of sediment.
And now that we've exhausted our astral analogies, mega metaphors, and colorful comparisons, it's off to the notes.
DAY ONE: GEYSERVILLE
The first day of Ridgestock 2002 was celebrated at Bree's house in Napa. The centerpiece of the festivities was a more or less complete vertical of Ridge's Geyservilles, from 1976 to 1999. Here are my brief impressions on the wines, which were tasted soon after opening:
1976 Ridge Geyserville: Very brown color. A porty nose—some spice, but pruny and alcoholic. Not dead, but OTH.
1977 Ridge Geyserville: A very floral, perfumy wine. Good balance of fruit and acid; not OTH at all.
1980 Ridge Geyserville: Prunes and plums throughout, with noticeable cake spices. Not as complex as the 77.
1981 Ridge Geyserville: Reminds me of the aged Zinfandel becoming aged claret quality. Still fairly powerful.
1983 Ridge Trentadue Geyserville: Aromatics rather muted, and the midpalate fruit a bit OTH.
1982 Ridge Geyserville: Mostly cherry and plums in the nose. In the taste, the fruit was definitely OTH, with the alcohol and tannins dominating.
1983 Ridge Geyserville: Corked!
1984 Ridge Geyserville: A spicy, slightly minty nose. The spice and mint carry through to the taste. The wine is a bit alcoholic/hot, and the finish is extremely tannic.
1985 Ridge Geyserville: Lovely nose—plums, dark chocolate, and spice. Also somewhat hot and tannic, like the 84, but I thought the midpalate fruit had held up better and the wine was more complex. One of the best of the 80's.
1987 Ridge Geyserville: A different nose—almost cedary (slightly corked?), prunes, and light chocolate. More intense midpalate fruit than the 85, but also more cedary. Not as complex as the 85, I thought.
1990 Ridge Geyserville: Corked! [Arggg. This was the only Geyserville gap I could fill, and it was corked.]
1990 Ridge Lytton Springs: In pulling wines for the weekend, I had originally pulled this one, thinking it was the 90 Geyserville. Luckily, I brought it along anyway, as it was drinking very well. A full-bodied LS, with rich fruit and balanced acidity and tannins. No reason to age it further.
1991 Ridge Geyserville: Very aromatic wine—deep plum, dark chocolate, and cake spice. Another fairly tannic wine, but the fruit and spice balances it out.
1992 Ridge Geyserville: More bright red fruit quality throughout. A very full midpalate, with lots of chocolate and cherry/plums. Lovely wine.
1992 Ridge Carignan Whitten Ranch: A different kettle of Ridge. Mostly vanilla and tobacco qualities, without the spiciness of the Geyservilles, and very tannic.
1993 Ridge Geyserville: An especially spicy wine—cake spice and cinnamon throughout. Lively midpalate acidity, and not overly tannic. Very enjoyable.
1994 Ridge Carignan Whitten: Lots of vanilla in this wine as well, but a bit tart and hollow in the midpalate.
1994 Ridge Geyserville. A slight stylistic shift. Nose of medium spiciness, with vanilla and a touch of leather. A very intense, perfumy midpalate, with lots of chocolate, slight leather, and a hint of pepper. While still very tannic, an excellent wine.
1995 Ridge Geyserville: A deeply plummy and rhubarby wine throughout. More acidity than the 94, but smoother, and less tannic. Better balanced than the 94, but not as complex.
1996 Ridge Geyserville: Slightly smoky nose, with cherry and plum. In the taste, it seemed to be all entry and tannic finish—somewhat hollow in the midpalate, I thought.
1996 Ridge Geyserville Petite Syrah ATP: Deep blackberry and black fruits, with slight cinnamon and leather. There's a slight funkiness (but good funk) to this wine. Still a baby; could use 3-4+ years.
1997 Ridge Geyserville: Dark chocolate and plums throughout, with very ripe (almost overripe) fruit. The fruit is so ripe it gives the impression of slight residual sugar. A very spicy wine.
1998 Ridge Geyserville: A much more subdued wine than the preceding Geyservilles; more fruit-driven and not nearly as full and rich as the 97. It tastes slightly unripe by comparison to the ripeness of the 97.
1999 Ridge Geyserville: Very aromatic wine—spice, a light fruit/Gamay quality. Very promising taste, and not overly tannic. Probably needs 2-3 years.
Overall impressions: The Geyserville style has remained fairly consistent throughout the years—plums, chocolate, and/or cake spice notes. The wines can be quite tannic in their youth, and in some older vintages the tannins clearly outlasted the fruit. For my tastes, I like the fruit/tannin balance with about 7-10 years of aging.
After the Geyserville vertical, I stopped taking notes while dinner was being prepared and other wines were opened. I should mention one of the evening's food and wine highlights. Alan Kerr and Allan Bree assembled a killer sautéed foie gras appetizer, with caramelized apples and a balsamic vinegar reduction sauce. It was nicely paired with the Beringer Nightengale dessert wines; a very yummy way to start the dinner.
DAY TWO: YORK CREEK VIA PALOMA
The second day of Ridgestock 2002 was held at a most unusual venue for a tasting of Ridge wines—Paloma Vineyards in Napa Valley. Our hosts were Barbara and Jim Richards of Paloma. It's amazing enough to me that they would let a group of Internet winegeeks run amok on their property; that they would let us use their crush pad to host a tasting of ANOTHER WINERY'S WINES is beyond amazing.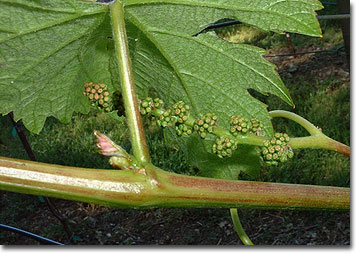 It was a sunny, clear, warm spring day. If you've ever driven up Spring Mountain Road to their property, you know about the impressive views they have down Spring Mountain to the Napa Valley floor to the east. The new shoots were emerging from their winter slumber (Photo at left by Randy Resnick).
The theme of the second day was an extensive tasting of various Ridge wines produced from the York Creek property. In addition to wines produced by Ridge, we had some older Freemark Abbey wines made from that property. One of the guests was Fritz Maytag, the owner of York Creek, and he brought some older vintages as well as samples of wines currently made under the York Creek label.
For better or worse, I really wasn't in a mood to take detailed tasting notes at Paloma. There were too many wines to keep track of, and the setting and company were such that I wanted to spend more time chatting, sipping, and taking a few photos. I will say that two of the top wines for me were the 71 Ridge YC Petite Sirah and the 71 Freemark Abbey YC Petite Sirah. Because of their structure and tannins, Petite Sirahs tend to be more long-lived than other wines, but you don't necessarily expect thirty year-old Petite Sirahs to be enjoyable. These wines gave great pleasure.
I didn't stay at Paloma for more than a few hours—I headed back to Sacramento to spend Saturday evening with family—so I'll leave the detailed notes on the wines to others.

DAY THREE—THE FULL MONTE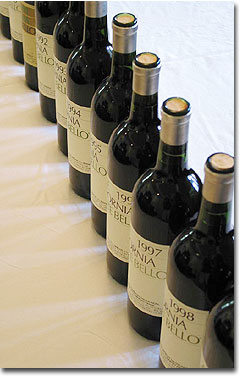 Day Three of Ridgestock 2002 was billed as the apex of the weekend, and if anything, that was probably an understatement. Sunday was to be a comprehensive vertical tasting of the Ridge Monte Bello Cabernets (although the exact labeling has changed over the years) from 1982 to 1999 (Photo at left by Benjamin Luebbers). The tasting was hosted by Russell Bevan and Victoria DeCrecenzo at their new digs near Santa Rosa. I have tasted many of these vintages over the years, but this was a unique opportunity to taste them all side-by-side. I had originally planned to spit, but when I started tasting all the wines, I couldn't bring myself to spit:
1982 Ridge Santa Cruz Mountains Cabernet Sauvignon (Declassified Monte Bello): Reddish brown color. Mute nose, with relatively mute taste. This wine was more or less DOA.
1983 Ridge Santa Cruz Mountains Cabernet Sauvignon (Declassified Monte Bello): Medium aromatic nose of mint and cassis. More flavorful than the 82 MB (not saying much), but the midpalate fruit was definitely OTH.
1984 Ridge Monte Bello: A noticeably darker reddish brown. The first vibrant MB. Nose of smoke, berries, earth, and tobacco (you'll see a LOT of these descriptors as we go through the lineup). The nose carries through to the palate. Although the wine is past its peak, the fruit is still hanging in there, and the tannins are essentially resolved. A near "wow" wine.
1985 Ridge Monte Bello: A darker red color. A stronger, deeper nose—more tobacco and earth. A perfect balance of fruit, acidity, and character. A strong "wow" plus.
1986 Ridge Monte Bello: Slightly more aromatic than the 85 MB, with more dark fruits. The wine was a bit more light-bodied, though, and not as complex or compelling as the 85. Drink up. A strong "yum."
1987 Ridge Monte Bello: Corked! [Luckily, the only one].
1988 Ridge Monte Bello: More of a cedary nose—might be just slightly corked. A great deal of tobacco and spice in the midpalate. Still very lively. Between a strong "yum" and a low "wow."
1989 Ridge Monte Bello: The nose wasn't giving much, but the taste more than made up for it—very earthy, with lots of tobacco and slight mint. A very tannic wine as well—could use 3-5 years in the cellar. A near "wow."
1990 Ridge Monte Bello: No nose to speak of, and the midpalate fruit was definitely on the downhill slope. Still, there was lots of plumminess and spice in this wine. Probably a "yum."
1991 Ridge Monte Bello: Since we didn't taste the wines blind, there's always the possibility that one is affected by one's prior experience with the wine. This is still one of the greatest Ridge MB's I have tasted, and certainly one of the top California Cabernets/Cabernet blends from the 1990's. This particular bottle was a great example—extremely aromatic, with floral notes, smoke, crushed berries, plums, and slight earthiness. The taste took it to another level—deep, full, with lots and lots of layers. Amazing fruit, balanced with acidity, tobacco, and earth. Winner of the Thunderbird Award for sure. An "ay carumba" wine for sure.
1991 Ridge Jimsomare Cabernet: I wanted to throw this wine into the lineup to see how it would fare against the other MB's and the 91 MB in particular. This particular bottle showed very well, I thought. Similar to the 91 MB, but more youthful and perhaps a bit more primary—not as many layers of flavor. Probably more acidity and more tobacco notes than the 91 MB. Somewhere between a "wow" and an "ay carumba."
1992 Ridge Monte Bello: A spicier wine than the 91 MB, but much more simple, and the midpalate fruit seemed to be fading. Overall, a "yum" wine.
1993 Ridge Monte Bello: A slightly more aromatic wine than the 92 MB, with nice mint and cassis. A firmer wine, with better fruit levels, but the finish seemed rather short. A strong "yum."
1994 Ridge Monte Bello: Much more herbs and cassis throughout than the last two MB's. A noticeably astringent wine, however—probably needs 3-6 years to mellow out. A strong "yum."
1995 Ridge Monte Bello: Spicier fruit throughout, with better balance, stronger relative acidity. Lovely spice and cassis notes throughout. Needs cellaring to achieve complexity. A strong "yum" with definite "wow" potential.
1996 Ridge Monte Bello: Very dark purple color. More like a barrel sample—crushed berries, dark chocolate, and slight earthiness in the nose. Even more like a young wine in the taste—floral, fresh berries, and more dark chocolate. Also needs cellaring for complexity. Already a "wow" with greater potential.
1997 Ridge Monte Bello: Tobacco, earth, and cassis throughout. Very well-balanced, but not as intense and layered as the 96 MB. Still, a "wow".
1998 Ridge Monte Bello: The only disappointed MB of the recent vintages. A more fruit-driven wine, without the complex tobacco/earth qualities of other vintages. Not nearly as full-bodied or rich as the 97 in taste. An early drinker and a "yum" wine.
1999 Ridge Monte Bello: Very dark purple. VERY floral nose, with lots of cassis and dark chocolate. The nose carries through to the taste, with tons of dark chocolate, cassis, and slight black olive. Again, needs extensive aging to achieve complexity, but it may be one of the best Ridge MB's of the 1990's after the monumental 91 MB. Already a "wow" with "ay carumba" potential.
Overall impressions: This tasting showed why the Ridge Monte Bellos are of such consistently high quality. In that sense, they remind me of the Chateau Montelena Cabernets. Also, like Montelena Cabernets, they manage to marry ripe California fruit with other interesting elements, like earth or tobacco. In a good vintage of MB, I think the wines show best after about 7-8 years—that's when they really demonstrate their complexity.
Because the weekend was really due in largest part to the efforts of Bree—he supplied many, many bottles, he organized the events, he hosted one of the events, he took charge of supplying the hungry winegeek hordes with tasty vittles, etc.—he was presented with a huge love-in cake. Of course, a lot of the credit for the weekend goes to the various members of the conspiracy loosely known as the Gang of Pour.
Now, you could have stopped at this point and it would have been more than enough. For those of you familiar with Passover, think of the "Dayenu" song. For those who need to brush up on their Seder song summaries, check out this link.
But nothing succeeds like excess, especially in this crowd. So, of course, there were several OTHER bottles that were generously shared, many of which came from the irrepressible Russell Bevan. I didn't take notes on everything else I tasted, but here are a few noteworthy highlights:
1996 SQN Against the Wall. This wine is really singing right now—spice, smoke, blackberry and blueberry throughout. Some meatiness in the taste just adds to the complexity. Probably somewhere between a "wow" and an "ay carumba."
1999 Pride Reserve Claret. Lots of blackberry and some blueberry, but very approachable and well-balanced—not at all a tannic beast. Another "wow" wine.
1991 Chave Hermitage Rouge. The first taste I had was from a bottle that had been opened the day before. It was good, but it didn't knock my socks off. The bottle that was opened on Sunday afternoon, however, removed all footware. Extremely aromatic—meaty, spicy, herbs (lavendar?), and blackberries. Lovely taste—smooth, balanced, with layer after layer. Just killer wine for my palate, and probably an "ay carumba."
1998 Alban Lorraine (I think) Syrah. I didn't take notes at this point, but I certainly remember the wine. An excellent cross between the ripe California Syrah fruit and a more complex, structured Rhone wine. Lots of meaty and slight minerally notes, plus some roasted coffee. Still very young and primary; probably needs 3-5 years. Already a "wow" with much greater potential.
And it just went on and on like that. But wait, there's more. On top of everything else that was going on, the Lakers were playing Game Four against the San Antonio Spurs at San Antonio, and so Russell Briggs and I kept sneaking off to a side room to watch the game. By the fourth quarter, we were pretty much glued to the set, and there was a fairly large crowd by the end when the Lakers recovered from yet another deficit at the end. With a few seconds to spare, the Lakers went ahead with a Kobe Bryant put-back, and eked out another win. Exciting stuff, indeed.
And then there were all the great people, many of whom I've met several times before. But some, like Chris Gross (aka Moe) I had never been able to meet before. And speaking of meeting for the first time, there was little Michaela, only a few weeks old, who handled the stress of a monster winegeek festival with no apparent signs of stress. I guess you couldn't expect anything less from a child of Julius & Denise.
CLOSING THOUGHTS
As you can probably tell from reading this long-winded wine tale, I'm still basking in the afterglow of Ridgestock 2002. My aura has been recalibrated, and my chakra has been adjusted. There was an amazing surfeit of positive wine karma.
In a way, I'm a little surprised at my own reaction to this weekend. For the most part, I'm not usually that enthusiastic about the large format wine events—there's too much wine, there are too many people (most of whom I never get much of a chance to talk to), etc. The large events seem too daunting and often too impersonal.
For whatever reason—the weather, the people, the wines, the food, the setting, the alignment of the stars—this weekend was beyond great. It was certainly one of my top wine events of all time, undoubtedly in large part due to the fact that it wasn't really just about the wine. To borrow a phrase they use around these Gang of Pour parts, "it's the people, stupid."
Many thanks to everyone who put this together, hosted the events, supplied the wines, cooked the food, etc. But a special thanks to Allan Bree to serving as the overall catalyst and master of ceremonies. To say that this weekend wouldn't have happened without him is a vast understatement.
Bruce Leiserowitz