Many here may have heard of Greg Ellis, the benevolent moderator, or Greg Ellis, the 21st century version of Marcus Welby. And yes, even Greg Ellis, redneck extraordinaire who hosts the annual Rednecks & Red Rhônes run up to the Daytona 500 NASCAR season premier. But few know of Greg Ellis, points leader of the Blue Ridge Cup Cycling competition shifting in to high gear right under our noses. Yep, check it out.
One of the grueling competitions is a little 13,000 foot climb known as the Mountain Mama that takes place just over the mountains from Virginia's Great Valley in an area known as "Little Switzerland." Solvang, this ain't. Not a yodel to be heard or air tram in sight, but the mountain slopes are something to behold. Throw in some hairpin turns and switchbacks and you got some serious leg cramps ahead of you. But this wasn't a race, mind you. It's a "ride" that evokes the idea of pedaling a bit and coasting a might. They even have little stops along the way so the locals can sit and visit a spell with the out-o'towners ('cause ain't no resident in their right mind 'bout to squeeze into neoprene and nylon and ride - in public no less - a Schwinn up one of these hills. (Well, SettieSue Wallergup once tried the nylon part of this madness, but she had about as much luck zipp'n her vest top as tie'n two wildcats in a zip-loc trash bag. But I digress.) Imagine the snickers any local would endure walk'n down the aisle to his favorite pew in the Presbyterian church the next day if they tried walking around in QuateXforma shorts, much less rid'n a bike.

But since this is a "ride" and not a "race" it seemed appropriate to prepare a little something to make each stop worthwhile for Greg. After all, this "ride" was a hundred (100!) miles long into two states (assuming you accept that thieving vote in 1863!) and looked like this. And since he needed only 4 stops along the way, it seemed appropriate to bring along a little fortitude for Greg.
After climbing both Jack Mountain and Bull Pasture Mountain, a celebration of sorts seemed in order. I mean, if he hadn't vapor locked on those two hills, Greg had a chance of making it at least as far as West Virginia. Ignoring the obvious - that a trip into West Virginia is not cause for celebration - and doing what Virginians do best - looking backwards - we celebrated Greg's successful climb and descent of these two mountains. No only had he succeeded in climbing them, but he managed to avoid careening off the sides of them during his descent. We welcomed him with:

Veuve Fourny & Fils R de Fourny Brut Premier Cru Vertus NV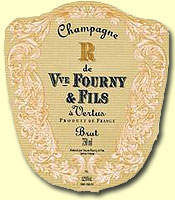 A very fine bead streams up from the glass for as long as you might hesitate to leave wine in the glass. The mousse is fine, but not delicate. Traces of bread dough, coconut and nutmeg fill in the edges of the palate's central lemon and citrus notes with a leesy finish. Krug it is not, but it is one fine Champers. 12% alc. along side lemon and olive crostini, it was a very fine pairing. Highly Recommended. Find this wine

Refreshed, we sent Dr. Cycle on his way to the West Virginia leg of the ride. And if he didn't make it out of WV, well, he'd be in the company of a lot of others that never found their way out neither.

It didn't seem right that Greg would supply his own refreshment for one of the stops, but supply it he did for the next stop. Maybe he wanted something to incentivize his pedaling through those hills. Or perhaps he recalled the tales of Mr. Ross who has suffered the inferior wares of my cellar. Greg came well stocked with:

Château de Beaucastel Châteauneuf du Pape Rhone 1990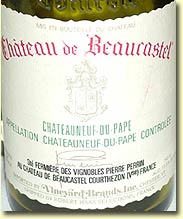 A deep polished garnet color. The nose is filled with iodine, lavender, dried cherries, plum and smoked meats. If ever tannins were fully integrated, this is it. Velvety smooth with not so much a seamlessness as a smooth shifting from attack all the way through the finish. A fairly good dose of sediment awaited anyone who might have thought of wringing every last ounce out of the bottle. No one did; no one needed to. 13.5% alc. We tried to do right by this by pairing it with grill roasted game hens (with herb butter under the skin), savory red bell pepper crčme bruleé, and gnocchi with balsamic vinegar. Highly Recommended. Find this wine

Besides, we knew that Greg would need all the protein and carbs he could use to get him out of West Virginia. If he didn't hit the next stop in an hour and a half, we weren't holding out much hope of seeing him anytime soon. Those hollers are so deep that by 3:30 it begins to get dark, and no telling who or what might be in them. I mean, any place that actually has lesson plans on Hillbillies has got some serious issues.

So we thought we'd continue to nurture Greg along at his third stop with more of the same protein and carbs, but throw in a little New World character. Besides, if he didn't make it out of WV, he'd be surrounded by some characters indeed. To help along, we pulled:

Tensley Syrah Purisima Mountain 2001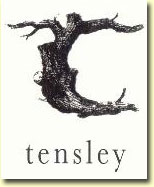 An inky color or blue-black plum. But the color is not quite like others I've had. It looks a bit, well, dirty. The nose of, .... of, ... damn! Something ain't right with this, what with dog fur and cardboard. Aww, man! It's CORKED!
Find this wine

The memory of the Beaucastel would have to carry Greg through. Sustained by water alone, Greg pushed on. We left the bottle of Tensely for some West Virginia native to use to clean a denture.

At mile 80, north of Bartow, West Virginia, set up food to supply Greg with needed energy before his 1,340 foot climb over Perry Mountain that would lead to the final climb over Monterey Mountain and the finish line below. Carbs, sugar and plain, raw gut was all the last leg would be. And since the man started this race with nothing more than skin and bones, we decided he might be a need'n a little something by this point. Packing on a little sugar boost might just help him finish well. So we pulled:

Chateau Suduiraut Premier Cru Sauternes 1999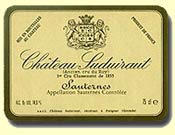 This is a mighty young Sauternes, but the events warranted pulling it. Its youth made a good foil for the age of the mountains Greg was climbing....or just a good foil for Greg's age. A pungent nose of tangerine, anise, petrol, honeysuckle and white flower with a viscous, pleasantly oily mouthfeel. Pulling this now didn't disappoint, but waiting another ten years won't disappoint either. 14% alc. and served with Bailey's Irish Cream cheesecake. Frankly, this wasn't meant as a pairing and I'd rather drink the wine than have the dessert. But I hafta say, both are rock'n. Highly Recommended. Find this wine

What food and such we had left - mostly empty containers and trash by this point - we packed up and made our way to the finish line to await Greg's arrival. As we caught the pack of cyclists and eventually threaded the Jeep past them huffing up the first mountain, we noticed Greg seemed to be straggl'n a might behind and toward the back of the pack. He was look'n a tad bit uncomfortable, like a squirrel having eat'n one too many walnuts and still trying to carry one more up to his nest. But then serving a belly full of cheesecake to him to lug up a couple of mountains might not have been the best idea for a carb boost in retrospect. As I pushed the accelerator down and the Jeep easily sped up the mountain, I really didn't consider it again; I mean, I didn't sign up for this madness after all.

But all in good time Greg eventually chugged his way back to the finish line, which, being on school property, prohibited a celebration involving alcoholic overtones. (No one seemed to much care what the ag class had grow'n in the corner of the school lot, but that needn't concern us either.) If any of the game hens and such other vict'als stuck with Dr. Cycle, little effect lingerd. Since we last laid eyes on him, he'd climbed two more mountains with an aggregate elevation of about 2,800 feet. Bless his heart, the closest thing to celebratory food to be found was a spaghetti dinner supplied by the local Girl Scouts, complete with powdered cheese from a green box and washed down with pink lemonade. Greg packed on the carbs, packed up the bike and headed out of the hills back to the flatlands with one more notch on his belt for the Blue Ridge Cup Cycling competition.

Boyce (BEB)

Check out Boyce's other contributions to the Gang of Pour: 2007 Red Necks and Red Rhônes
2006 Red Necks and Red Rhônes Tasting Notes: Qualifying and Race Day

Greg Ellis also took a little ride through France not too long ago...

Link to Gang of Pour Home Page

Link to Gang of Pour Site Index (Table of Contents)