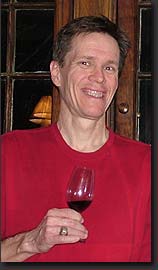 An embarrassment of riches abounded at Chez Ellis hosted ever so graciously by Greg & Tami Ellis, (Greg Ellis, left) as the shoot out prelim for the Rednecks & Red Rhônes got underway Saturday, February 18.

Bob Cuozzi organized the afternoon culinary events as I pulled the first wine as a run up to the evening got underway. Didier Dagueneau pulled off the pole in the Buisson Menard, Pouilly Fume 1999 Find this wine. But for the pale yellow gold color, you'd have sworn it was a ruby red grapefruit - intense and focused on the nose and palate from attack to finish. Elements of petrol, minerality and some smoke kicked in along the way. Excellent mouthfeel with some weight. If you bothered to wait to be asked to try it, it was gone. This wine doesn't get any better than this.

We bumped a Dehlinger Chardonnay out of the way, pushing it into the wall as we made our way to a Ch. De Beaucastel Chateauneuf de Pape Blanc Vielles Vignes 1994 Find this wine. A deep honeyed gold with beeswax and honey comb, lanolin, tangerine zest, almond and anise on the ever developing, ever evolving nose. "Classic aged Rousanne," says Bob, and of course he's absolutely correct. Big on the attack then fading to a gentle citrus, bitter almond and anise finish.

Steve & Barb South averted a gap in the wine grouping by pulling a J.L. Chave Hermitage Blanc 2001 Find this wine. It seems this had inadvertently sat in a parked car with unseasonably warm weather for two days. Something had to be done to assure it wasn't cooked. Someone pulled the cork. Straw yellow. Tight on the nose, but still giving off some honey, honeysuckle and orange blossom. Very tight on the palate (paralleling the nose), but delivers a wonderful mouthfeel. Somewhere in the midpalate and through the finish it gives up an almost creamed corn element. This doesn't suck.

The arrival of special guest Kim Adams and the couple with pending nuptials, Michael Ross & Adair Sigmon called for something bubbly. Egly-Ouriet Brut Grand Cru 1996 Find this wine and some Krug Grand Cru NV Find this wine. The Egly was the gentlest mousse some of us could recall yet with concentrated, tiny bubbles. Green apple and lemon, but yeast and biscuit notes as well. As it opens, some almond chimes in, then some baked apples. Tiny, gentle bubbles. Tart, focused flavors. This is one "oh-my-gosh!" kinda wine. It just kept getting better and bigger. In fact, it became a contest as to which had more yeasty elements, the Egly or the Krug. The color of the Krug was lighter than the older Egly, but it had - at least at first - more yeast along with almond and lanolin. The biggest difference was the mousse. The Krug's was huge. Excellent minerality. Perhaps some coconut kicking in along with toast and some nuttiness on the finish. So very big, so very dry, so very Krug.

As we had a shortage of chicken wings we had to make do with assorted stinky cheeses followed by seared scallops with scallions and bacon. Bob kicked up the food a notch with Greg's fresh baked baguettes, spring pea soup and beef tenderloin as we got well underway with the main focus of the evening, a line up of Haut Brion Blanc and Haut Brion Rouge.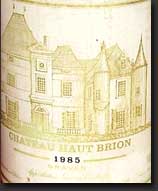 And what better way to start off the main portion of dinner than with a Haut Brion Blanc 1985 Find this wine, unless of course, it's a Haut Brion Blanc 1985 that is corked . Bob was wounded. (Being open minded and just a tad geeky, we tried the plastic bag in the wine. It didn't help. But then, this was badly corked.) We recovered with a Haut Brion Blanc 1999 Find this wine. Yellow only to the extent it had to be for it to be a white wine. Mineral (as in wet limestone), anise, lanolin and beeswax on the nose. Initially this was not as enticing as it was a year ago, but as it opens and warms a tad it showed signs of last year's ethereal self. Michael observes that it is transitioning from fruit to its secondary bottle sweetness. And when Michael makes an observation about Haut Brion, you can bet the race on it. After two hours, it opens and opens beautifully with smoke, beeswax, anise - all with razor sharpness. With a touch of the crottin de chavignol, it's an existential experience. This is indeed HB Blanc. (My white of the night.)

The Haut Brion Blanc 2000 Find this wine showed better at least at first than the '99 with its smoke, mineral, limestone, white flowers, anise and nuttiness. Mouthfilling and rich. Initially this blew the '99 away with its abundance of fruit. But while it is beautiful now, it will certainly be one to enjoy years from now.

Haut Brion Rouge 1982 Find this wine. Brick on the rim with magenta core. Soft nose of pencil lead, cassis and cedar that invites you into the glass, but along with something funky - almost a band-aid like quality. Whatever it was, it didn't carry through on the palate and disappeared behind all the pencil lead, cassis and cedar that mimics the nose with intensity. If they allowed drinking in the Baptist church and used this for communion, there would be shouts of "Jesus take me now."

Haut Brion Rouge 1986 Find this wine. Bricked on the rim with maroon core that later turned more to a blackberry core. Sweeter than the '82 on the nose with graphite, tobacco and cigar ash. Much better focus than the '82. Excellent structure, but somewhat light on the mouthfeel. Loads of cigar and cedar and.....cocoa. Some very slight sediment.

Haut Brion Rouge 1992 Find this wine. Barely bricked on the rim with deep maroon on the core. A very big nose of graphite followed by cassis and some slight tobacco. The nose is somewhat muted, but develops. Good balance with smokiness (like a light flavored cigar.) A touch of cocoa fills in the finish. The tannins are not yet resolved.

Haut Brion Rouge 2001 Find this wine. This was the only Haut Brion we decanted and it needed it. Magenta on the rim with a core of deep purple. Bam! goes the fruit on the nose with blackberry, dark fruits, plum and maybe some truffle. Chocolate and cassis sweetens the nose. What a tight wine! Yet it shows up some plum, chocolate, cassis, blackberry and plum flavors. This has excellent potential for aging with loads of tannins. Rich and minerally. And did we mention the graphite? Yeah, it's all in there.

What do rednecks do when the Haut Brion runs out? They pop the Virginia swill that I brought. This time it was the Chrysalis Petit Verdot Hollin Reserve 2002 Find this wine. This decanted for 4 hours plus some. It is a tannic monster, and unfortunately for us it's in a bit of a dumb stage. (I swear this was better and loaded with fruit two years ago, but everyone thinks I was just too far gone at the time.) Alcoholic and out of balance with some plum, cocoa, band-aid and black fruit. This is a hugely tannic wine that just needs to slumber for a few more years.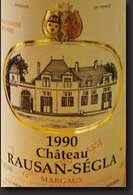 To rescue me from being tossed out on a cold and dark street and save the evening from a sour palate, someone pulled a Rausan-Segla 1990 Find this wine. Tobacco, tobacco and some more tobacco on the nose. Cassis, blackberry and plum round out the nose. Chocolate, cassis, tobacco, blackberry and plum on the palate. A good wine on its own, but lacks the depth of the Haut Brion. Drinking this now is kinda like following Ricky Scaggs at a bluegrass contest. As good as you might be, you're not gonna be good enough.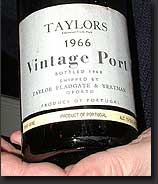 Being gluttons for punishment (not to mention just plain gluttons) and throwing abandon to the wind or simply not caring how we might feel the next morning, Bob opens not one, but two ports - Taylors Vintage Port 1966 Find this wine and Graham's Vintage Port 1977 Find this wine. The Taylor is older than either Michael or Adair. This is the last bottle from the cellar of Bob's father. A toast to the memory and foresight of Mr. Cuozzi... and to Bob's generosity. Not being the brightest bulb in the pack, when I beg help for port descriptors, Tami correctly observes, "It's port; just shut up!!" Be that as it may, we did secure some descriptors, such as: tremendous nose of raspberry, chocolate, mocha, blackberry and blueberry. Silky smoothness with a strong licorice finish all held in perfect balance. .... a nearly perfect port. The Graham's 1977 delivered a nose of licorice, mocha, blackberry and blueberry with a deep and full palate. The Graham's absence of 10 years of development was apparent in comparison with the Taylor as this is still young, slightly sweet. A loong and complex finish.

At this point, some of us were a wee bit woozy, the group toddled home and prepared for the big event tomorrow....chicken wings and Boone's Farm wouldn't be on the menu, but through the haze of the evening we rather relished the idea of Red Rhones and Rac'n!