Slugging back to Chez Ellis to enjoy the redneck hospitality of Greg & Tami and inflict further insult on the neighbors with our growing pile of empty bottles
in their yard were the usual suspects Steve & Barb South, Bob Cuozzi, Kim Adams, Michael Ross & Adair Sigmon. The ranks swelled with the delightful and delighting company of Jim Cowan, Diane Arthur and Brown Councill.

Nothing says "Redneck" like Walmart on the Sunday morning of race day! The doors were open and while they might not sell Bud in a bottle before noon, at least the Bud tee shirts were available. We were blessed. Recognizing that we are what we are, we began pulling the corks before 11:00.

As we were here to celebrate the start of rac'n season as well as the beginning of the season of nuptials for Michael and Adair, we started on something sparkling. Not having learned my lesson the night before, I forced the still sotted skulls in the crowd with yet more Virginia wine.

Afton Mountain Vineyard's Tete de Cuvee 2003 Find this wine. 60% Chardonnay and 40% and Pinot noir, (or at least we think). No concentration of bubbles in the glass, but a good mousse in the mouth .... surprisingly good mousse; lively, fresh and energetic. Strawberry on the attack with a fade to a tonic water like finish of mineral and iodine. An ok sparkler with 12.5% alc.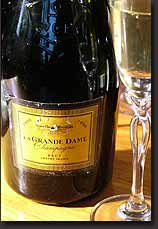 Veuve Clicquot Grand Dame Reims 1990 Find this wine. Now this is a yeasty wine. The antithesis of the Afton. Somewhat coarse bubbles, but a balanced wine with raspberry, biscuits, almond, nuts. A very big and full wine with good mouthfeel. 12% alc.

Like getting Kurt's ears pinned back just so he can get a helmet on, we might as well get the bad news over with. And unlike the race, we can identify the cautions early and get them off the track. Hell, we ain't proud - and a damn sight less sophisticated than the French NASCAR staff.

Ch. De Beaucastel Chateauneuf du Pape Blanc 1995 Find this wine - corked

Chateau Gres Saint Paul Coteaux Du Languedoc Find this wine- Corked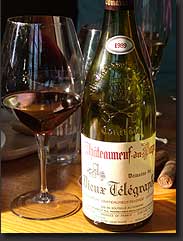 Vieux-Telegraph Chateauneuf du Pape 1989 Find this wine - cooked (overheard from somewhere in the house... "that damn Brannock again tried to foist off his poorly stored swill on the rest of us. Don't trust anything stored before he built his cellar - about 2002.")

With the cautions out of the way, we could get on with it, ... not that we were in a race to finish any of these, as finish worthy as they were; we were in it for the long haul. And what the hell, who wants to run out of alcohol before the end of the race!

Ch. De Beaucastel Chateauneuf du Pape Blanc Vielle Vignes 1995 Find this wine. Honeyed along with honeycomb with some toasty almond, granola and caramel on the nose. Mouth filling white flower blossoms, citrus, more caramel and anise. Refreshing and lively with a finish that won't go away, kinda like the TeeVee cameras on Stewart and Gordon. ....I get it, it's fun, but eventually it just needs to end. 13.5% alc.

Ch. De Beaucastel Chateauneuf du Pape Blanc Vielle Vignes 2000 Find this wine. Tropical fruits and white peaches on the nose. Not fat, but by all means full bodied and big. Some pear, leechy nut and pastry dough on the finish. Typical Rousanne in that picking whether it will age any further or not is like picking the lap a caution flag is waved .... it cannot be done.

Vieux Telegraph Chateauneuf du Pape "La Crau" Blanc 2003 Find this wine. White flowers (locust blossoms), some honey and perhaps some yeast. Anise on the finish. Not as full bodied as the two Beaucastel Blancs, somewhat lighter and livelier, (very different blend than the Beaucastel), but still a full bodied white. Well developed, but not likely to develop more. 14% alc.

Vieux-Telegraph Chateauneuf du Pape 1989 Find this wine. (This second bottle provided thanks to Bob.) The improved storage conditions made all the difference. Translucent color of real purple with no bricking on the rim. Smoked meat and pepper on the nose. Tar, cigar ash, bacon, pepper and smoked meats on the palate. This is very real grenache with a lot of cigar ash on the finish. Unresolved tannins. This is the food wine of the evening. Excellent with the pig trotter. 11-14% alc. Gawd, you gotta love that dedication to accuracy!

Ch. De Beaucastel Chateauneuf du Pape 1989 Find this wine. Decanted. This threw off some serious sediment. Tight and unrevealing of just how much potential it may have. This is still a young wine with almost jammy fruit. White pepper, eucalyptus, beech bark. This is classic ChNdP. 13% alc.

Dme. Du Pegau Chateauneuf de Pape Cuvee Reservee 1989 Find this wine. Darker red with a nose of smoked meat, eucalyptus, wintergreen, beech bark. This is an integrated and excellent texture. Not the best with the food, but good to drink. This too is classic ChNdP. However, as good as it is, it is not a memorable wine. Nevertheless, it is one of the first wines to be drained dry. A slight amount of sediment. 13.5% alc.

Dme Bois De Boursan Chateauneuf du Pape 2001 Find this wine. Magenta with some brick on the rim. White pepper, smoke, red raspberry, mocha, cigar and tar on the nose. All that and more on the palate .... accompaniments of plum. This is a young .... ok, a very young wine. Very promising. 13.5% alc.

Paul Coulon Boisrenard Chateauneuf du Pape 1998 Find this wine. This winery has been in the same family since 1685. Nothing speaks of the South like tradition! Magenta from core to rim bespeaking of the youthfulness of the wine. Pepper, smoked meats and bacon on the nose. The palate mimics the nose with complementary flavors of cherry, violets and cigar ash. This is very good with food. 14% alc.

J.L.Chave St. Joseph 1999 Find this wine. Ok, whomever the hell brought this is seriously challenged as to the geography of SOUTHERN Rhône. But we allowed the person to stay because this was one of the most focused wines of the day with very intense violets and eucalyptus. This announces itself as syrah; unmistakably syrah with smoked beef, some cedar, black olives on the nose and palate. This is classic syrah with an almost Cote Rôtie like quality. Good grip and a lot of years left afore it. Bob opines that this would be fun to revisit every 3 years over the next 20 years....if only one had that much. A good food wine with some slight sediment. In honor of Greg and Tami's son Carl, we declared that this wine had "Carlality" in that it was integrated and texturally smooth. You have to
know Carl, but he is all of these and more. Of all the wines this was one of the first to be finished. Jim proclaimed that when it comes to the Rhône, he be a Yankee. As we confusedly looked around for the nearest stout tree, Stewart pushed Kenseth into the center field. We let the comment pass. After all, we decided this is a Northern Rhône crowd.

Dme. Chante Cigale Chateauneuf du Pape Vielles Vignes 1999 Find this wine. A youthful color. An odd nose of cherry juice, bacon, smoke and something medicinal - iodine perhaps? This is a way young wine. Much the same on the palate with more white pepper, Asian spice and black tea. This is still somewhat rustic and rough with unintegrated tannins, but nevertheless a wine worth seeking out.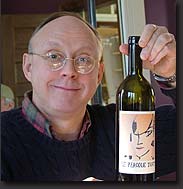 Montevertine Le Pergole Torte 1998 Find this wine. (Left: Bob Cuozzi and Torte bottle) Had anyone but Kim brought this, they would have been treated with the same respect as Junior - blocked and pushed to the wall. A super Tuscan of 100% Sangiovese. Although young this is showing maroon and starting to brick. Cinnamon, chocolate and dusty rose on the nose. A wine with bitter chocolate on the finish, dusty rose, minerals (is that chalk?), tree sap, tar, earth flavors. Surprisingly, this is one of the first wines to be drained dry. 13% alc.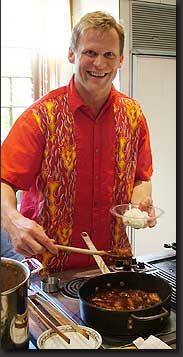 All wines were served with stinky cheeses galore, spinach salad, sautéed morel and a cassoulet of cannellini, pig trotters and duck breast, pancetta, sausage and bacon. Somewhere along the way Brown (left) whipped up some type of bananas on fire that in French-speak is called "flambe." We just called it damn good and let it go at that.

Adair and Michael, fresh from the china and silver selection battles of pre-marital bliss, exited just after Kenseth invited Stewart to dinner. We wished them well as they made their way to yet another store for possible china dishware selections. Jim & Diane and Steve & Barb exited as Bob and I started to raid the Ellis cellar. (Given the number of neck bottle tags on the floor of the cellar, we are given to think that Greg doesn't post on all the wines he consumes. Greg bad.)

But as we walked up to the kitchen with the mother lode of zins and syrah, Greg permitted us to open a Lagier Meredith Syrah Mt. Veeder (Napa) 2000 Find this wine. Sweet nose of brown sugar, violets, boysenberry and dark cherry. The palate is smoothly integrated, but yet young. Expressive with excellent potential. A bit out of balance with a slightly alcoholic finish. 14.5% alc.

Intro | Saturday Night Qualifying | Race Day | Gallery