Written by Larry Meehan

Wine Spectator 2001 Top 10 Tasting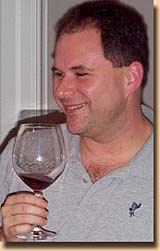 The "Top 10" wines -- what a concept. Even for the most prolific professional taster, it is hard to imagine sampling even a fraction of the world's great wines (or even a good portion of the world's great bargains) released in a given year. Any such list will invite controversy, counter proposals and second guessing...but when a magazine with the sway of Wine Spectator issues theirs (based on a number of factors, but including quality, price and availability) it has been known to create a bit of frenzy, occasional angst, and substantial conversation. Talking about wine is cool (it must be, I do it all the time), but drinking wonderful wines and dining in the company of other enthusiasts sounded even better. With this in mind,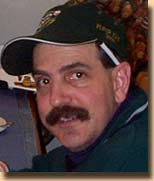 Bob Eppich (shown at right) and I endeavored to gather the wines on the WS list to fashion another tasting event like last year's, featuring some of the wine world's finest and most discussed wines...
After mingling with the participants for while (casually sipping a few whites and reds), we sat down for the dinner/tasting in the JB Milano Restaurant dining room. The wines were grouped into three flights and were served with a corresponding food course. "Usual Suspect" Jeff Faunce lent his steady hands to pouring the wines -- hopefully he granted himself a few extra drops for his efforts.
The wines--
The wines were all decanted for 2-3 hours and then poured back into their bottles. The exception being the 1998 Viader (because of the many reports of poor showings after long periods of aeration) which was decanted for only about an hour before being returned to the bottle. Two bottles of each wine were used for the tasting (thankfully none corked), though the 1998 Smith Haut Lafite was served from 4 - 375 ml bottles, as that was the format available to us.
We were unable to obtain a second bottle of the 1998 Cheval Blanc at a workable price/in an appropriate time frame (but many thanks to friend 'Nano Pedraza for his efforts in corralling us one bottle), so we substituted the (#11) 1998 L'Evangile, as it had similar scores and price structure. Thanks also to Ken Rosenfeld for sharing his tiny stash of the '97 Avignonesi VNdM "Grandi Annate" with me...I'm not sure I could have found this wine otherwise.
Flight 1
Served with Lamb Cassoulet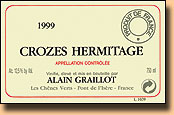 1999 Alain Graillot Crozes Hermitage -- kirsch and pipe smoke...leafy tobacco on the nose. Good acids and chunky, chewy tannins lay down some good frame work, but seem to hamper the expressiveness on the palate. Some blackberry fruit, dusty earth and leather, but the entire profile is somewhat muted.
Revisiting the wine hours later, it became intensely floral -- showing a good measure of garrigue. Sweet blackberry fruit now drives the palate...smoke, bacon fat and meat aplenty. Smooth across the tongue, it finishes with plenty of peppery spice. Initially I would have termed this wine "good", but nothing special...by the end of the night it was really singing -- truly excellent and a superior buy for <$20...many good years ahead of it.
1998 E. Guigal Cote Rotie "Brune et Blonde" -- Eucalyptus and light garrigue on the nose...whispers of spice. In the mouth it comes across as tight and then dilute through the middle, offering some blackcherry and chocolate. Fine gripping tannins and reasonable acid levels do not seem cumbersome, but the wine does seem very tight. A disappointment at this stage -- "merely good".
As with Graillot, this wine dramatically improved over the course of the evening. Plenty of garrigue and pepper on the nose...hints of orange zest. The palate is silky and offering plenty of red fruit...well complemented by some mouthwatering acidity. Showing nice depth of flavor and offering good meaty, bloody Rhone character...a floral/orange candy flourish on the finish. Delicious and excellent wine...plenty of upside.
Flight 2
Served with Roast Beef and various Pate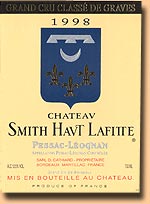 1998 Smith Haut-Lafite (Pessac Leognan) -- Smoky and charred on the nose...cedar and pencil lead, too. Lush and rich in the mouth...lots of creamy blackberry flavors...later more cassis. There is an earthy core, but it is really submerged under some wet and juicy fruit. Flavors of rich coffee and chocolate shavings come through on the finish. Meager acids, but fine, somewhat sweet tannins lend some backbone...just the slightest astringency. Definitely seems Cab dominated (and is)...well done for the "International" wine lover. A favorite at our table -- both Pam Patt and Jeff had it among their best. Definetly enjoyable, but not really special to me.
1998 Canon-La Gaffeliere (St. Emillion) -- about 70% Merlot and 30% Cab Franc-- a deep, dark purple hue. Scents of tobacco, lots of mint, rich earth and cherries drift up from the glass. A broad swath of rich, silky blackberry fruit covers my tongue...some nice spice (cinnamon), earth, and cedar complements are soon to arrive...seems quite concentrated. The finish is fairly long with a unique combination of gamy funk and milk chocolate shinning through. Seemed to have a bit less new oak character than the Smith Haut Lafite (or perhaps just better conveyed for my palate), but still, not for the oak adverse. If you can get around that, this is a very tasty wine. Interestingly, I had no remarks on structure noted for this wine -- it does not seem like a "long haul" wine, but certainly in no danger of falling apart anytime soon.
1998 L'Evangile (Pomerol) -- 100% Merlot (or nearly so) -- some dried herbs, ashes, dusty earth, a gravel road, light spice and ripe blackberry juice form an alluring and distinctly "Bordeaux" olfactory profile. Even handed and pure, the black fruit flavors merge with a rich earthy core to commence on a delicious march through my mouth. Flecks of chocolate, minerals, herbs and supple leather are left to linger on my tongue. Just a bit of drying is supplied by the fine, graceful tannins...the acidity skulks in the background, but this wine shows delightfully subtle balance....barely noticeable, yet the package is so nicely framed. More ashes and herbs, but substantial mineral character on the lingering finish. One of the best young wines (and certainly the most graceful) I have yet to try...it does not seem like much of a risk to call this one "great"!
Tasting another small sample at the end of the night, it seemed even a bit more refined...a bit longer. Elegance of a high order...Each sip is a conversation!
Initially this was a coin flip for me on favorite of the night, but after retasting, my clear "winner".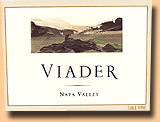 1998 Viader --mint and dark cherries on the nose...maybe just a touch musty. Red cherries and spicy earthy on the attack...turning a bit stemmy and astringent through the middle as the tannins engage. Seems to have a fair amount of acid, nearly matching the tannins in strength, but on the whole, not nearly as structured as the 97 model. More earth, eucalyptus and birch beer elements with time and swirling. The wine is subdued and a bit backward, likely needing at least a few more years to really come together, but in general, the components are not overly impressive. The finish is somewhat short...even "flat" to some degree. After retasting a number of the wines, this was still probably #10 on my mythical scorecard.
It should be noted that 10 of the 30 participants rated this among their "Top 3" in my informal polling...a number of others found the wine far better than I did.
Flight 3
Served with Osso Buco and soft polenta
1997 Pio Cesare Barolo -- Actually pretty dark in color, especially for nebbiolo. Scents of eucalyptus and cherry trickle from the stem. The palate is initially soft with cherry fruit, but quickly hardens with clamping tannin and acid. It is hard to get a read on this wine, as it really does not offer much in the early going. Coming back to it later, it makes a great transformation -- evidencing a big floral character, darkening fruit, and a good dose of anise and tar flecked earth...an earth/mineral mix on the finish. A dense, concentrated wine that is showing plenty of structure. Kept getting better and better, though I'm looking at it as a "5 year wine" for peak, rather than something that needs decades.
1997 Avignonesi VNdM "Garnde Annate" -- An entirely different animal...ripe strawberries and newly spun cotton candy on the nose...turning floral, light and graceful. In the mouth it offers sweet raspberries and strawberries, espresso, chocolate and with time, a significant dusting of something akin to that remarkable fennel pollen available at specialty groceries. Fine grained, lightly mouth coating tannins and juicy acids tie it all in a neat, easily accessible bow. Reading my own description, this sounds like a wine with which I might have some problems, but honestly, it is well done and comes together to show itself as graceful and engaging wine, yet still evidencing Italian character in its structure and that haunting, powdery fennel. Distinctively different...definitely not 'old school", but very enjoyable.
1998 Antinori "Guado al Tasso" -- Something of a Bordelais nose, as it offers pencil lead and shavings, cedar and mineral laced soil. Soft and pleasant on the attack, this Bolgheri red gives up plenty of black currant fruit, cedar, cocoa, and light anise. The wine stays fleshy through the middle, but is firmed by some hard, earthy tannins and decent acidity. Black fruit, mint, coffee and spice mark the sustained finish, which with its last gasp, turns very dry. A young, still evolving wine with potential to offer more...at this stage enjoyable, but not really compelling.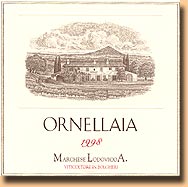 1998 Tenuta Dell' Ornellaia "Ornellaia" -- Anointed as #1 by the Wine Spectator, it could have easily disappointed -- it did not. The nose gives plenty of ground charcoal, smoldering embers and dense clouds of black fruit essence...espresso, anise, wet stones, and "post rainstorm" forest floor. Pam noted wintergreen scents, too. Black currants couple with black and white pepper to form an intense entry and midpalate. As it unfolds a bit more, I get the sense of charred meat on a spit, flinty minerals and spice well framed by potent acids and thin, tight, enveloping bands of earthy tannins. The spicy/dusty finish is persistent, helped by the tannins that seemed locked along my gum line. A wine of grace and substantial power. The Ornellaia shows nice initial balance, but it also evidences plenty of raw materials for a long development. Simply, it is a gorgeous wine.
When comparing it to last year's model (a wine I really appreciated) the '98 avoids the truly crushing tannins that the '97 showed...the '98 offers more initial complexity, and certainly is more immediately gratifying. I termed the '97 as a long ager ( better for 10 -20 years in the cellar)... the '98 might pleasantly develop for just as long, but be far more enjoyable throughout the first decade.

I thought the L'Evangile and Ornellaia to be truly elite wines, deserving of being mentioned among the world's best. Both had a strength and grace about them that I seldom encounter, but greatly appreciate...a sense of purity and strong character. Wines like these are a true pleasure for me to experience.
As for the rest, they were very enjoyable. The group as a whole were far more accessible than last year's batch, which featured some powerfully tannic wines (97 Solaia and '97 Ornellaia for starters). I was definitely pleased that even the early "disappointments" (Graillot, Guigal, Pio) emerged later to show themselves as excellent wines. Only the Viader left me cold...perhaps the cellar will be kind, but I'm not so sure.
Informally polling the group, the Ornellaia was the favorite, but the Canon - La Gaffeliere, L'Evangile, Avignonesi and Viader were widely appreciated as well. In fact, each of the 10 wines were mentioned at least once by the participants as being one of their three favorites.
Kudos to Bob and the staff for preparing some very nice food and offering very good service. Many smiling faces made testament to their efforts and the event.
Larry Meehan
Cleveland, Ohio
For more of Larry's writings, Land of Cleve and other Ohio adventures, please check out:
10 Mags of Siduri
Wine Spectator 2000 Top 10 Tasting
The Cleve Tastings
We Will Always Have Toledo
We Will Always Have Toledo - Second Year Coming
We Will Always Have Toledo - 3rd Year's a Charm
BACK TO THE TOP