Tasting Notes by Larry Meehan


Wine Spectator 2000 Top 10 Tasting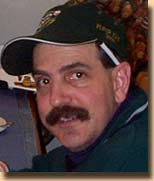 Chatting one fall evening with my friend "Retailer" Bob Eppich (right, owner of Colonial Beverage and Wine), I told him I thought we should bring a "big time" tasting to the Cleveland area. I've long held the belief that there is plenty of interest in wine in Northeast Ohio (and in many of the Midwestern metroplexes for that matter), but there are a scant few opportunities for enthusiasts to taste the "rare and exciting". Cleveland certainly is not the wine hub of America, but I'm a big baseball fan, so a "build it and they will come" mentality is not much of a stretch for me.
Once the Wine Spectator released their annual Top 10 list, we thought this would make a great premise for a tasting ... whether one agrees or disagrees with their assessments, it is undeniable that the WS carries a great deal of influence with consumers. Gathering the wines was a bit troublesome (in that a number of them had either come and gone, or never arrived in our market at all) but with the help of a number of friends around the country, we located the necessary bottles. Once we set the date, we had all the seats filled and a waiting list in the matter of a few weeks.
The tasting was held at JB Milano restaurant on May 2, 2001. A total of thirty-two tasters participated -- most of which were "hard-core" wine lovers (including Cleveland wine heroes: Jeff Faunce, Pam Patt and Jeff Gillikin), accompanied by a few interested significant others and intrigued neophytes. The group sampled a smattering of Riesling, Chards, Zin and Cab (sorry, no notes on these) while chatting, and then over the course of dinner. The "veal Oscar" (Bob's creation) was well received, but the level of expectation was growing for the tasting event.
Larry Meehan with the Top 10 Line-up
Tasting Notes
All wines were decanted for 3 to 3.5 hours and then returned to the bottle where they remained for approximately 90 minutes longer. The wines were served in flights of two and sampled from Spiegelau Burgundy stems. The pours were approximately 1.5 ounces. The tasters had about 15 minutes per flight.
Flight 1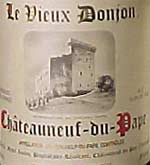 1998 Le Vieux Donjon Chateauneuf-du-Pape -- Showing a nice aromatic range, the Donjon presented lots of dust, garrigue, ashes, violets and red fruits. When sipped, the wine was ripe, full and lush -- offering plenty of rich cherry, chocolate, earth, blood and still more garrigue. The acids are reasonable and the tannins seem to have released their grip with the aeration. The finish is long with coffee and menthol, while the fruit takes on a "plummy" aspect. Though really quite excellent and delicious with ample aeration, this wine seems to have the fruit and structure to show more harmony and complexity in coming years.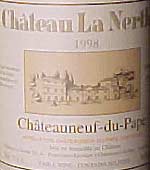 1998 Chateau Le Nerthe Chateauneuf-du-Pape (not the "Les Cadettes" - on more than one occasion we believed we would obtain it, but in the end, it will not be released from the winery until June) -- Built in the "international style", this CdP offers plenty of oak driven scents - cinnamon, smoke, ashes, vanilla, and honeysuckle were all prevalent. The mouth flavors started with a cherry cough syrup entry and progressed toward a chocolate covered cherry center...earth and light tar were noticeable accents. Low to medium acid levels combined with fine tannins to present a fairly "open" wine. The Le Nerthe finished with a bit of prune and warm and toasty resonance.
Flight 2
1997 Justin "Isoceles" -- (Cab, Cab Franc, and Merlot) - My impression of the nose was light earth and "railroad ties" met with copious amounts of sweet smelling flowers and chocolate (a construction worker on his way to a hot date?). In the mouth, the wine was "wet" with fast flowing raspberry, chocolate, and cherry. The flavors are sweet and easy, even though there seems to be a good grip of tannins and acid about the wine. The finish is marked by a bubble gum (Bubble Yum) element. Sweet and a bit oak driven for my tastes, I think it was embraced by many as "right now" wine surrounded by many "agers"...certainly tasty in its style.
1997 Castello Rampolla Sammarco -- An interesting albeit tight nose featuring wild flowers, damp, rich earth, espresso and a good measure of funk. The palate was hard and relatively closed. Some anise and blackberry emerge, but they have a hard time fighting past the long and dense tannic structure. The acids do their part as well to mask the fruit. Based on this wine's track record and the impressions of complexity I gleaned from behind the tannic curtain, I believe this wine will emerge in 8-10 years as an impressive wine. I look forward to the opportunity to try it at that time. The Sammarco definitely suffered in this pairing, but in tasting the wine in pairs, we were destined for at least one poor match.
Flight 3
1997 Viader Napa Valley -- (Cab/ Cab Franc) Notes of cedar, earth and corn roasting for a fall clambake were the scents that struck me most. There seemed to be nice depth to the black fruit on the palate, accented by chocolate and menthol. The tannins present plenty of texture, but are not incredibly cumbersome. The finish has reasonable length, featuring lots of tobacco. The acid level seems relatively high for a Cal Cab blend (3.5/5). This wine certainly seems built to age, and though pleasant enough now, shows no real complexity. There seems to be very good balance in the components -- an excellent or better wine would seem near certain for the future.
1997 Whitehall Lane Reserve -- Initially my nose was greeted by light funk and dust, but these were quickly swept aside by a wave of sweet ripe berries, light vanilla, and a touch of coconut. "Chocolate covered raspberries" was my primary descriptor of the flavors in the mouth, but that was complemented by a nice spice component and what I'd call "brightly styled" oaking (more chocolate, cappuccino, etc.). Decent acids and smooth tannins set the framework, but if one enjoys the sweet, ripe qualities of a wine like this, it would be hard to imagine cellaring this for more than a few years. Jeff Faunce proclaimed this his Wine of the Night (WOTN) and immediately wondered where he might obtain some.
Flight 4
1997 Phelps Insignia -- Sweet strawberries and cherries along with spicy dust danced up to my nose -- very nice. Layers of berries, vanilla, cocoa, and Asian spices caressed the tongue. The fruit has an elegant charm, not overly sweet or cloying. The tannins are fine and soft...well balanced in respect to its style. A pleasure to drink (albeit an expensive one at around $100). Built in the same style as the WHL, but better balanced at the present. This is still not an "ager" -- it would seem best consumed in the next few years (like the WHL) before the pretty fruit begins to fade. I'd rank this as my #4 wine of the night.
1997 Merryvale Profile -- Balance. All the wonderful aspects aside, this wine shows remarkable balance in its powerful elements -- very impressive. A blackberry liqueur is joined by toasted anise seeds to provide a beautiful perfume. The black fruit is full, sweet and dense in the mouth, though when set against the impressive structure, I get the impression it is quite understated. The tannins are boundless, but subtly smooth. The acid is just bright enough to provide good harmony. This wine is all about depth, balance, and (at present) subtlety. The finish is long with licorice and minerals, eventually reaching a spicy crescendo. Though excellent now, I can only imagine how intriguing and enjoyable this wine may be 5 or 10 years down the road. My #2 WOTN -- a wonderful surprise.
Flight 5

1997 Antinori Solaia -- It was hard for me to imagine anything competing with the Profile as a complete wine, but then along came Solaia... The nose offered a perfume of grilled fennel bulb (try it sometime -- yummy!), ripe strawberries, rich earth and flinty minerals. This Cab/Sangiovese blend was surprisingly approachable on the attack -- in fact soft and somewhat sweet with rich black cherries. The fruit seemed to have great depth until and anvil of tannin came crashing down upon it. The tannic structure is immense, but seemingly the fruit will be its match. The acid level (3/5) provides a bright foil to the tannins. The finish is long and textured with tar, minerals and sweet plums. I cannot do justice to my perception of the depth of this wine, but there are great materials at work here. It would seem unfair to sample another in the next 5 years ("scientific studies" aside) and likely unfortunate to open another before a decade has passed. Most impressive. A true world class wine. My #1 Wine of the Night (WOTN).

1997 Ornellaia -- (Cab/Merlot) -- Plenty of ashes and anise on the nose, with black fruits in the background...later a distinct lead pencil scent emerged. A large and layered wine, it features blackberries and currants in the mouth accented by anise, tobacco, and a good mineral core. A "beautiful bruiser" at this point, as it combines primary nuances, deep fruit, Italian character and massive structure. The tannins seem more fine grained than those in the Solaia, but imposing nonetheless. The acids seem present, but currently quiet. The finish is marked by a good dose of coffee and anise. A good sense of balance surrounds the wine, but it will need 5- 10 years to truly knit together. It appeals to me on many levels, as it is charming, powerful, and presently a bit mysterious. It is not laden with Ferrari like flash, but showing the subtle power and grace of a Mercedes. My #3 WOTN.
The Totals
Each participant was polled for their "top 3" wines of the night. Using a 3-2-1 scoring system, the results are as follows:
Solaia (8/2/5) = 33
Merryvale Profile (6/6/2) = 32
Justin Isoceles (3/10/1) = 30
WHL Res. (4/4/7) = 27
Insignia (5/2/6) =25
Ornellaia (3/3/4) = 19
Viader (1/5/1) = 14
Donjon (2/1/5) = 13
Le Nerthe (0/0/1) = 1
Sammarco = 0 votes
A number of the wines will need years to show their full measure of charm and beauty, but almost all the participants expressed they could not have been more pleased with the chance to taste them at present. Many recognized that an opportunity to taste a group of wines of this caliber does not often present itself in the Land of Cleve...even less often in the company of people with such good camaraderie and spirit. I was quite pleased with the outcome -- lots of smiling faces filled with vinous spirit, many asking "when is the next one?".
Larry Meehan
Cleveland, Ohio
For more of Larry's writings, Land of Cleve and other Ohio adventures, please check out:
The Cleve Tastings
We Will Always Have Toledo
We Will Always Have Toledo - Second Year Coming
BACK TO THE TOP