The Cleve Tastings:
In Which Netizen Winos Descend upon the
City of Forests
To Indulge in Friendship, Food and Libation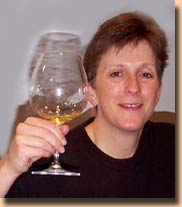 Co-Host Pam Patt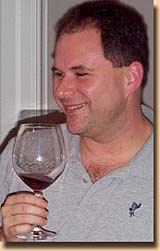 Co-Host Larry Meehan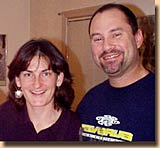 Co-Host Mary Meehan
and Jon Cook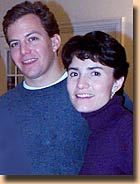 Co-Hosts Jeff Faunce and Amy McClellan
The Cleve Tastings
Introduction
The call went out from the Land of Cleve to come and partake of the fruit of the vine. Team Gillikin/Patt and The Merry Larry Meehans would open their homes to any that could make the journey. The time was the weekend of Ten November, but thoughts were on matters other than the legend of the Edmund Fitzgerald. There were Super Tuscans and Pinot Noirs to taste, and we took our task seriously.
We arrived in the early evening on Fire's Day at Meehan Manor, where Larry, Mary and little Larry (right) greeted us, as well as that scalawag, Jon Cook aka Big Dog. Doggie had rescheduled a business trip in order to attend, and was most pleased to be able to rub elbows with friends so far from the Left Coast. Co-hosts Jeff Faunce and Amy McClellan followed shortly thereafter, as did Pam Patt, sans partner Jeff Gillikin, who was off to Paris on business most pressing. We were also delighted to make the acquaintance of Benjamin Luebbers and Scott Thiede. Benjamin had journeyed from Penn's Sylvania, and Scott from Milwaukee, the home of bottled beer; both have been known to consort with the likes of Russell Bevan aka Bacchus, but we didn't hold that against them. Then there was local wine retailer Bob Eppich, a friend of the host contingent. And last, but certainly not least, was our own Chris Gross aka Chairman Moe Vedre and the "Ice Cream Man," Bob Graeter, who had traveled from Cincinnati to attend. (Mrs. Moe was the dutiful daughter-in-law on this occasion, but would join us on the morrow's eve.)
There were breads and cheese, and smoked salmon and mushroom caps; there were white beans, lasagna and a haunch of beast that once went "Baah!" But best of all, there was wine, more than we could drink, though we all did our best. On to Friday's tasting notes or go head on to Satyr's Day.