Written by Larry Meehan

10 Mags of Siduri
Before my last visit to Chicagoland (back in April), I picked up the phone to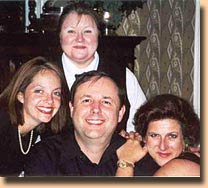 give Mark Horvatich a call in regard to the possibilities of sharing a meal and some wine...it turns out I was arriving at a good time! Mark and his friend Sue (shown at the right, and situated center and right respectively) had put together a wine dinner at a hunt/riding club in the beautiful hinterlands near St. Charles. The dinner would feature 10 magnums of Siduri Pinots graciously provided by Mark...in addition, Adam and Diana Lee (owners and winemakers at Siduri) were on hand to provide background and insights on their wines and their efforts.
I saw a few familiar faces (the affable Joe Pinto being one) while munching on canapes...and was quite happy to make the acquaintance of new friends like Ken and Whitney Finkelstein (Whitney shown above, on Mark's left). In general, the group seemed quite enthusiastic...not at all ruffled by a few early delays. Of course, why should they? -- we had wine to drink...
A few notes and impressions:
1997 Van der Kamp Pinot Noir -- a homemade bottling fashioned by Martin Van der Kamp. Cola and coffee on the nose...a good blast of alcoholic heat (Mark tells me it is about 15-16%). Big, juicy cherry/cough syrup flavors...more acid than I would have assumed. Big, expansive and exotic...intriguing Asian spice...a bit of coarse tannin at the gum line... alcoholic on the finish.
1999 Reininger Syrah - Walla Walla -- blue/purple fruits, coffee, olives and a hint of cedar on the nose. Thick, viscous...long and concentrated. Fine, earthy tannins...good acids...pretty well balanced -- smooth and even. Blackberry, earth and menthol on the finish...nice wine.
1999 Hop Kiln "Big Red" -- wood, sawdust, juicy berry, vanilla, baby powder ...you get the idea...probably an excellent value for those who enjoy this profile.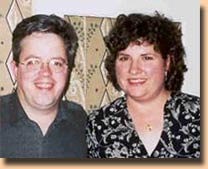 We sat down for dinner. I was fortunate to be sitting in the company of Adam and Diana (shown at the left), the Finkelsteins, and Mark and Sue -- a nice table for dining enjoyment. We started off with a mushroom soup with cepe essence.
All the Siduri wines (with the exception of the barrel samples) were served from magnums and were decanted for 2+ hours.
1997 Siduri Sonoma Coast Pinot Noir Hirsh Vineyard (13.8 % alc.) -- Strawberries and earth on the nose...some cloves and spice as well...later, quite floral. The wine is silky and smooth on the attack, offering plenty of red berry fruit and a candied cherry element. Good, bright acids and moderate tannins lend structure...finishes with spice and a small spike of alcohol.
1996 Siduri Carneros Pinot Noir (13.5%) -- from Mark and Adam I learned that the fruit from this wine is sourced from San Giacomo Vineyard...I believe the Flowers used the same source for their 97 Carneros bottling, but I have no confirmation on this point.
Darker in color and character than the Hirsh...cola and more earth on the nose...later a good measure of peppermint stick. A wine of good body...seems quite open. Cherry dominates the flavor profile, but it is accented by tomato, tobacco and herbs along with its earthy core. The finish is intriguing, though perhaps a bit gamy for some...I liked it. Both a nice and interesting wine.
1997 Siduri Sonoma Mountain "Old Vines" Pinot Noir Van Der Kamp Vineyard -- Stemmy...seems to be corked...exhibiting mainly earthy/ground attack essences....not at all typical.
The group consensus was that the wine was indeed corked.
1997 Siduri Oregon Pinot Noir (13.4%) -- A dense, dark Pinot...not at all "huge", but dense. The nose is driven by a mineral laced, earthy core...plummy fruit and mushroom. The palate is smooth, offering plum fruit and tea. Through the center, a charcoal sort of essence emerges, along with the presence of a substantial amount of bright acids -- they seem to elevate the wine a bit (in character). The finish is compact and solid with rich soil and roasted meat. 97 was a tough year for many Oregon producers, but this was an interesting and very enjoyable wine for me (though others were not as enamored with its earthy traits)...certainly well made. Perhaps it is a function of its being poured from a mag, but the wine seems as if it still has plenty more to offer...still evolving.
A second course of pan seared duck breast on frisee and French lentils in a Siduri pinot sauce.

1997 Siduri Santa Lucia Highlands Pinot Noir Pisoni Vineyard (14.1%) -- A "dark" nose of cola, meat, black fruit, and Asian spice...perhaps some tomato skin as well. Pretty raspberry and strawberry fruit greet the tongue, though they do seem to have a stemmy backbeat. Low to moderate acids mesh with medium level, slightly chewy tannins...pretty decent structure. Through the mid-palate and toward the finish, the wine seems to have a warming sensation (alcohol), with the flavors swinging toward prune, strong coffee/espresso and chocolate on the finish. It is big and to some measure complex, but lacks a certain amount of grace...perhaps a bit too much oak character for my palate...that being said, others found it quite appealing.
1997 Siduri Oregon Pinot Noir Archery Summit (14.1%) -- An earthy/stemmy fragrance is superseded by sweet red berry fruit, as well as a delightful combination of peppermint and anise. The palate is driven by blackberry and toast...a good dose of spice, too. A good jolt of acid creates a tart sense. The finish shows substantial alcoholic heat, as well as a slightly green/astringent character. Not as successful or as enjoyable as the 97 "Oregon" on my card.
1999 Siduri Santa Lucia Highlands Pinot Noir Gary's Vineyard (14.1%) -- I believe Adam said this was a first crop wine. Very purple in color. Offering a big, boisterous bouquet of sweet, ripe red fruits, spice, and sweet, fragrant flowers. It is lush and sweet in the mouth -- lots of raspberry and cherry, turning slightly astringent, then spicy through the middle. The finish is sweet, with a nice "candied orange peel" aspect. Structure never intruded, but the wine was never soft or without form.
If my mind's eye pictured "California Pinot", this would probably very representative. Ken remarked, "I just love it...this is the good stuff!" I can understand the reaction, but...well, you know me. ;-)
1999 Siduri Oregon Pinot Noir Shaw Vineyard (14.2%) -- Adam remarked on how structured he felt most of the 99's from Oregon are...I'd definitely concur. His 99's are big wines -- concentrated and tannic...typically about 1 ton of fruit per acre. Further expounding on the Beaver State, he felt 2000 was a vintage "to buy" for its potential balance between ripeness and structure.
Charcoal, herbs and minerals make up the olfactory profile...with some swirling, black fruit emerges. Black raspberry and spice move the subdued palate...a touch tart and stemmy -- tight with acid...crunchy with tannin. A short finish offers minerals and tar...tight tannic grip. The wine is quite backward at present...really needs some years in the cellar for a better appraisal.
Along with the braised lamb en croute and baby spring vegetables...
(At this point I should note that food was excellent...far above what one normally expects to find in a country club sort of setting. The chef took great interest and special care to provide a really fine meal -- Bravo!)
1995 Siduri Anderson Valley Pinot Noir Rose Vineyard (14.2%) -- Initially it offered over ripe "port like" scents on the nose, but these gave way to very pretty tea and floral tones....some toffee as well. Lush, smooth, silky textures in the mouth, but braced by a good acidic wash. Black raspberries and cherries with a shot of coffee, toffee, and vanilla extract...at its core it has a subtle earthy core...minerals too. Pleasantly warm with spice and tobacco on the finish. So much more than a fruit bomb...super balance...delicious, engaging wine. Sue, not one to mince words, found it "close to an orgasm." Enough said...!
1999 Siduri Sonoma Pinot Noir Coastlands (14.1%) -- Red fruits...slightly green and earthy on the nose. Muted raspberry fruits...seeming tight and short...plenty of structure (though not clumsy)...seems very closed.
Two Barrel Samples - both from the Santa Rita Hills - Santa Barbara
2001 Siduri Clos Pepe Pinot Noir -- a big balsamico...black fruits and lots of cinnamon, nutmeg and a variety of Christmas spices power the nose. Plush and syrupy in the mouth -- a good dose of vanilla and black cherry...plenty of spice on the finish, though a bit of spritz as well. It is a barrel sample, but it does show good intensity and intriguing nuances.
2001 Siduri Cargasacchi Pinot Noir -- Lacks the expansiveness on the nose that the Clos Pepe possesses, but still quite lush in the mouth -- big, black and spicy. Shows a bit of a hole through the center, but it is just an unblended barrel sample.
With dessert (a wonderful strawberry tart with a kiwi sauce) a number of other wines began to be poured...some terse notes on a few --
1999 Cayuse Syrah "Cailloux Vineyard" -- thick black fruit, juicy and smoky...a few coffee and ash notes...seems like a good/balanced wine
1999 Paloma Syrah -- Ba rum pa ba bum...tight as a drum (apologies to the drummer boy). Reticent nose...lots of tannin and acid. Hide your bottles and revisit in a few years...
2000 Testarossa Syrah Gary's Vineyard -- Big, rich, black -- berry, pepper, coffee...creamy texture...good midpalate richness.
1998 Bahans Haut Brion -- a "super second" that really is super. Cedar, rich earth and roasted corn...nice structure/excellent balance...fine grained tannins...lots of Cab Franc character. I'm sorry I do not know who poured this for me -- many thanks -- it was an excellent, classy wine.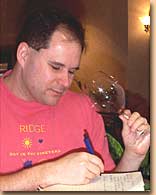 Larry Meehan
Cleveland, Ohio
For more of Larry's writings, Land of Cleve and other Ohio adventures, please check out:
Wine Spectator 2000 Top 10 Tasting
Wine Spectator 2001 Top 10 Tasting
The Cleve Tastings
We Will Always Have Toledo
We Will Always Have Toledo - Second Year Coming
We Will Always Have Toledo - 3rd Year's a Charm
BACK TO THE TOP