but for now we're out of Rochioli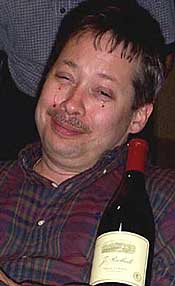 Mark O. "cries" big Rocki Rolli tears when he discovered that the Three Corner Rocki Rolli evaporated into thin air. He wasn't the only one.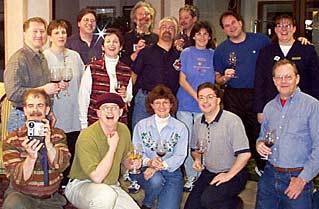 The Toledo, Ohio group all L-R
In the wayback machine: Tim Thomas, Kim Adams (camera flash), George Heritier and Mark Overberg
Middle Row: Jeff Gillikin and Pam Patt, Sally Goldberg, Chris Gross, Mary and Larry Meehan and hotel clerk
Front Row; Joel Goldberg, Mark Looker, Norma Paumen, Matt Cooper and Bill Paumen

Storyline: George Heritier
Photos: Kim Adams
We gathered at an Inn with a ghostly gazebo in a lonely courtyard, overlooking the crossroads of two mighty arteries of social intercourse and provincial trade. We had come to renew virtual acquaintances, or forge them afresh with our wine loving friends from Cyberia.

There were Larry and Mary Meehan, from the Land of Cleve on the shores of Lake Eerie. It was Meehan's idea to meet like this, in the dog days of winter, when it would be a relief to break the monotony of too much work with little or no play. It was a good idea, and we came gladly.

There were Bill and Norma Paumen, recently relocated from the Halls of Red Wing to the shadow of the Hoosier Dome; and Jeff Gillikin and Pam Patt, also from the Cleve. There were Matthew Cooper (The Mad Scientist) and Mark Looker (Mr. Lurker) from Kayne-tuck, our clown princes for the occasion, who continued spitting out one witticism or one liner after another (the ONLY spitting that took place, to my knowledge).

And there was our old friend, Chris Gross aka Moe Vedre, along with Mrs. Moe, wife Cathy, whom we were meeting for the first time. Moe would do his best Al Haig impression, taking charge, making arrangements and Generally acting as the group's social secretary.

Then there was the Bored Doughnut himself, Mark Overberg, sans Mrs. Doughnut, who remained at Lac du Doughnut to keep an eye on the brood and indulge in a girls' night out of her own.

And of course, there was The Director, Kim Adams, or Madame L'Pour, who was accompanied by this humble scribe.

Our number would grow on the morrow, but for Fire's Day, this would be the cast of characters for our brave little adventure.
Fire's Day Italian Tasting (and then some): The Wines
1997 Guffens-Heynen Macon Pierreclos "Le Chavigne"
1997 Etienne Sauzet Puligny-Montrechet
1993 Bricco de Uccellone
1995 Il Baciale Monferato
1988 Boscaini Vignetti di Marano Amarone Classico
1988 Ruffino Cabreo
1995 Sodole'
1990 Terriabianco Compaccio
1990 Banfi Summus
1995 Masi Amarone Classico
1989 Fontana Fredda Barolo di Serralunga d'Alba
1990 Seghesio Barolo La Villa
1992 Seghesio Barolo La Villa
1993 Banfi Brunello di Montalcino
1982 Chateau Latour-Figeac St. Emilion
1998 Fox Creek JSM
1996 Rosemount Balmoral

Satyr's Day Rhone Tasting: The Wines

1996 Louis Jadot Chassagne-Montrechet Les Caillerets
1997 J. Rochioli Russian River Valley Pinot Noir Three Corner Vineyard
1986 Robert Mondavi Napa Cabernet Sauvignon Reserve
1986 Dominus Estate
1975 Henschke Hill of Grace Shiraz: "Assessed, recorked and recapsuled at the winery" and "released in 1994"
1994 Tom Eddy Napa
1985 E. Guigal Hermitage Blanc
1998 Pride Sonoma Viognier
1997 Alban Central Coast Viognier
1996 Tablas Hills Cuvee Rouge Paso Robles
1991 M. Chapoutier Ermitage de l'Oree
1985 Paul Jaboulet Aine Hermitage La Chapelle
1988 Paul Jaboulet Aine Hermitage La Chapelle
1990 Lindemanns Sparkling Shiraz
1988 A. Clape Cornas
1997 Behren and Hitchcock Napa Syrah
1995 E. Guigal Chateau d'Ampuis Côte Rôtie
1994 Stellenzicht Syrah
1990 Penfolds Shiraz Magill Estate
1994 Domaine du Pegau Chateauneuf du Pape
1995 Domaine du Pegau Chateauneuf du Pape
1998 d'Arenberg The Ironstone Pressings
1996 Paul Jaboulet Aine Cornas
1996 Neyers Napa Syrah Hudson Vineyards
1998 Neyers Contra Costa Zinfandel Pato Vineyard