Sunday - The Boys in the Bandol

I'd been looking forward to this tasting since first reading the MO'COOL agenda. Wines from this region of Provence are another hole in my tasting experience, and this would be my first opportunity to sample any.

The twelve selections were tasted with eyes open in two flights of six, starting with two roses.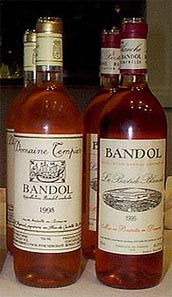 Wine # 1, a 1995 La Bastide Blanche Rose, was a pale pink-orange color, and featured dried melon aromas and subtle almond and mineral flavors. I gave it a rating of 80, three points less than the following selection. However, the group disagreed, giving it an overall score of 87.6, and ranking it the better of the two pinks.
Wine # 2, the 1995 Domaine Tempier Rose, was slightly lighter in color, with a somewhat pungent nose and bigger flavors than the La Bastide. Flavors and aromas featured notes of dried orange peel and mineral. I scored this an 83, while the group gave it an 85.7.
Both roses were rather austere and somewhat neutral in flavor. I would have liked to have given them more of the "Gang" approach by lingering over them for an hour or more, in order to more fully assess them, but that simply wasn't possible, under the circumstances. Nevertheless, they were quite pleasant.
Wine #3. We moved on to the first four of the Mourvedre-based reds, starting with the 1990 Chateau Vannieres. The garnet color showed a hint of brick; flavors and aromas included elements of smoke, meat, spice, leather and black currants. Still tannic, and very dry, I scored this an 84, while the group gave it an 86, dead last by all accounts.
Wine # 4 was the 1990 Domaines Ott, Longue Garde. Also showing a tinge of brick to its garnet hue, this had more pronounced aromas and flavors of meat, leather, and chocolate. Also quite dry and tannic, I rated this an 85, while the group gave it an 89.1. I ranked it 5th; the group ranked it 7th. (It should be noted that my scoresheet had two wines each tied for 2nd, 3rd, and 4th places, while the group's scores had no ties.)
Wine # 5, the 1990 Domaine Tempier, Cuvee Speciale "Le Cabassou," exhibited none of the brick tone found in the other '90's; it was a deep garnet in color. It had straightforward prune flavors and aromas, with an astringent finish. It seemed the youngest of the '90's, and indeed, it was poured from a magnum, which may have had something to do with that impression. My score of 88 tied this for 3rd, while the group gave it a 90.1, 4th overall.
Wine # 6, the 1990 Chateau Pradeaux, again showed the hint of brick, with a rich plum nose that echoed in the flavors, with added nuances of smoke and leather. An 86 on my sheet tied this for 4th, while the group scored it an 88.9, 8th overall.
Wine # 7, the 1993 La Bastide Blanche, Longue Garde, started the second flight, and it was a beauty. Dark garnet, with slightly floral elements to its plum and currant flavors and aromas, this showed the richest fruit of the tasting, to that point. My score of 89 tied it for 2nd; the group's 89.7 ranked it 5th.
Wine # 8, the 1993 La Bastide Blanche, Cuvee Fontanieu, impressed this taster less than it did the group as a whole. Dark garnet color, with plum, prune, and tobacco flavors and aromas, my score of 86 and ranking of 4th (tied) was a departure from the group's 90.7, placing it 3rd overall.
Wine # 9 was the mystery wine, and one whiff gave me an excellent idea of what it was. At first, I thought it was in-fatuation, but oooh, it lasted soo long! Wait a minute, that's a line from an old Sam Cooke song!
Seriously, the only thing that stopped me from immediately writing "Mr. Ridge" on my sheet was the memory of the '95 Condado de Haza that was so enjoyed the previous two days.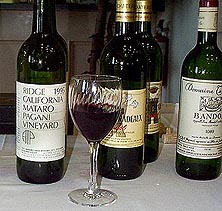 However, one taste told me all I needed to know, and putting two and two together, I reasoned that this was probably the very same '95 Ridge Pagani Mataro (the Spanish name for Mourvedre) ATP selection that we'd just tasted the previous evening. (Dave Guimond came to the same conclusion.) It exuded tons of the perfumed Paul Draper style in the nose, with lovely, creamy, sweet oak nuances of coconut and raspberry that were echoed in gobs of rich, bold fruit.
Now, on the one hand, it's never fair to compare new world styled wines with traditional European counterparts, because the rich, up-front fruit and new oak treatment of the upstarts from California, Washington State, Oregon, and Australia will almost always overwhelm the more restrained old world models. The apples and oranges analogy can be justifiably invoked here, because they're just different animals. Nevertheless, the Ridge was included in the tasting, and I scored it a 92, ranking it first. The group liked it almost as well as I did, giving it a collective 90.7, good for 2nd place. (Yes, the group did give this the same score as the previous wine; however, John Wolf tabulated the scores, and proclaimed this the # 2 ranked selection, so that's his story, and I'm sticking to it.) I took only a few small sips of this at first, not wishing to spoil my palate for the other Bandols, then came back to it after the scoring was completed to savor it slowly and lovingly.
Wine # 10 was the 1989 Domaine Tempier. It had the hint of brick to the garnet color, and a hint of the barnyard in the nose, along with leather and prune aromas and flavors. It was fairly rich, and I scored it an 88, tying it for 3rd. The group gave it an 89.2, good for 6th.
Wine # 11, the 1989 Chateau Pradeaux, was quite nice, with the hint of brick, and a dusty note in the nose that blew off to reveal good plum and prune aromas that echoed in the flavors. A number of tasters found this to be reminiscent of a fine Chateauneuf-du-Pape. Like the rest of the Bandols, it was very dry. My score of 89 tied this for 2nd, while the group's 88.7 placed it only 9th.
Wine # 12, the 1984 Domaine Tempier, Cuvee Speciale "La Tourtine," was the group's favorite, due, no doubt, to its obvious maturity. This taster found the nose to be somewhat dank and vegetal, however. This quality never did blow off completely, and, for me, detracted from the overall fine quality of the wine. It may be an acquired taste, but I found it to have none of the charm of, say, the mushroom-forest floor notes that can be found in many mature red Burgundies. Otherwise, this brick red wine had a nice mouth texture, with soft prune and leather flavors that were very enjoyable. My score of 88 tied this for 3rd, while the group's 91.1 ranked it a solid 1st.
I found the Bandols to be interesting, enjoyable wines; they were a little difficult to evaluate, though, due to the hard, youthful nature of many of them. They will also show best when served with food. While I won't go out of my way to purchase any of these wines for "the cellar," I am happy to have had the opportunity to taste them. They obviously had a number of avid fans among the 30 attendees, however.
The tasting was followed by a pleasant brunch, prepared by the competent staff of the Polo Fields Country Club, outside of Ann Arbor. The only negative note of the entire weekend occurred when, returning from the men's room, I found that the remainder of my glass of Mr. Ridge had been removed from my table and dumped. Bummer!
The MO'COOL organizers are to be heartily commended for staging such an incredible event; it was obvious that a lot of effort went into making it the success that it was. Great wines, great food, and great people are always the perfect combination to make something like this work, and it worked REALLY WELL!
The Director and this taster look forward to attending MO'COOL again next August. We can't wait to see what the theme will be then!


TASTING NOTES TAKEN ON:
1995 La Bastide Blanche Rose

1995 Domaine Tempier Rose

1990 Chateau Vannieres

1990 Domaines Ott, Longue Garde

1990 Domaine Tempier, Cuvee Speciale "Le Cabassou

1990 Chateau Pradeaux

1993 La Bastide Blanche, Longue Garde

1993 La Bastide Blanche, Cuvee Fontanieu

'95 Ridge Pagani Mataro

1989 Domaine Tempier

1989 Chateau Pradeaux

1984 Domaine Tempier, Cuvee Speciale "La Tourtine"

MO'COOL INDEX

Introduction

Cloverleaf Market

Friday night at Morels

Madeline Triffon

Saturday Bash

Home