MADELINE & MO'COOL
By Joel Goldberg
Photo by Sally Goldberg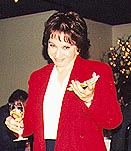 To Mo'Coolers, Friday night's tasting dinner is synonymous with Madeline Triffon. For the last four years, she's picked the wines and assembled the menu for the Mo'Cool opening-night bash.
But putting Madeline on the Gang of Pour's Mo'Cool page is a different matter. I mean, does she really belong on this page? First off, THE WOMAN ALWAYS SPITS! Everything. What a waste of good wine, and diametrically opposed to the Gang's oft-stated, even more-oft-practiced philosophy.
Next up, she's a Master Sommelier -- official, the real McCoy. And not just some run-of-the-mill dime-store Master Sommelier, but the first to take and pass the exam in the United States, and only the second woman Master Sommelier, anywhere, anytime. To make matters worse, she's now the head honcho for the U.S. chapter of the Court of Master Sommeliers.
So this means she's a certified wine snob, right? You know, the kind with the fancy silver gizmo necklace, popping '61 Lafite corks willy-nilly at some big-shot restaurant where $50 to the maître d' may buy you a table away from the kitchen door.
Now does that sound to you like someone that the Gang of Pour and the Mo'Cool organizers would write about? Or, worse still, hang out with on a Friday night?
Well, you've got the wrong "wine girl" (yup, her words, not ours). Madeline is cool, seriously cool. So cool that she'd rather stay in Detroit than leave for that fancy restaurant on the coast (though there have been the offers.) So cool that she prefers unearthing offbeat-but-great $15 bottles for Friday's Mo'Cool dinner instead of serving the predictable heavy-hitters to the high rollers.
So cool that she wowed this year's Mo'Cool crowd with the unlikely appetizer combo of bone-dry French Muscat and Shrimp Provençal. And so cool that the solidly-married Jay Baldwin has been overheard only semi-jokingly referring to her as his "ideal woman".
You see, this wine girl's not just a wine geek, she's a smart, no BS, feet-on-the-ground and nose-in the-glass self-taught kind of wine geek. After growing up in Greece, she put herself through a degree in theater at the University of Michigan by working in restaurants, picking up a second education in wine as she went along. "I use what I learned in the theater to do wine presentations," she laughs.
She also learned, to her chagrin, that her body metabolizes alcohol pretty poorly - "Whatever that enzyme is, I don't have any" - and so she spits everything she tastes, only allowing herself some small slow swallows when the workday is done. (See if she'll ever be invited to a Gang tasting…)
After stints at several Ann Arbor eateries, in 1977 she moved to the Westin Hotel in Detroit's Renaissance Center. "They found out I spoke some French and knew something about wine, so they handed me the wine list and said 'You're our sommelier,'" she recalls.
The late 1980's found her teamed with wunderkind chef Jimmy Schmidt at Detroit's legendary London Chop House, where she passed the Master Sommelier exam and earned kudos as Detroit's top sommelier and one of the best in the nation. She left with Schmidt when he opened his upscale Rattlesnake Club on Detroit's riverfront in 1990. Lots of area wine geeks still harbor fond memories of Madeline's wine-and-appetizer evenings in the 'Snake's wine bar, and long-time Mo'Coolers recall the first-ever Friday dinner at the 'Snake during 1994's "Zinful Weekend".
Madeline set heads scratching in 1995 when she left the 'Snake to become Wine Director for Matt Prentice's Unique Restaurant Corporation. She says that Unique gave her the chance to spend less time "on the floor", and to concentrate instead on organizing events, along with shaping the wine lists and training staff for its ten restaurants around the Detroit burbs including Morels Bistro, site of the Mo'Cool 97 Friday tasting dinner.
"Your dinner is one of my favorites every year," she says. "It's a fun challenge to do a theme dinner for wine geeks and to come up with some offbeat wines and the food matches." No doubts in this corner that Madeline puts out to meet the challenge; of nine wines poured at Friday's dinner this year, she brought five into Michigan especially for Mo'Cool.
Next year, she reinvades the city of Detroit to help midwife Duet, Unique's new flagship restaurant in the Entertainment District, promising a wine-friendly theme and menu. Mo'Cool 98 also heads to Motown - we're making tracks for Duet on Friday, August 21, 1998, with our favorite sommelier picking 'em up and setting 'em down.
Yeah, Madeline's OK by us even if she does spit.