Saturday Bash at Sally and Joel Goldberg's House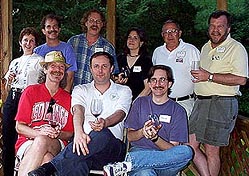 The Director had to get a picture of Sally and Joel with the "regulars" on Robin Garr's Wine Lovers Discussion Group.
Back Row: Sally, Joel, Kent, Deb, Bob Henrick and Robin
Front Row: geo t., Mark Horvatich and David Guimond
Bacchus was watching out for us, because this would be the only sunny day of an otherwise dreary, wet weekend.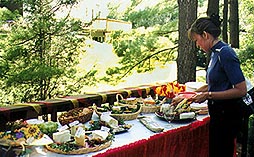 Sally and Joel live in a beautiful house just outside of Brighton, Michigan, and it provided the perfect setting for the BBQ. The Director and I had a great time, chatting and tasting with not only the folks we'd met the previous evening, but also many that hadn't attended the dinner. People came from as far as California, Florida, Connecticut, and South Dakota.
The food spread was incredible, and Nick the Lamb Guy did a masterful job manning the big grill.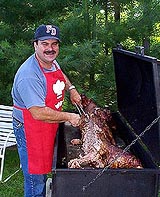 As for the wines, they were all over the place, both in region of production and quality. There were a few disappointments and some real surprises, but for the most part, the many selections conformed to a very high standard. I didn't even try to take notes on everything that was uncorked; I let Mr. Garr handle that formidable task (and he did so admirably). Several bottles did catch my interest, though; here are some impressions.
1994 & 1995 "Condado de Haza", A. Fernandez Ribero del Duero: After the previous night's taste of the '95, I went for these as soon as I saw them. The '94 showed similar rich perfumed qualities in the nose to those of the later model, but the flavors didn't quite live up to the aromas. Not a bad wine, by any means; just not quite as good as the '95.
Perhaps surprisingly, today's '95 model was rather different from the previous example too. It was richer in flavor than the '94, but displayed a "goat cheese" quality in the nose that hadn't been evident the night before. This wasn't a distraction, necessarily, unless perhaps one is intolerant of bottle variation.
1978 Burgess Napa Cabernet Sauvignon Vintage Selection: Bob Henrick brought this one, knowing that the Madame and I cut our wine teeth on this producer's wares in the '70's. Brick garnet in color, this still showed nice, fairly rich flavors and aromas of currants, with a touch of leather and cigar box, and a hint of sweet oak. Lovely.
1994 Chateau de Beaucastel Chateauneuf-du-Pape: This was very pleasant, despite its youth, with fine plum and prune flavors that can only improve as it ages. Yummy. (I never did get a taste of the '90 that was opened early on.)
1997 Mulderbosch Stellenbosch Sauvignon Blanc: Lots of cat-pee in this one, with big pear, herb, and fig flavors and aromas. Terrific Sauvignon, in a style that this taster finds very appealing. One of the standouts of the entire weekend!
1993 White Cottage Howell Mountain Napa Valley Sangiovese: Mark Horvatich gave me a taste of this, more than two hours after it had been opened, and it was just lovely. Even though I'd abandoned my notebook by this time, the sweet oak vanilla nuances to the rich fruit remain vivid in my memory. Mark told me that White Cottage is actually St. Clement winemaker Dennis Johns' own label, and is only available by getting on the mailing list. (This led to a couple of long, rambling conversations with Mr. Horvatich, which I found very enjoyable. He is not only quite knowledgeable, but also rather opinionated regarding our favorite subject, and I took great interest in many of the things he had to say.)
1995 Ridge California Pagani Vineyard Mataro ATP Selection: The best wine of the day, but then, I'm an unabashed lover of Paul Draper's wines. Beautifully perfumed aromas and flavors that scream "Mr. Ridge!" Mark H. pulled this from Joel's cellar, saying he'd replace it from his stash of the same; however, our host was less than pleased, as this was to be the "mystery wine" in the following day's Bandol tasting!
1993 Ridge Essence Late Harvest Zinfandel: The last wine we tasted before we left, this would suffice in place of a fine vintage Port at our house any day. Sweet, rich, and not unlike a reduced raspberry sauce, it is already enjoyable, but I'm sure it'll improve for some years. Joel later told me that he'd had some complaints about not opening the '91 model of this instead, but it worked just fine for The Director and me.

TASTING NOTES TAKEN ON:
1994 & 1995 "Condado de Haza", A. Fernandez Ribero del Duero

1978 Burgess Napa Cabernet Sauvignon Vintage Selection

1994 Chateau de Beaucastel Chateauneuf-du-Pape

1997 Mulderbosch Stellenbosch Sauvignon Blanc

1993 White Cottage Howell Mountain Napa Valley Sangiovese

1995 Ridge California Pagani Vineyard Mataro ATP Selection

1993 Ridge Essence Late Harvest Zinfandel

MO'COOL INDEX

Introduction

Cloverleaf Market

Friday night at Morels

Madeline Triffon

Sunday - Boys in the Bandol

Home