An Evening of Mediterranean Madness at Morels, a Michigan Bistro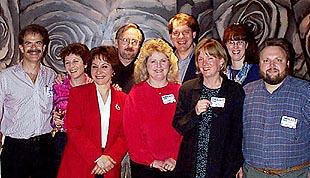 Back Row: Joel, Sally, Gary, John and Jennifer
Front Row: Madeline, Georgine, Cindy and Jay
Morels is just a half-mile north of the Cloverleaf Market, on Telegraph Road, so the only problem getting there was waiting at the TWO traffic lights within 500 yards of each other at Twelve Mile. A nicely appointed, if not particularly ostentatious establishment, they let their menu and wine selections speak for themselves.
As in past MO'COOL Fridays, Madeline Triffon had prepared a wonderful presentation of food and wine that fit the Mediterranean theme. Some of the wines were shipped in from out of state specifically for this event. As the evening progressed, it was quite apparent that she was enjoying herself immensely. Her remarks regarding the wines and their food match were not only informative, but entertaining as well.
This taster was particularly struck by three of the wine selections that were served; the Argiolas 1995 Vermentino di Sardegna, the 1996 Domaine Piquemal Cotes Catalanes Muscat Sec, and the 1995 A. Fernandez "Condado de Haza" Ribero del Duero.
The Argiolas was a perfect aperitif, with its crisp, zingy acidity, and a note of pine to its good fruit flavors. I lingered over my glass well into the first course of the meal.
Some found the Muscat to be slightly disconcerting, with its sweet entry and dry finish. However, I found it to be reminiscent of the 1995 Yves Pastourel et Fils Muscat Vin Pays d'OC "Cuvee des Lilas" that The Director and I enjoyed on a number of occasions over the past year or so. Delicious wine; a fine summer quaffer.
Wines from Ribero del Duero are a rather big hole in my tasting experience, so I was quite anxious to taste the Condado de Haza, especially given the rave reviews it has received in many internet wine boards. I wasn't disappointed, either; what a beauty! The gorgeous, perfumed flavors and aromas reminded me a bit of Paul Draper's style (indeed, when I'd blind taste the 95 Ridge Pagani Vineyard Mataro ATP selection two days later, my only reservation about immediately naming it a "Mr. Ridge" was that it COULD be one of these Spanish lovelies). This was easily the best wine of the evening, and I was more than happy to accept the extra pour that Ms. Triffon shared with us. I only wish I could find some for "the cellar."
All in all, the food and wine selections served were, without exception, wonderful, and a great time was had by all. This reporter was also quite geeked by the fact that I was actually able to take some digital photos that were good enough for inclusion here!

TASTING NOTES TAKEN ON:
Argiolas 1995 Vermentino di Sardegna

1996 Domaine Piquemal Cotes Catalanes Muscat Sec

1995 A. Fernandez "Condado de Haza" Ribero del Duero

MO'COOL INDEX

Introduction

Cloverleaf Market

Madeline Triffon

Saturday Bash

Sunday - Boys in the Bandol

Home