Life Begins at Cloverleaf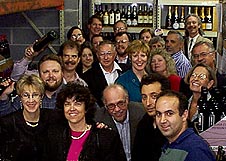 The back room (upstairs) at the Cloverleaf served as a sort of staging area before the evening's main event. Several excellent selections were opened, and though no notes were taken by this taster, all were delightful. (Extensive notes are available at the official MO'COOL web site.)
I'd talked The Director into joining us briefly, under the guise of being a wine buyer, and in fact, she went home with three very nice bottles of wine and port. (Actually, I had an ulterior motive; she has an extensive background in photography, and I trusted her to handle our brand new digital camera much better than I would. I also felt it would be a good opportunity for her to meet some of our fellow attendees, even though she couldn't join us for dinner.)
We arrived at five, and immediately sought out Joel Goldberg, and introduced ourselves; he in turn introduced us to his wife Sally, and fellow MO'COOL coordinators John and Jennifer Wolf and Gary and Georgine Kahle. Jay and Cindy Baldwin entered shortly afterwards, followed by Robin Garr and WLDG regular Bob Hennrick (who'd brought a nice little stash of Mr. Ridge for this taster). Though we were acquainted with both Robin and Bob through many postings and emails, this was our first actual meeting with them, and they proved to be every bit as amiable in person as they are online.
I was also pleased to renew acquaintances with fellow web wine-buff Dave Guimond, who introduced us to his wife Deb, a very wine-savvy taster in her own right.
After mingling for about an hour, The Director organized a photo opportunity, from the top of a stepladder, the results of which can be seen here.
Finally, everyone moved on to Morel's, for the main event. I said goodbye to Madame, leaving her to take care of the wine transaction. (She later told me that she'd taken a keen interest in the fact that my complete purchasing history was on the Cloverleaf's computer; perhaps my cunning plan had backfired in my face. I'm sure to face an extended period of "wine probation" now.)

Can we say "Wine Probation" boys and girls?
"Much to Bastardo's chagrin, Madame L'Pour discovered that his entire Cloverleaf purchasing history was on the shop's computer. Rows and rows of buying history..."

MO'COOL INDEX

Introduction

Friday night at Morels

Madeline Triffon

Saturday Bash

Sunday - Boys in the Bandol

Home