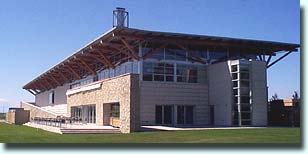 I always look for an excuse to head down to Niagara, so when Mike Brenton and Deb Cole had expressed an interest in touring the wine country, I was happy to play the role of guide. We arranged to meet up at Jackson-Triggs (left), one of the Niagara regionís newest wineries.
Having tasted several stunning wines from JTís west coast counterpart, I hoped the wines from Ontario would be as good, if not better. There is certainly no shortage of cash here; everything from the ground up is state of the art. The winery is large but the designers have done much to keep it in focus with the surrounding area, the whole philosophy being to keep the customer in touch with the vineyard. It is noticeable almost every where you walk.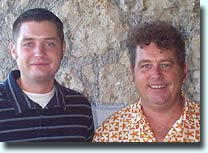 As we arrived at the "customer service greeting area," I heard someone shout, "Hey Chef Kerr!" I looked around to see a former student from our Culinary program, Nick Baird (right, with Alan Kerr), now employed with Jackson-Triggs as the Special Events Coordinator. Nick took time out from his day to give us a complete tour of the facilities, which concluded with a tasting of the wineries entire lineup. I was sincerely impressed with what we tasted, not only from a quality point of view, but from a price point too. Every wine was true to varietal character, and the Meritage wines in particular were really very good. I arranged with Nick for a return visit, only this time with the Gang.
Nick was born and raised just outside of London. He enrolled in the Culinary Management Program, but instead of choosing the kitchen, he found he was more interested in the wine industry. I truly was impressed with his depth of knowledge about wines and viticulture, not only with what is produced at Jackson-Triggs, but at other wineries in the area as well. This was no memorized spiel that one often hears at a winery; Nick genuinely loves his job, and it shows.
Working for a large corporation such as Vincor will allow him the opportunity to move to other wine regions like California, British Columbia or even Australia. During his two years at school, playing in a punk rock band at several of Londonís clubs helped to pay the rent, and even contributed to tuition. Nick now is looking for the perfect wine to go with punk rock, and the search continues...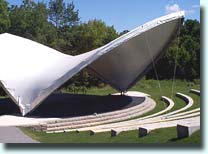 When the gang arrived a few weeks later, Nick started our tour at the open air five hundred seat amphitheatre located to side of the estates vineyards. Here throughout the season, various Canadian musical and theatrical productions are showcased, but due to the absurdity of Ontarioís liquor licensing laws, the winery was not granted a license to serve their wines to theatergoers during the performance. People have to move to a marquis during intermission in order to quench their thirst.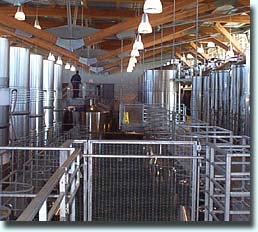 Nick then took us through the heart of the winery. Here the money invested by Vincor is most evident. Computerized fermentation or holding tanks enable the wine maker to keep tabs on the temperature stats, etc. from anywhere in the world. There is a small onsite kitchen that is used for local chefs to cater special function events. At such an event, every course served is set up at a different area within the winery compound. At each table setting dinner guests will always have a view of the vineyard.
We finished the tour upstairs in a private room that of course has a stunning view of the vineyard. Nick poured our wines into Riedel glasses and our tasting began.