It's not every day that one gets the opportunity to taste through a selection of the wines of Angelo Gaja, so when the Psychopomp offered me his seat at an exclusive Gaja wine dinner at La Dolce Vita in Detroit last week, how could I refuse? The Gaja winery has been in existence since the 1800s, but when Angelo took over in the '60s, he was commited to be the best at what he did, and began slowly and methodically working towards that goal, buying parcels of prime vineyards as they became available. His philosophy has always been that to be the best, you must own the best of everything, from vineyards, to technical equipment to barrels, and by adhering to that precept, his wines have risen to the level where they are now held to be in the same rarified atmosphere as the likes of Lafite, Haut - Brion and Romanee Conti.
The event was a collaboration between Paterno Wines International and La Dolce Vita, the former being the luxury import house which brings Gaja to the US, and the latter one of the finest Italian restaurants in Detroit, a true gem, and one of the best kept secrets in southeastern Michigan, by many accounts. The intent was to let it be known that the wines of Gaja, while expensive, are available, and to punctuate the point with a fabulous wine dinner. Vince Falzone, Paterno Midwest District Manager, worked with La Dolce Vita's Dean Cicala to create a menu that would match the wines being presented, tasting (with the same specific wine selections) and tweaking in advance, and by and large succeeding brilliantly.
None of the single vineyard Gaja Barolos were poured on this occasion, which is understandable, given their rarity and price tags, but the attendees were by no means slumming. We started off the evening with some bubbly to prime our palates.
Ca' del Bosco Franciacorta Brut NV, 12.5% alc.: Medium straw in color, with a faint tinge of lime, this shows flavors and aromas of very dry green apple shaded with a little smoke and yeast; a moderately active bead keeps things moving along nicely, and plenty of froth in the mouth. Crisp and refreshing; the more I taste this, the more I like it. Ca' del Bosco's entry level Brut, this retails in the Michigan market for around $30.
After bubbling and mingling, it was time to be seated for dinner.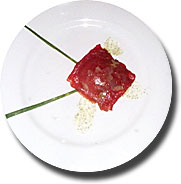 Tuna Ravioli filled with fresh pepper remoulade, with Lemon Dill Oil


2002 Gaja Rossj - Bass Langhe D.O.C., 13.5% alc.: Named after Angelo's younger daughter Rossana (Rossj), this pale to medium straw colored chardonnay includes "a touch" of sauvignon blanc, and features toasty oak over dry green apple - pear flavors and aromas that mirror each other exactly. One taster mentioned a certain "green" quality, which Vince attributed to the fact that this is cold climate chardonnay, and therefore less ripe than some, adding that "Bass" means lowlands, referring to the fact that the mixed clonal selection from younger vines comes from the bottom of the hills of their particular vineyards. A bit more oak emerges as it opens, turning a little creamy, while retaining its crisp character and focus, and the wine is a fine match indeed for the tuna ravioli. An elegant wine, with a fine, lingering finish and the potential to age gracefully for five to ten years.

(A note about the tuna ravioli: At first glance at the menu, one might have expected that the tuna and remoulade would be encased within a traditional ravioli dough, when in fact, thinly sliced raw tuna served as the ravioli, with the remoulade encased therein, and it was absolutely delicious.)

Seared Diver Scallop with
Garlic White Wine Saffron Reduction


2001 Gaja Gaia & Rey Langhe D.O.C., 14% alc.: Named after Angelo's elder daughter Gaia and grandmother Clotilde Rey, this is another pale to medium straw chardonnay, less effusive aromatically than the Rossj - Bass, but bigger and bolder on the palate; it's very similar in style and flavor profile to the previous selection, but it carries more weight, while retaining that crispness, that focus, that clarity. It shows creamy, dry green apple - pear with toasty overtones, accented with hints of butterscotch and caramel that work perfectly with the searing of the scallops. With perfectly balanced acidity and a long, lingering finish, this has the potential for fifteen to twenty years of aging.


Fresh Spring Mix Salad with
grilled fennel and a Gorgonzola dressing


2000 Gaja Alteni di Brassica D.O.C., 13.5% alc.: This medium straw is a somewhat different expression of sauvignon blanc when compared with the likes of the New Zealand and Loire versions; it's not an aggressive wine, but rather a refined one that sees some oak. Initially rather stingy on the nose, it gives more generous pear and grapefruit flavors with a nice herbal touch, a hint of cream (from the ripeness of the vintage and the barrels, according to Vince) and overtones of smoke that play off the grilled fennel beautifully. Again, an elegant, refined wine, with balanced acidity and a slightly bitter finish, this is one that demands food, and in that regard, perhaps surprisingly contributed one of the best pairings of the evening.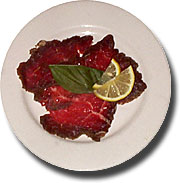 Dry Rubbed Beef Carpaccio
with Truffle Oil
Risotto with smoked Mozzarella
and Asiago Cheese


2002 Gaja Ca' Marcanda Promis Toscana I.G.T., 55% Merlot, 35% Syrah, 10% Sangiovese, 13.5% alc.: This dark garnet blend is the most "international" in style of the wines tasted on this occasion, with effusive chocolate, black cherry, black berry and dark plum aromatics, accented with hints of game and underbrush. The silky smooth flavors echo and expand, with deceptive tannins underneath, and a mouth feel that is sleek and dense at the same time. This is one that might better serve for sipping on its own, rather than accompanying food, as it's just over - the - top enough to make for a somewhat awkward match on the menu. It could easily be mistaken for something from Australia or California in a blind tasting. Vince describes it as "probably Angelo's most accessible wine, lush, international, from young vines."

(As with every other course served on this occasion, the carpaccio and risotto dishes were wonderful. The risotto was like none I've ever encountered, and many others said the same; the cheeses created a crust around the arboreo rice, making for something like a risotto pie. Marvelous stuff that had been intended to be served with Gaja's Sito Moresco, which was unfortunately in short supply, and therefore unavailable on this evening.)

Veal Medallions with Mushroom Pate,
served in a raisin port reduction
Eggplant Puree with Zucchini flowers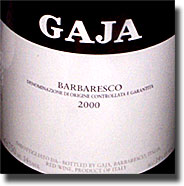 2000 Gaja Barbaresco D.O.C.G., 14% alc.: This ruby garnet colored beauty is "fifteen years from drinkability," according to Vince, who rightly describes it as "so primary," but after three and a half hours in a decanter, it's actually approachable. The nose is all about sweet oak over dried cherry, black cherry and hints of chocolate; one person describes the bouquet as "candy." Deep, dark and fairly dense, the flavors echo with added notes of tar, licorice and underbrush, along with deceptively silky tannins and zippy acidity that almost give it a peppery quality. The same taster exclaimed "It doesn't need food, I can sip this alone," but in fact, it made a fine match for the veal medallions, despite its youth. Powerful, yet elegant and refined, this great wine deserves to sleep for a long time, in order for that greatness to become fully realized.


Fresh fruit with Marscapone cr

è

me and lemon cake


1996 Lungarotti Vin Santo, 16% alc.: The one clear food and wine mismatch of the evening, this amber ruby was overpowered by the lemon cake, cr

è

me and fruit, and didn't impress me at all until after I'd gobbled down the killer dessert, and cleansed my palate with a glass of water. Then the nutty, alcoholic and slightly oxidized, sherried character starts to fill out with more and more sweet raspberry and strawberry fruit, something of a surprise, considering it's made from malvasia and trebbiano, with nary a red grape in its makeup. Every sip is more enjoyable than the last, and I found myself wishing I had a mild cigar to puff along with it, as that would have been a better match than the dessert, all things considered. Aged in small oak barriques and traditional chestnut casks that are stored in an attic for three years, where they undergo the subtle changes brought on by the progression of the seasons.

This was a marvelous opportunity to taste some of the wines of what many consider to be among the very finest producers in the world, the absent "big guns" like Sperss and Sorì Tildìn notwithstanding. It was especially pleasurable to taste them in the proper setting, with great food, good company and enough time to get to know them a little. Obviously, all of the selections were quite young, and it would be most interesting for this taster to perhaps one day have the chance to try older models of comparable quality to see how they develop, and, and in particular, how the oak integrates.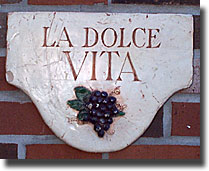 Many thanks to the Psychopomp for allowing me to benefit from his misfortune at not being able to attend, and to Vince Falzone and Paterno Wines International for providing the wines. And thanks also to Enrico and Antonio Rosselli and Dean Cicala, for providing the perfect setting for the event. We will most assuredly be returning to La Dolce Vita to enjoy their sensuous Italian cuisine and ambience again and again.
La Dolce Vita
17546 Woodward Ave
Detroit, MI 48203-2256
Phone: (313) 865-0331

Reporting from Day-twah,
Bastardo