Tasting with Jim Clendenen
Flashback: Several years ago, Kim went to southern California on business, and I gave her a short list of wines that I was looking for. The closest wine shop to her hotel just happened to be the Wine Expo in Santa Monica, and the man who attended to her just happened to be Rob Rogness himself. He laughed when he saw Au Bon Climat Pinot Noir on said list, because the stuff was in high demand, and what he did get in stock didn't last long. He sent her home with some of Jim Clendenen's Cal-Italian Il Podere dell' Olivos Refosco and Nebbiolo, both of which were very tasty indeed, and we bought more of each.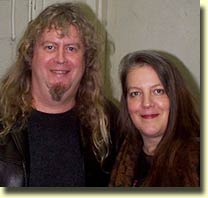 Flash forward to 2002: We had known for over a week that Au Bon Climat founder and winemaker Clendenen (on the right, with Kim) was coming to Day-twah for a Winemaker's Dinner at Raymond Wong's on Woodward, but unfortunately, we had a prior commitment and could not attend. However, when we heard through the virtual grapevine that he'd be answering questions and signing bottles for a few hours before the event at a location known only to the local cognoscenti, Kim and I were there. Not only were we well aware of Mr. Clendenen's credentials, we also had the feeling that anyone who looked like a cross between a professional wrestler, a heavy metal guitar player and The Cowardly Lion of OZ just HAD to be an interesting character.


Accolades for Gang of Pour site







It turned out that we had him pegged right on. Witty, intelligent and engaging, he was most enjoyable to talk with, and we proceeded to monopolize much of his time during the next two hours. We gabbed about of a variety of subjects, including his effort in the '94 KCBX Paragon Pinot Noir project that we had recently tasted, executive privilege and the movie Dick, idiot Michigan drivers sliding off the road in bad weather, the 4 French Horsemen of the Apocalypse (Côte Rôtie winemakers Yves Cuilleron, Pierre Gaillard, Yves Gangloff, and François Villard), Rhône and Bowling with Long (and Boring) Tom Hill, Sean Thackrey and finally, the peculiarities of certain states' laws that prohibit wines that are made up of, say, 99% California grapes and 1% Oregonian grapes from being labeled "California," and vice versa.

At one point, I confessed that it was we who had tailgated him one Saturday morning in July of '00 for much of the way between Cambria and Paso Robles. We were running late to cover the seminars at Hospice du Rhône at the time, and had not a clue that we were hounding the tail of a winemaker-in-attendance, until he pulled in the parking lot shortly after we did and gave us a darting glare. We knew immediately who it was expressing his nonverbal displeasure with us, but nothing more came of it, either then or more recently, and there are no hard feelings.

While all this was taking place, we sampled four delicious wines from his portfolio; here are some brief snapshots I jotted down.

1999 Au Bon Climat Santa Maria Chardonnay "Le Bouge D' à Côte, 13% alc.: Medium straw, with pretty toasty oak and pear on the nose; one whiff of this took me right back to California. Flavors echo with some added mineral, good acidity and a nice finish. The oak isn't at all overblown or buttery; rather it has a nice sense of proportion to the fruit, which isn't austere, but neither is it fat and heavy. Drinks nicely now, but sure to improve with a few years in the bottle.

2000 Au Bon Climat Santa Maria Pinot Noir Estate, 13.5% alc.: Ruby dark garnet, with lovely toasty oak and smoky black cherry flavors and aromas that are accented with Asian spices. This features a smooth mouthfeel and a nice finish, despite some tarry tannins and good acidity. I had to restrain myself from taking a 2nd pour.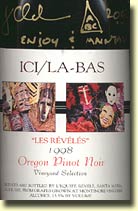 The '98 Ici/La Bas "Les Révélés," signed, sealed and cellared.

1999 Ici/La Bas (E C Lah Bah) Anderson Valley Chardonnay Dennison Vineyard "Philippine," 12.5% alc.: Jim told us that this medium straw is from an organic vineyard in Mendocino County that only produces 3-4 tons from 22 acres because of Pierce's Disease and Phyloxera. It sees 100% new French oak, and shows lovely flavors and aromas of toasty oak, maple syrup, pear, citrus and subtler hints of tropical fruit. Not a powerhouse, but very refined and quite delicious.
1999 Ici/La Bas Oregon Pinot Noir "Les Révélés": My notes of this ruby dark garnet were the briefest of the four, which is odd, because it was my favorite. The toasty smoky black cherry mineral character of this made a pig out of me, and I helped myself to a 2nd pour. Silky tannins, good acidity and a nice finish make it hard to resist now, but it has a promising future and no doubt. Yumm!!!
Jim told us that he makes 72 different wines. He also mentioned that he spends upwards of 200 days a year in various promotional capacities. Clearly the consummate professional, his talents have been heralded by no less than the likes of Robert Parker and Oz Clark.
He's also just a h3lluva nice guy to hang out with, shoot the breeze and taste wines. We liked him real good!
Au Bon Climat
PO Box 113, Los Olivos 93441
2905 Grand Avenue, Los Olivos
Santa Barbara County
(805) 937-9801


February 2002