ecently, I had the opportunity to sit in on a mini - seminar, courtesy of Dan Schwarz, Michigan Area Manager for Remy Amerique Inc., (New York, NY), importers of the wines of Masi and Alighieri. The seminar was to better inform the regional wine trade community as to the unique character of the wines of Veneto, Italy, as produced by those two historic wineries, and was conducted by Masi Marketing Manager, Lorenzo Boscaini. The Boscaini family has operated Masi for six generations, with company president Sandro Boscaini currently managing the overall operation, and brother Sergio (chief enologist) and cousins Roberto (logistics manager) and Dario (viticultural) holding leadership positions in the Masi Technical Group, which is responsible for research and new developments. Their mission is to produce premium modern wines using mainly indigenous varietals and vinification methods.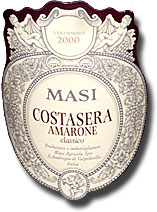 The name "Masi" comes from Vaio dei Masi, the first vineyard acquired by the family in the late 18th century. Since that time, the winery has grown through careful selection and acquisition of quality vineyards, centered mainly in the classico zones of Valpolicella, Bardolino and Soave. Masi is also in partnership with Count Serego Alighieri, descendent of the poet Dante Alighieri, whose family has owned prestigious vineyards and cellars in Gargagnago since 1353. In the last ten years, Masi has spread to other viticultural regions of Veneto, as well as Argentina, but this seminar dealt exclusively with wines of Valpolicella, with a lone exception. Lorenzo started us off with a couple of whites.

2003 Masi Masianco I.G.T., 75% Pinot Grigio delle Venezie, 25% Verduzzo, $13.99, 13% alc.: This pale to medium straw colored "Supervetian" is made of fruit sourced from selected vineyards at Castions de Strada, Friuli; it exudes a fragrant green apple - pear bouquet, with just a hint of minerality. Fairly rich and round (more so than your average pinot grigio), the flavors echo and expand on the promise of the aromatics, with a creamy quality, good acidity and a finish that lingers nicely. The pinot grigio is vinified immediately after harvesting in late August, while the verduzzo spends an extra month on the vine and another three weeks on bamboo racks to dry. According to Lorenzo, the pinot grigio gives the wine its freshness, while the verduzzo gives structure, complexity, body and a velvety texture. Very food friendly and appealing, this will make an excellent "house white" at Gang Central next summer.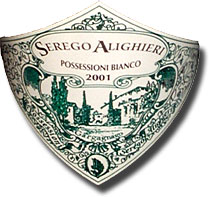 2001 Serego Alighieri Possessioni Bianco del Veneto I.G.T., 70% Garganega, 30% Sauvignon Blanc, 13.99, 12.5% alc.: Medium straw to pale gold in color, this is the only white produced in Valpolicella. It features a chalky green apple nose, with flavors to match; it's rich and round on the palate, with crisp acidity, a decent finish and a distinct mineral component. The sauvignon sees three months in barrique, lending a noticeable influence to the aromatics. A wine that serves well as an aperitif, it's also food friendly, and has the acidity for at least short term aging. With a decidedly different personality from the Masianco, this is a pleasant and enjoyable glass of bianco.

2002 Masi Bonacosta Valpolicella Classico D.O.C., 70% Corvina, 25% Rondinella, 5% Molinara, $10.99, 12% alc.: Valpolicella means "valley of many cellars" in Italian, and as a wine producing region, extends back to the time of the Romans. Bonacosta means "good slope", and refers to the foot of the same hillsides where the Amarone grapes are grown; "Classico" indicates that the fruit is sourced only from the original appellation. Ruby garnet in color, this wine shows flavors and aromas of black and dried cherries, shaded with a little licorice, earth and underbrush. Medium to medium full bodied, with low tannins, good acidity and a decent finish, this is easy to drink, making for an ideal red quaffer. Lorenzo tells us that the cherry character is typical of the corvina component, and while it apparently has the potential to age for five or six years, it's appealing for its fresh, bright fruit right now.

2001 Masi Campofiorin Ripasso ® Nectar Angelorum Hominibus Rosso del Veronese I.G.T., 70% Corvina, 25% Rondinella, 5% Molinara, $14.99, 13% alc.: This ruby dark garnet is Masi's expression of the ancient vinification method known as refermentation, for which they coined the name "Ripasso". Using a technique in which the basic wine undergoes a second fermentation on the residual pomace of the dried grapes used to make Amarone, the resulting "Ripasso" gains increased color, alcohol, complexity, structure and fruit. Essentially a "baby Amarone," this is aged mostly in 3,000 liter barrels, along with some 600 liter barrels, in order to avoid excessive wood in the flavor profile. Tasting this on the heels of the Valpolicella certainly emphasizes the point, as the wine is bigger, being medium full bodied, with deeper, darker flavors and aromas of tarry black cherry, along with some raisiny notes. Moderately tannic, with good acidity, and rich and round in the mouth, this is the kind of wine that I can definitely cozy up to, and it shows good prospects for development with some time in the bottle.

1998 Masi Brolo de Campofiorin Rosso del Veronese I.G.T., 75 - 80% Corvina, 20 - 25% Rondinella, $27.99, 13.5% alc.: The term "Brolo" corresponds to the French term "clos," and refers to vineyards surrounded by stone walls, in this case, located at Valgatara di Marano, in the heart of Valpolicella Classico. A special selection of Campofiorin, this contains no molinara, resulting in less acidity and more complexity. After refermentation, the wine is aged in mostly Slavonian 600 liter oak barrels, which impart more delicate nuances than French oak, although some Allier oak is also employed. The dark garnet colored wine gives up a rich, almost floral cherry and black cherry bouquet, accented with notes of coffee, chocolate and earth; these follow through on the palate with medium full to full body, good structure and good prospects for aging, at least three to five years worth. Definitely a step up from the previous model, and even more to this taster's liking, this is very nice indeed.

2000 Masi Costasera Amarone della Valpolicella - Classico D.O.C., 70% Corvina, 25% Rondinella, 5% Molinara, $38.99, 15% alc.: Ah, appassimento, the method of drying the best grape clusters (grown only on hillsides facing southwest) in wooden boxes or on bamboo racks for 36 - 48 hours in controlled atmosphere rooms, and then in large rooms in old farmhouses with large openings or windows to allow the free flow of air until about the middle of January. In that time, the grapes lose 35 - 40% of their weight, and develop higher concentrations of sugar and flavor, with the corvina being attacked by botrytis, or "noble rot." After a delicate pressing, the wine is fermented in large Slavonian oak barrels for 50 days, followed by successive rackings and transfers into 30 - 40 hectoliter barrels (three to four months) and large oak and smaller 600 liter Slavonian and Allier oak for another 20 - 30 months. The whole process provides a contrast between the dry character of the wine and an illusion of sweetness; some glycerine remains, but the sugars have been fermented out.

The wine itself is dark garnet in color, and exudes lovely aromatics of deep, dark black cherry, with notes of raisins and a hint of coffee in the background. These impressions carry over into the full bodied flavors, with some added earth and underbrush, good structure and a long finish. This is a great value, with excellent aging potential, especially for those who might otherwise balk at more expensive bottlings from these (and other) producers.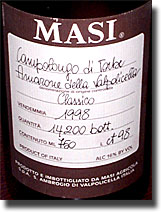 1998 Masi Campolongo di Torbe Amarone D.O.C., 70% Corvina, 25% Rondinella, 5% Molinara, $98, 16% alc.: Essentially a 1st Cru Amarone from a vineyard at the top of the hill above the fogline, this undergoes the same process as the Costasera through pressing and the initial 50 day fermentation in large Slavonian oak barrels; then the wine is transferred to 20 - 50 hectoliter old oak barrels for secondary and malolactic fermentation, followed by three to four years in large old oak and 600 liter Allier barrels. The wine is sweet, rich and decadent, showing a deep, dark garnet color and exuding aromas that seem to suggest that it's fortified, but such is not the case. With flavors and aromas of cherry, black cherry, raisin, earth and a note of almond, this is like velvet on the palate, despite the obviously formidable structure. A wine to meditate upon, one with 35 - 40 years of aging potential.

And with that, the seminar was concluded, but not the tasting. Dan Schwarz had brought along a couple of bottles of Serego Alighieri Vaio Armaron Amarone della Valpolicella that we last tasted with him a year ago, and he thought this would be a good opportunity to see how they were coming along. The Vaio Armaron vineyard in Gargagnago lies 180 - 265 meters above sea level, with southwest exposure; Vaio means "little valley." After drying and gentle pressing, the grapes ferment for about 45 - 50 days in large Slavonian oak barrels, after which, the wine is transferred to old six to twenty hectoliter barrels (some made of cherry wood), where it ages for four to five years. We tasted from two successive vintages.

1996 Serego Alighieri Vaio Armaron Amarone della Valpolicella D.O.C., 65% Corvina, 20% Rondinella, 15% Molinara, $56.99, 15.5% alc.: Dark garnet in color, with sweet, rich black cherry and raisin flavors and aromas shaded with hints of chocolate and earth; the acidity is more apparent than the tannins at this point, which Dan attributes to "a leaner vintage." Rich, concentrated and delicious, this is quite raisined, in a good way, and more so than last year. Don't be in any hurry to drink this, as it will continue to develop for many years.

1997 Serego Alighieri Vaio Armaron Amarone della Valpolicella D.O.C., 65% Corvina, 20% Rondinella, 15% Molinara, $56.99, 15.5% alc.: An inky, opaque garnet, this is even more raisined on the nose than the '96, with that "fortified" quality. It's showing less acidity, more body and a more voluptuous character on the palate than the previous selection, with a nice note of chocolate over raisined black cherry. The earthy tannins are more apparent than in the '96, and in the mouth, it's thick, yet velvety. Marvelous stuff, but like its predecessor, don't feel the need to drink it any time soon. Unless you want to, of course...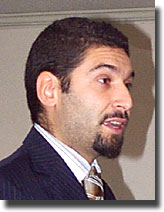 Lorenzo Boscaini (right) projects an infectious enthusiasm when speaking on the wines of Masi and Alighieri, and indeed, the wines themselves range from very good to great in quality, with not one disappointment in the lineup tasted on this occasion. I came away with a much greater appreciation for the wines of Veneto, and in particular, Valpolicella, and will most certainly investigate them further. Many thanks to Lorenzo for his excellent presentation, and to Dan Schwarz for his generosity in inviting me to this informative and enjoyable event.

Reporting from Day-twah,
Bastardo