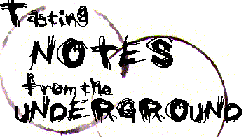 Red Rhones and
Red Wings '99-00
~or~
Tasting with Putnam and The Doctor
Another hockey season has rolled around, and to celebrate the fact, I invited my friend Putnam and his companion Anne aka The Doctor over to watch the first game of the season and enjoy some decidedly Rhone-ish reds along with. Putnam is a regular on the Wine Spectator BBs; we've had some interesting conversations there, and when I found out he's a local, I looked him up at the wine shop where he works. We hit it off well, and when he told me he is a Wings fan, that was all I needed to hear.

My plan was to pull a couple of '85 Côte Rôtie from the cellar, and keep the food simple. Since this was a sports type thing, sandwiches seemed like the right way to go. Then The Director entered into the picture and the menu took a turn for the better, with marinated flank steak sliced thin and served between slices of rustic wheat bread with arugula and Maille Dijon Mustard. This was augmented by grilled Portabella mushrooms and polenta slices topped with dried tomatoes. It was much better than this poor boy could have managed, and was enjoyed by all.
Of course, our guests brought along a few fine selections, and the Wings looked to be in mid season form, with a convincing 2-0 shutout over '99 Stanley Cup finalists Buffalo Sabres, so it was a lively night and everyone was left sated and happy. The rundown on the wines is as follows: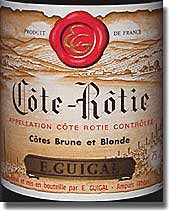 1985 E. Guigal Côte Rôtie Cotes Brune et Blonde $29.99; 13 % alc.: This and the following selection were enjoyed at the very first Gang of Pour tasting over 2 ½ years ago, and I've been wondering how they were coming along ever since. This still has good color, with only a touch of rust to the dark garnet. The big bouquet features smoky prune/plum/olive that are shaded with hints of raisin/Brasso/barnyard, and some sea air comes out after a while. The flavors echo the nose compellingly, with a long finish and tannins and acidity that bode well for further cellaring. Putnam called it a "spice box type experience;" I call it excellent textbook Syrah that is still approaching maturity.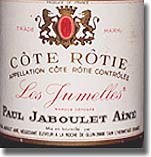 1985 Paul Jaboulet Aine Côte Rôtie "Les Jumelles" $34.99; 13 % alc.: This shows a little more rust and a little more maturity than the B et B; smoke and Brasso dominate the prune/licorice/sweet plum perfume. Some leather and a hint of cedar emerge with air, and all of these follow through on the palate beautifully. Like the other, there are still tannins and acidity to hold and improve this for some time yet. We all found it to be more complex than the Guigal. Putnam called it "more joyous" and "a little fresher." Happily, I have another of these in the cellar, and might even know where I can find a few more…
(I found some interesting information at the Frederick Wildman and Sons, Ltd. web site concerning this wine, which I have taken the liberty of quoting verbatim: "According to legend a wealthy Seigneur of Ampuis in the Middle Ages, the Count of Maugiron, had two daughters, one with long blonde hair, the other with brown hair. To one he left the vineyard slope known as the Côte Blonde and to the other the Côte Brune. The daughters were twins, hence the name "Les Jumelles" [French for twins].
The slopes of Côte Rôtie are the steepest in the Rhône valley, up to 30%, and the vineyards are in small parcels, terraced between 150 and 350 metres. Two hills dominate the production: the Côte Brune, with granite soil rich in clay and ferrous oxide, produces typically tannic wines with a long life; and the Côte Blonde, on granite with limestone, which gives softer, more feminine and elegant wines. Côte Rôtie "Les Jumelles" is usually a blend from these two sites to give a harmonious wine.")
1996 Domaine Santa Duc Gigondas Prestige des Hautes Garrigues $39.99; 15 % alc.: We've had the regular bottling of the Santa Duc Gigondas in the past, but this was the first time we've tried the reserve, thanks to Putnam. Upon taking a wiff and a taste, Madame exclaimed," Major peppercorn! Like drinking pepperwater without the heat!" Putnam described it as "more of a trainwreck" after the Syrahs that are drinking so well right now. This is made from late harvested old vine Grenache (70 %) and Mourvedre (30 %), 30 % of which spends 8-12 months in new Allier and Vosges oak. It's a huge wine, all but undrinkable now, with intense concentrated tannins and deep, tight hard flavors of pepper/plum and iodine;only on the second day did it reveal spicy coffee/leather/ dark chocolate nuances. However, give it five or ten years in the cellar, and I have the feeling this is going to be one fine bottle of wine.
1997 d'Arenberg McLaren Vale Shiraz The Dead Arm $59.99; 14.5 % alc.: Another one that Putnam brought along, and oh boy, is this a horse of a different color! I was expecting a good dose of oak from this dark garnet from Oz, and what I found was a ton of dill/blueberry/vanilla/mint on the nose, with added plum/black cherry on the palate. Big, rich and powerful, it starts out sweet, and finishes dry. The oak doesn't quite hide the significant tannins and acidity here; it needs at least a few years to mellow. What I found most interesting was that after four hours in a decanter, the oak diminishes greatly, and olive characteristics typical to Syrah come to the fore.

This is a serious Shiraz, but at its price point, I'll probably pass on purchasing any. I also opened a '97 Ridge Lytton Springs Zinfandel for Putnam and Anne, who'd never had a Mr. Ridge before, and I thought it stood right up to The Dead Arm for $30 less per bottle. Nevertheless, I'm glad we finally got the chance to try the Shiraz, having heard the rave reviews. (They really liked Zin, by the way; here're Putnam's notes: Spongy banana-American oak over pure Zin power and innocence. The nose was all over the room with lush hedonistic crushy flavors. A really nice bottle of red wine, but probably has Orson Wells turning over in his grave. I never thought it would come to this point, but this Zinfandel was not "ready." [There I said it!] )
And while we're on the subject, here's a note on another Côte Rôtie tasted recently...
1994 E. Guigal Côte Rôtie Brune et Blonde $34.99; 13 % alc.: This dark garnet is somewhat cloudy, with a very pleasant and inviting olive/plum/prune/Provencal herb bouquet, the components of which were all in equal proportion. Such was not the case with the flavors though, because while they echoed the aromas, the herb dominated, with a marked astringency that gave a very "pucker-y" effect. Some added chocolate came out with air, but the astringent quality never did recede that much. I opened this based on two solid recommendations, but
while it's somewhat approachable, it needs a lot of time, five years minimum, not because of the tannins (and there are plenty here) but because of the acidity and astringency. Wish I had a couple more to hold on to for a while, to see what develops. This should evolve into a very nice wine, but it's just too young now.
Oh yes, and the Wings beat the Blues, 4-2, scoring three power play goals. An exciting game that gave Detroit fans a new player to hiss, St. Louis' Tyson Nash.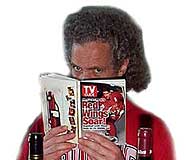 By Bastardo

1985 E. Guigal Côte Rôtie Cotes Brune et Blonde
1985 Paul Jaboulet Aine Côte Rôtie "Les Jumelles"
1996 Domaine Santa Duc Gigondas Prestige des Hautes Garrigues
1997 d'Arenberg McLaren Vale Shiraz The Dead Arm
'97 Ridge Lytton Springs Zinfandel
1994 E. Guigal Côte Rôtie Brune et Blonde

Underground Index

Wine Probation © Defined
A Chat with J.C. Mathes of J et R Selections
More Red Wings &
Red Rhones '02-'03
Red Wings & Red
Rhones '02-'03
Playoff Diary '02
Welcome Home Stanley!!!
A Dandy Rhône and a Night at the Joe