A Day in Joisey
Tasting Notes and Storyline by Bastardo
HANGIN' WITH THE GANG FROM THE WINE BOARDS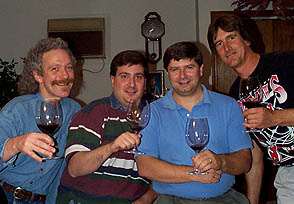 L to R: Bastardo, JFO,
JoeCz, Bob
I'd been warning WineSpec regulars Bob David and JFO (that's Jay-Fo, for the uninitiated), that I was gonna invade Joisey as soon as a decent airfare popped up. One way free and 78 bucks back seemed to fit the criteria, so I booked both and was off. (JFO was holding four '95 Graillot Croze-Hermitage for me, and I was anxious to get my hands on them!)
I landed in Newark, and Hertzed on to Bergenfield, where Bob greeted me enthusiastically. We'd been passing tasting notes for months, and our palates were obviously in the same place, so we spent the next hour and a half discussing what is real and what is not, while Bob prepared and marinated thick pork chops and succulent chicken breasts. Then, we giddyuped and got to the wine store.
Bob David is the King of QPR; he posts great notes regarding excellent (often out of the mainstream) wines that are usually terrific values. I can't find many of these wines, though, so he took me to his favorite haunt, Wine Ventures, in Tenafly. Sure enough, there were plenty of selections that weren't available around Day-twah, and my bags were heavy on the return flight. (Did you know that T-shirts make excellent wraps for bottles of wine?)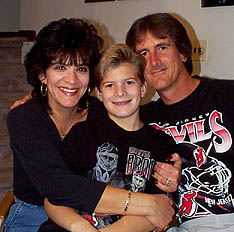 Jean, Steven and Bob
We split from the wine store and took a nice drive through the rolling, wooded hills of Alpine and Engelwood Cliffs. Then, we returned to Chateau David, where Bob introduced me to his lovely wife Jean, and their 10 year old son, Steven. Young Master Steven is a hockey goalie with a Goals Against Average of less than two per game. All three are New Jersey Devils fanatics. My kind of people!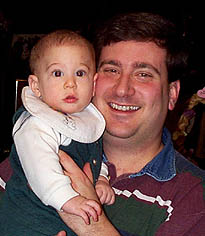 Nick and JFO
JFO showed at five, with HIS lovely wife Chris and baby Nick. They were soon followed by Joe Cz, another of our fellow wine net-izens. The party had arrived! (Sorry you couldn't make it, Aris!)
JFO is one of the stalwarts of the WineSpec boards. His posts range between the thoughtful and the hilarious, and he all but moderates WS' Italian forum.
Joe has helped The Director with beta sound testing for Tasting Notes From the Underground, and posts quite knowledgeably on three different boards that we loiter in.
All wines were tasted with eyes open.
Bob kicked things off with some "white stuff," as JFO calls it (he only recently grudgingly acknowledged that wine comes in another color than red), a 1996 Whitehawk Lost Vineyard White Block CH. JFO immediately noted a nose of pineapple Lifesavers candy in this. (He's a Nabisco employee.) This medium straw also showed apple, pear, vanilla and some toasty oak, with low acidity and a soft luscious mouthfeel. 80 % Chardonnay and 20% Chenin Blanc, at $6, this is a terrific everyday white. Like I said, Bob David, King of the QPR.
Next came my '95 Kunde SonomaViognier, and it was a letdown. Another medium straw, this had none of the floral elements so typical of the varietal. (The '96 Kunde is a favorite at our house.) JFO got an immediate whiff of amonia and pineapple; we added notes of citrus, wet stones, dull canned peas and peanut butter. There was some nice fruit here, with spicy clove on the finish, but it did nothing to convert JFO to whites, as I'd intended. (For the record, Bob told me that it had opened up the next evening, and was quite nice. Jury's still out on this one.)
Next, Bob poured us a glass of the '96 Mason Napa Sauvignon Blanc. Another pale straw, this taster immediately noted cat pee, pear and fig flavors and aromas. JFO got lots of grapefruit and sweat socks. It was very refreshing, with lively acidity, and would have been interesting to taste along with a '96 Cloudy Bay Sauvignon, which it was compared it to. Bob said it cost him $10.99; GEEZ!!!
Our host continued by switching to one of his favorite reds, a terrific 1993 Dom. De Fontenille Cotes de Luberon. A dark ruby garnet, this showed immediate smoke and bacon aromas; the intense flavors mirrored and fanned out to include prune, pepper and black olive. Chris noted "new wet lumber and sulfur from a match." JFO called out "venison," and it was a little gamey at that. This is a perfect example of why we favor French Syrah at our house, and at $12.99, is yet another marvelous value.
I was a bit surprised when Bob started bringing out the big guns (as it turned out, it was the right choice); he disappeared momentarily, then reappeared with my '95 Pagani. This was the first wine that was entirely consumed, and it didn't last long! Having tasted it the week before with the Zinfans, I noted the others' comments on this one; they began with "ooohs" and "aaahs." They went on to include…
"Awesome combination of intense zin fruit--blackberry, plum spectrum--and American oak (but not overoaked). Great zin. Price is mid-$20s and worth it." - Joe
" WOW ! Best Zin I've ever had. Like dipping your mouth in a perfume bottle; the nose was huge! Real dark color, full bodied and berry like. Candied apples on the nose and palate! Just yum!" - JFO
"Real smooth for 15.2%." - Bob
It's hard not to speak in superlatives regarding this wine; it's just that good!
Joe had emailed me a short list of selections that I might want to taste on this occasion, and the next wine was one of the two that I chose. The 1994 Turley Aida Petite Sirah was the first wine that I've tasted from the Turley label; it just never comes around Detroit. An inky purple garnet, with toasty oak and dark fruit on the nose, it seems more alcoholic than the Pagani, and some wondered if the 14.1% on the label was accurate. This was tight initially, but continued to open nicely in the glass, revealing lush, dark chocolate, plum, blackberry and blueberry flavors. It was much smoother and less astringent than the '87 Ridge York Creek tasted the week before with the Zinfans, and despite the fact that it needs more time in the cellar, this taster found it to be (perhaps somewhat surprisingly) deeply satisfying. This is gonna be one fine wine! Joe says it's priced in the mid-$20's, " assuming you can find it at a merchant who's not trying to hose you."
Sadly, at this point, Nick told JFO and Chris that it was time to go, so they bundled him up, packed up the playpen, and hit the Jersey Turnpike. He later told me that they were both depressed at leaving, but had no choice; they weren't able to find a sitter for the evening. We'll do it again, JFO; count on it!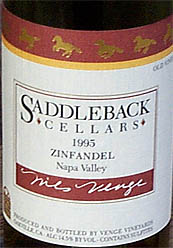 Next came the '95 Saddleback Zin, my other choice to Joe's offer. In retrospect, we should have tasted this one side by side with the Pagani, because they're in the same league. Dark garnet, with a sweet oak and zinberry nose, it shows added nuances of nutmeg, cinnamon, and black raspberry. Bob noted "big coffee." Joe spent $19 on this, and it was worth every penny, and more.
(Bob was trying to move the tasting along, and had already poured the Sauternes, though there was still at least a quarter bottle of this left. I was Mr. Oinkly and kept pouring myself more, eventually sucking it all down. Joe finished the Turley at that time, also. It was about then that I pulled out the harps and blew and sang a few. (Give me a few glasses of world class wine, and I lose control!)
The '70 Coutat a Barsac Sauternes was quite pleasant; Joe wasn't overly impressed with it (and he should know!), but lingering again, I kept sipping this after poor Bob tried to move the tasting along to the Port. It opened nicely with air, and I found it more and more pleasurable as I sipped more than my fair share of the half-bottle. :-) Gold in color, it shows a pine-petrol nose, with oily orange and apricot flavors. Joe expressed some surprise that there weren't more toffee-caramel notes in the flavor profile; it was quite fresh, if a little simple. Nevertheless, at $13 per, this taster found it to be nicely satisfying.
The '83 Graham's Vintage Port was rich and delicious, but still too young and tannic. By the time I was done with the Sauternes, my glass already had half an hour of air, with only an initial sip taken. It has big black cherry and walnut flavors and aromas that open up nicely, but it really needs another three to five years. I finished my glass, then Joe and I saddled up and rode. Bob had to get up in a few hours and go to work.
Epilogue:
I was in and out of "Joisey" in a little over 30 hours, but Bob's great directions and everyone's generosity helped to bring it off without a hitch.
Very special thanks go to the David's, for their warm hospitality, without which, the gathering would not have been possible. (And, Bob, thanks again for the '95 Ojai Syrah!)
Thanks too go to JFO, not only for picking up and holding the '95 Graillot Croze-Hermitage till I got there, but for making the drive up to have a few glasses with us.
And Joe had a bit of a drive too, eh? Thanks for the help with the beta testing, AND the Chateau Clemins, which Madame L'Pour and this taster are saving for a very special occasion!

HOME