e got an email from our friend Bob Lenz a few weeks ago that read as follows: "I'm trying to put together a little Thackrey tasting sometime over the holidays. My intent, other that just drinking great wine, is to open a Sangio & Petite Sirah to see what quantities of these need to be purchased. Of course we'll have an Orion or two to round out the theme."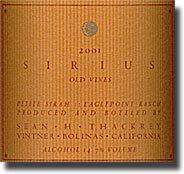 We like invitations like these almost as much as we like Sean Thackrey's wines, and we really like Sean Thackrey's wines. There's something perversely delightful (or is it delightfully perverse?) about stuff like this, made with antiquated methods that fly in the face of accepted (antiseptic) modern practices, and yet still tastes so damned good! So we showed up at Bob and Kristen's at the appointed time with offerings of food and wine, joining others in attendance, such as fellow Gangster Putnam Weekley, Mike and Darla Rowley, Jeff and Linda Bryngelson and Brad Cook.

We wasted no time getting right to the wines, which were enjoyed with a variety of hors d' oeuvres, including home made thin crust pizzas, lamb sausages, various cheeses, crackers and goat cheese and garlic confit.

1995-96 Sean Thackrey Roussanne Alban Vineyard, $45: Apparently, Mr. Thackrey couldn't get his hands on enough of either vintage to make a go of it, so he combined both to come up with this limited bottling. Medium gold in color, it's really showing its maturity, and in a nice way. The aromatics reminded me of nothing so much as soft mahogany, and Putnam remarked that it smells like a mature dessert wine. The slightly maderized flavors echo and expand, giving up something resembling earthy caramelized peach with hints of quince and starfruit. A note of oak that was more prominent a few years ago has taken a back seat, or maybe it's stashed in the trunk; whatever the case, it's only just discernable. Everything is kept moving along nicely with zippy acidity, and the wine finishes fairly long. When we first tasted it in Toledo, I wondered whether it was worth the money, and after tasting it this time, I can say that it certainly is/was. It would be interesting to taste along side one of the Chave Hermitage Blancs from the same time period, but alas, this was our last bottle.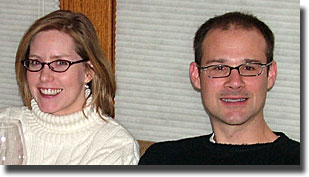 Photo: Kim Adams
Kristen and Bob Lenz
Sean Thackrey Pleiades XI Old Vines, $18, 14.3% alc.: Much darker than the last one we noted, this opaque purple garnet kitchen sink, catch - all - varietal blend continues to show better than the more recent XII and XIII models, in my not so humble opinion, with tar, thyme, bacon and a little bit o' the barnyard over deep, dark, ripe black plum and blackberry. Like the proverbial iron fist in a velvet glove, this is quite dense, and has the big fruit and structure to take this a good ways down the road, but it's so good now, it's really hard to keep hands off, which is why there's none left in the cellar from heck. Tasted twice in five days with consistent impressions.


2000 Sean Thackrey Centaur Mendocino Sangiovese Eaglepoint Ranch, $36: This dark garnet has toned down some since we tasted it last February; in fact, Kim found it to be a little short and flat at first, but that may have had something to do with the fact that it followed on the heels of the Pleiades. It shows a nice blackberry and black cherry personality, with a little earth and old oak, along with hints of tobacco and sage as it opens. Tannins make themselves known mainly on the finish, where they clamp down, leaving a peppery sensation. By the last sip, this opens nicely, so decant it for an hour now, or let it rest for another few years.

2001 Sean Thackrey Sirius Old Vines Mendocino Petite Sirah Eaglepoint Ranch, $45, 14.7% alc.: The first Thackrey Sirius since 1992, this one is an inky black hole of color, and it's all about intense, concentrated black plum and blackberry, with a perfect kiss of oak and very little in the way of earth or tar; it's big, rich and juicy, with remarkably pure fruit, if not that much complexity right now. Despite its considerable size, it's very approachable, with excellent balance and structure, and while it's already delicious, it will be so much better in another five years and more. Petite Sirah has no business being this good so early in its development. Tasted twice in five weeks with consistent impressions.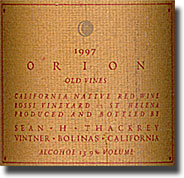 1997 Sean Thackrey Orion Old Vines Rossi Vineyard, 13.9% alc.: Still a dark garnet, with nary a hint of brick, this has mellowed considerably since we tried it at Toledo 3; it shows lovely aromatics of dark plum, dark berries, the requisite eucalyptus and just the right kiss of oak. These follow through beautifully on the palate with moderate tannins, balanced acidity and a long, somewhat earthy finish. The wine opens and evolves continously in the glass, becoming ever more beguiling; a wine to linger over, a wine to meditate upon.

Not having any Thackrey wines, Putnam brought along a few reds that he thought might compare favorably, which were, in fact, quite nice. The first was what I like to refer to as a "breakfast wine;" it's all toast, coffee, bacon and herbs. The notes are Putnam's.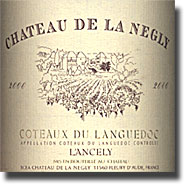 2000 Chateau de la Negly l'Ancely, 14.5% alc.: A bit of a speed bump after the Cali reds, more herbal; celery (Kim) is obvious at first. Later it succumbs to stacks of barn - cured tarragon, tobacco and basil; this is the ornamentation. As far as substance and gravity, there are loads of bacon, coffee (geo) and toasted carbohydrates. The tannins are a non - factor; acidity is open, almost overripe. Brandied cherries, mocha, husky, branchy spices... fennel... (sausage?).

I found the second of the two Neglys to be big upfront, but it seemed to lose a little something on the backside; again, Putnam's notes:

2000 Chateau de la Negly La Port du Ciel, 14.5% alc.: Juniper, rosemary, and pine delineate more mountainous, magnificent but just as impacted herbs as the l'Ancely. Cheval Blanc - like roasted spinach, weighty, liquefied black rocks, charred Spanish sweet cured meats, sweet walnuts, maple...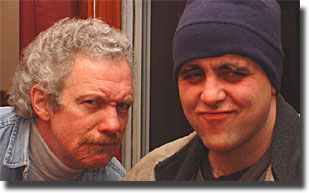 Photo: Michael Rowley
Would you buy a used car from these characters?
Not bad fare for a Monday night, eh? Most named the Orion as at least one of their Wines of the Night, if not the out - and - out favorite, while Putnam gave the nod to the Pleiades. There were a few other nice bottles opened as well, but I didn't note them, as I seemed to be a glass behind everyone all night and had to scramble for a few quick sips before we took our leave. Needless to say, everyone got plenty of data points on which to base their buying strategy, so the evening was a success in that regard.
Siriusly, it was great to get together with old friends, and to meet new friends whom we'll be seeing again soon. Many thanks to Bob and Kristen for hosting the tasting and opening some fine wines from the Famous Winemaker; likewise to those who attended for their contributions and good cheer.
Click here for a good SFGate article on Sean Thackrey.



Reporting from Day-twah,
Bastardo