January 2 0 0 3
T A S T I N G N O T E S
4 2000 Ridge Zins (and a '99 Chard)

New Year's Eve found Kim and this taster in beautiful Byron, Ontario, where we celebrated with Alan Kerr, aka Canadian Zinfan, and that rascal Pascal Chambon, aka Mr. Flippy. It's occasions such as these that call for, no, that DEMAND Mr. Ridge! And that's just what we opened.
1999 Ridge Santa Cruz Mountains Chardonnay, $29, 14.3% alc.: I was impressed by the toasty oak and pineapple bouquet of this medium straw, and I guess Mr. Flippy was too. "Whoa, whoa, whoa, whoa! Ripe, ripe, ripe pear, and something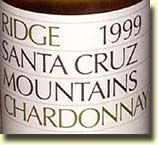 like licorice in ze background, Pastis! Banana on ze palate, and a lot of fresh fruit!" The wine also shows some buttery vanilla on the palate, but not sickeningly so like so many California Chardonnays; it's balanced and restrained, being full bodied, with excellent acidity and a long finish. Lots of oohs and ahhs for this beauty, and you know that it'll just improve with at least a few years. It's a great match for crottin de chèvre on baguette and grilled sardines and squid.

2000 Ridge Geyserville, 66% Zinfandel, 17% Carignane, 17% Petite Sirah, $30, 14.9% alc.: What can I say? This warm and friendly dark garnet just exudes all that Draper perfume, and who would expect otherwise? Kerr blurted, "Whoa, it doesn't suck, does it," adding impressions of "chewy, with a dusty, spicy element, like cocoa powder." It's all that and more, with rich raspberry, blackberry and boysenberry fruit, soft, unobtrusive tannins, good acidity and a nice finish. Flippy enthused, "It's lovely right out of ze bottle, very well balanced in ze mouth." Can you tell we liked it a lot?

2000 Ridge Lytton Springs, 80% Zinfandel, 20% Petite Sirah, $30, 14.8% alc.: Of this dark garnet, Mr. Kerr gushed, "…gobs of glycerin…," and Pascal added, "…I like zis one better, it's a lot more complex on ze nose; lots of toffee…, compote…, jammy…" Of course, it once again features that distinctive Draper perfume, full of sweet raspberry and blackberry flavors and aromas, and it's drinking beautifully right now. Alan added impressions of "beet and a little chocolate," while the French guy noted "mushroom and sweet cherry on ze finish; not as complex on ze palate as ze Geyserville, almost one-dimensional in its fruit forward qualities, but what fruit!" The wine was a fine match for Kim's grilled ribeye steak with cannellini beans, tapenade and red wine sauce

(An odd aside about this and another Ridge wine; we liked the 2000 LS quite a bit when we first tasted it late last May. While our notes were generally consistent with these, it's perhaps filled out some since then. However, we tasted another in early December and it was heavy on the coconut, unlike our initial experience or this latest one. I was able to tolerate a second glass, but Kim wasn't. We had a similar experience in November, when I pulled out a '96 Ridge Lytton Estate Syrah, one we've always been very fond of, and it also reeked of coconut, making for a rather unpleasant drinking experience. When we told our Left Coast Correspondent Allan Bree about this, he assured us that he'd enjoyed a bottle of the same Syrah only a few weeks before, and it was beautiful, having none of the characteristics that we found so disagreeable. Can you say bottle variation, boys and girls?)

2000 Ridge Pagani Ranch Zinfandel, 88% Zinfandel, 9% Alicante Bouschet, 3% Petite Sirah, $27.50, 15.2% alc.: This deep dark garnet is also deeper and darker on the nose than the Geezer or the Lytton Springs, showing blackberry, black raspberry, plum and of course, once again, the ubiquitous Draper perfume; a note of dark chocolate lurks here as well, and Kerr noted a touch of eucalyptus. Flavors echo, with silky tannins, good acidity and a long finish. The sweet oak is perfectly balanced with the fruit; it does exactly what it's supposed to without dominating. Like velvet on the palate.

2000 Ridge York Creek Zinfandel Late Picked, 75% Zinfandel, 25% Petite Sirah, $27.50, 15.8% alc.: The darkest garnet of the bunch? Could be! The first three had done an Ernie Harwell and were long gone, so we couldn't compare, but it sure looked that way. At this point, comments and opinions were flying fast, and what follows are notes by committee, such as I was able to transcribe.


"Blueberry…" – Alan


"…and something dusty…, definitely more cooked fruit…, chocolate…" – Pascal


"…pepper…" – Alan


"…a port-like something or another…" – geo


"…pruneau, what do you call zem? Constipation prunes…, spicy on ze palate…, more intense…, tannins most prominent on ze finish…, a little more minty things here…, thicker on ze palate…, I LOVE ze finish, ze finish is HUGE!" – Pascal


Of course, there is also a big hit of ripe raspberry, along with that signature Ridge character, and it was not particularly discernable as a Late Picked, especially with the memory of the 2000 Ridge Nervo from the week before still fresh.

None of these Zins show any heat to speak of, despite the substantial alcohol levels. All four will certainly age and improve for at least five years; in some ways, they remind me of the '93 vintage in that they're very pretty right from the get-to. The only question is whether or not we'll be able to keep our hands off of them for that long. I doubt that we could be seriously faulted if we don't!

'T was the Sunday before X-mas, and we got together with our friends Shar Douglas, Ken Hebenstreit, and Bob and Kristen Lenz at Chez Lenz for holiday wines and homemade pizzas. There were three of the latter, with a variety of toppings that included duck & arugula, anchovies, bacon, and an assortment of other oddball ingredients. Is it any surprise that they went great with Mr. Ridge?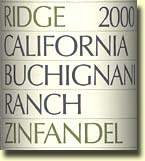 2000 Ridge Buchignani Ranch Zinfandel ATP, 81% Zinfandel, 19% Carignane, $24, 14.6% alc.: Typically dark garnet (as were all three Zins), this exudes an effusive bouquet of lilacs, blackberry, black raspberry and boysenberry; Bob asked, "Is this what you call Draper perfume?" and I could only reply to the affirmative. The flavors echo very nicely, with a few years worth of tannins, good acidity and a good, if not overly long finish. More than approachable already, this will be at its best around '04; very well received, and there's no reason why it shouldn't have been.
2000 Ridge Dusi Ranch Zinfandel ATP, $25, 14.6% alc.: This one features typically sun baked overripe black raspberry and plum flavors and aromas; Bob added impressions of "spice, like cloves." Rich and concentrated, this will also be better in a few years when the tannins mellow down some; there's good acidity here, and a reasonably long finish. Still, it opens beautifully with air, and no one could be faulted for opening and drinking their allotment dry tomorrow.
2000 Ridge Nervo Zinfandel Late Picked ATP, 91% Zinfandel, 9% Petite Sirah, $24, 15.7% alc.: Another overripe styled Zin, with a raspberry and blackberry bouquet that explodes from the glass and follows through beautifully on the palate; like the other two ATP wines tasted on this occasion, it has a few years worth of tannins, good acidity and a more than decent finish. It's sweet, but not late harvest sweet; Kim exclaimed, "Oh my!" upon her first whiff of this, and after tasting it, she proclaimed it "eminently drinkable." Don't know what more needs to be said after that!
6 From Flowers
It had been almost 2 years since we last tried these first two wines, and I thought it was time to see how they were coming along, especially since they'd be paired with a plump duck imbued with rosemary and garlic. As it turns out, I wonder if we shouldn't have opened them last Thanksgiving instead of this.
1997 Flowers Sonoma Coast Pinot Noir Camp Meeting Ridge, 13.8% alc.: This ruby dark garnet is showing just a hint of brick at the rim, and exudes those typically perfumed and ever so slightly yeasty sweet oak (but not overly so for my tastes), smoky black cherry aromatics that were the signature of the La Follette era at Flowers. Neither as bright nor as sweet on the palate, it features earthy black cherry and plum flavors that lose some intensity from the mid-palate back on through the finish. There's good acidity here, and some tannins still to resolve, but I doubt that it'll improve with age. A decent Pinot, though nothing special at this point, but then it never was one of my favorite CMR vintages.
1995 Flowers Sonoma Coast Pinot Noir Camp Meeting Ridge, 13.5% alc.: Another ruby dark garnet that's also showing a little bricking, this is has a deeper, darker version of the smoky black cherry perfume than the '97, and yet it's a little shyer at the same time. And like the '97, it loses the sweet oak and brightness when it hits the palate, where it comes on with forest floor, black cherry and plum characteristics. It's still tannic, but not so much so you can't drink it with a little air; it also has a slightly oily, petrol-like note that adds some interest for this taster, and some cinnamon and chocolate come out with air. Probably the better of the 2 wines, but having the same general strengths (bouquet) and weaknesses (declining fruit).
If either of these should develop some secondary nuances to compensate for the fading fruit, they could become more interesting down the road, but there's no indication of that happening at this point, so I say drink 'em soon if you got 'em. Both have since been retasted, with consistent results.
After sampling those, we wondered how the prestige Moon Select bottlings from the same vintages were fairing.
1995 Flowers Sonoma Coast Pinot Noir Camp Meeting Ridge Moon Select, 13.5% alc.: Still a dark garnet showing no rust to speak of, this big boned Pinot exudes an immediate note of bacon, along with lovely plum, black cherry and that slightly yeasty thing that seems to be a signature of Flowers wines. There's plenty of fruit, and still some significant tannins to resolve here; the acidity is good and so is the finish. A note of chocolate emerges as it smoothes out with air, while the bacon recedes. There has been some criticism of this wine in the past, being to the effect that the fruit will never outlast the tannins, but I've never bought that line, and indeed, while it's starting to drink pretty well already, it should improve over at least the next few years.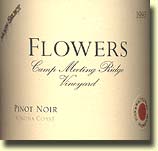 1997 Flowers Sonoma Coast Pinot Noir Camp Meeting Ridge Moon Select, 14.2% alc.: Another dark garnet, this one is showing a lot more oak than the '95 Moon Select. Featuring flavors and aromas of yeasty oak, black cherry, plum, a touch of chocolate and what Alan Kerr described as "a lot of maraschino cherry," this has nice depth and concentration, with a fairly long finish. There are tannins for a few more years in the cellar, but there's no reason you can't decant one for an hour and drink it tonight. Not quite up to the '95, but a solid Pinot Noir nevertheless.
And, as long as we were at it, we decided to see how a couple of the '98s were faring...
1998 Flowers Sonoma Coast Pinot Noir Camp Meeting Ridge, 13.2% alc.: This ruby dark garnet shows the typical slightly yeasty, smoky black cherry and plum characteristics that are associated with Flowers Pinots; aromatics are bright and pretty, though not overly effusive, while the flavors are considerably more expressive. This is drinking as well as it ever has in our experience, with silky tannins, zippy acidity and hints of licorice and chocolate that come out with air; a decent finish turns a little tarry. It has never threatened to be a great wine, but it's certainly turned into a pretty good one, and is especially nice with Kim's brocolli rabe sautéed with garlic and onions, Yukon potato and blue cheese gratin and pan roasted pork tenderloin rubbed with Maille Mustard, cracked fennel seeds, rosemary and pepper corns.
1998 Flowers Santa Lucia Highlands Pinot Noir Pisoni, 13.5% alc.: Unfortunately, this slightly cloudy ruby garnet isn't holding up as well as the '98 CMR; while it exhibits effusive yeasty toasty oak, smoke, black cherry and sweet spices on the nose, the earthy black cherry and plum flavors seem somewhat dull in comparison, with a few years worth of tannins still to lose, good acidity and a so-so finish. It was better a year of two ago, and reminds me of one of those Burgundies that you never heard of, but take a chance on because of a silver-tongued shelf talker, then just doesn't live up to the hype. The tannins need at least two years, but what will happen to the fading fruit in the meantime? Don't get me wrong, the wine ain't "bad," but it's definitely on the downside, so drink up.

3 From Salentino
After making certain comments recently about a perceived decline in the quality of Taurino's Salice Salentino in the mid-90s vintages, I got a guilty conscience and decided it was only fair to see how this and the southern Italian producer's other QPR stalwart, Notarpanaro, were tasting these days. We loved several vintages previous to and including the 1990, but after that, 3 or 4 so-so bottles failed to impress, and our attention drifted. Happily, both of the current versions are decidedly more appealing than those last few. We threw in another Salice Salentino that was sitting on the same shelf as these, recognizing an obvious tasting opportunity when we saw one.
1998 Taurino Salice Salentino Riserva, 80% Negroamaro, 20% Malvasia Rossa, $9.99, 13.5% alc.: Right away, this slightly rusty ruby dark garnet shows a little heat on a big noseful of smoke, raisin, leather, dried black cherries, and a little licorice. At first, the flavors are more toward the fruit end of the spectrum, with a nicely assertive dried cherry and raisin character, with the other elements playing restrained supporting roles, but as it opens over 3 hours and more, it really starts to rock and roll, getting deeper and richer. Flavors echo the bouquet more and more, gaining a note of licorice while the varnish mutates into root beer, cola and Brasso ®. There's at least a few years worth of tannins here, with nice acidity and a decent finish. A nice glass of wine with Kim's home made pizza, both the anchovy and cilantro versions.
Imported by

Winebow Inc., New York, NY 10010
1997 Leone de Castris Salice Salentino Riserva, $13.99, 13% alc.: Rather different than the Taurino, this inky purple garnet almost seems more like Bordeaux or a Rhone at first, with it's somewhat earthy, barnyard-y black currant and plum bouquet. Smooth and full bodied, the flavors lose the funk, but maintain the same black currant and plum character, with a good 5 years of tannins anyway, decent acidity and a nice finish that might lengthen as the tannins mellow. Hints of dried cherries, chocolate and raisins emerge as this opens, never playing leading roles in the flavor profile, but always lending a nice spicy accent. This one is also very good with Kim's pizza.
Imported by A.V. Imports, Inc., Columbia, MD
Both of these are tasty, and well worth the money. As Kim put it, "I could drink these wines every day!"
1995 Taurino Notarpanaro, $12.99, 13.5% alc.: This inky dark garnet is essentially a souped-up single vineyard (named Notarpanaro, of course) Salice Salentino, and it's much more impressive than the last few that lost our interest back when. It features big flavors and aromas of licorice, smoke, tar, dried black cherry, and hints of bitter chocolate and root beer-cola. With plenty of tannins and acidity and a long finish, it's a bit hot on the nose and the palate, but still drinking pretty well already. Past vintages have proven to be 10-year wines and more, and this seems to have all the stuffing to be one of those. I'm sorry I neglected these for the past few years, as I may have missed another good vintage or two. Highly recommended, but your best bet is to put it down for at least 3 more years, and probably 5.
Imported by Winebow Inc., New York, NY 10010
2 from Verget
Alan Kerr showed up at our door a while back with these two bottles in hand, and we wasted little time in opening them and seeing what they had to offer. What we found was very much to our liking.
1999 Verget Meursault "Rougeots," $29, 13 alc.: This medium straw even LOOKS thick; it exudes a green apple, pear and lime bouquet, with some creamy oak nuances that really come out in the flavors, along with a good dose of minerality. It has good intensity, excellent acidity, a fairly thick texture and good length on the finish; frankly, we found it to be delicious. CZ remarked, "It's SO refreshing to drink a Chardonnay like this; it can go 5 years easy," and indeed, I'd love to taste one at least a few years down the road. It pairs well with smoked chicken, which brings out a bit of the toastiness in the oak; after it's been open for an hour or so, toasty vanilla really emerges, which might turn some people off. Of course there's a simple solution to that; suck it down in less than an hour! Hah!!!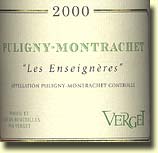 2000 Verget Puligny-Montrachet "Les Enseignères," $35, 13% alc.: Another medium straw, this is a little sweeter and a little spicier on the green apple, pear and mineral nose than the Meursault; it's also a little creamier on the palate, with excellent acidity and intensity. Kerr observed, "There's much more of a lamp oil feel to this; it's more viscous. The pear is riper; it's quite lovely." With a little air, I found a bit of cucumber flesh on the nose, while CZ noted some lime zest, mineral and peach or nectarine on the palate. Kim got a bit of what she called "dime store turtle water," saying one would have to have grown up back in the '60s to know what she was referring to. Alan likes the complexity of the Meursault and the balance of the Puligny-Montrachet, but as the latter opens over time it actually develops considerably more complexity than the "Rougeots;" CZ rattled off added impressions of butterscotch, creamy toffee and hints of licorice. This is another one that would be interesting to see what develops with some time in the bottle.
Imported by: Barrique Wine Company, Chicago, IL 60640
More Good Stuff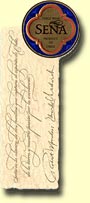 1998 Seña Red Table Wine Aconcagua Valley, 90% Cabernet Sauvignon, 5% Carmenère, 5% Merlot, $22, 14.0% alc.: No, that's not a typo on the price tag; we got this dark garnet Robert Mondavi – Eduardo Chadwick collaboration for less than half of the release price, thanks to a close-out and a timely tip from our friend Mike Brenton. We opened one for Kim's birthday dinner and were most impressed with this beautiful Chilean claret. It exudes a lovely bouquet of cassis, black currant and plum, accented with hints of lead pencil, shoe polish and a subtle floral nuance that only enhances the considerable appeal. The rich, delicious flavors echo generously, with good acidity, a long finish and silky tannins that will take it several years down the road. A marvelous combination of power and finesse, this was a fine compliment to Kim's delicious beef daube (she wasn't in the mood for my deluxe Hot Dog Soup ®). One of the nicest surprises we've run into in a long time, and an incredible bargain to boot.
Imported by RM Imports, Napa, CA
1987 Michele Chiarlo Barolo, 13.5% alc.: The first of two fine Italian reds that Alan Kerr pulled from his cellar during one of our recent visits, this dark garnet is showing just a touch of amber. The earthy red current and raspberry flavors and aromas are shaded with sweet spicy cinnamon and a bit of sour cherry. There's plenty of acidity here, some tannins still to resolve and a nice, if not overlong finish. A terrific accompaniment to Alan's delicious gigantic grilled veal chops and rosti.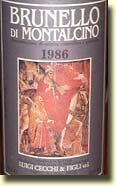 1986 Luigi Cecchi & Figli Brunello di Montalcino, 13.5% alc.: A ruby dark garnet, this is showing little if any brick, and it has an effusive bouquet of sweet raspberry, black cherry and red currant, with just a hint of tar in the background. The flavors echo loudly, with fully resolved tannins, perfectly balanced acidity and a lovely finish. CZ called it "a gem," noting "a sunbaked pruniness with air," and agreed with me that it was more than a little reminiscent of the marvelous '71 Ridge York Creek Petite Sirah tasted last May during Ridgestock.
1999 Poggio Valente, $29, 11-14% alc.: Bob and Kirsten Lenz are fond of this dark garnet Tuscan, and indeed, it more than held its own in the midst of the Ridge ATP Zins noted above. It has a certain roasted quality, along with hints of a root beer-like nuance over deep dark black fruit character; Bob mentioned "some cherry, blackberry, shoe polish and forest going on." The tannins acidity and finish are all good, and a few hours in a decanter no doubt helped this young Eye-talian whelp open up and tone down nicely. A 10-year wine, so be patient.
1999 Fairhall Downs Sauvignon Blanc Marlborough, 13% alc.: It's been over a year since we last tasted this medium straw, and it's still going strong, with its bold grapefruit nose that follows through and gains a lemony snicket on the palate, with good concentration and intensity, excellent acidity and a nice finish. Under $15 Canadian makes for some excellent QPR here.
2001 Mulderbosch Sauvignon Blanc Stellenbosch, $20.95 Canadian, 12.5% alc.: We've enjoyed versions of this pale straw colored wine going back to the '97 vintage, and this one is a worthy successor to the line, with straightforward grapefruit and pear flavors and aromas. Clean and crisp, and more expressive on the palate than the nose, it features the requisite lively acidity and a decent finish, making for some good QPR at this price.
BACK TO THE INDEX