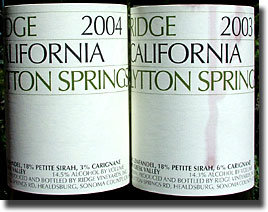 2003 Ridge Lytton Springs Dry Creek Valley, 76% Zinfandel, 18% Petite Sirah, 6% Carignane, $33.99, 14.3% alc.: Showing good, dark color, this is much as I remember it from when we first tried it; it's rich, smooth, delicious and all about "Draper perfume" at its best, with lovely ripe raspberry, black raspberry and very well integrated oak. A note of pepper comes out with extended air (still drinking well 18 hours after being opened), adding interest and complexity. The wine is structured for several years of aging and development, but is so lush and voluptuous right out of the bottle, that I wouldn't counsel against opening one tonight. Is this the last of the classic Ridge Lytton Springs? Find this wine

2004 Ridge Lytton Springs Dry Creek Valley, 79% Zinfandel, 18% Petite Sirah, 3% Carignane, $33.99, 14.5% alc.: With good dark color, this shows deeper, darker fruit than the '03, and little of the coffee, toast and chocolate that it offered back in '06. There is a hint of Draper perfume on the nose, with a good deal more of that character on the palate, where it delivers a rich, solid core of black raspberry and blackberry, shaded with undertones of briar-bramble and just a smidgen of the aforementioned coffee. This is drinking quite well right now, but, as always, has the structure to develop for some years. A bit bigger than the '03 and a little less lush, but only just, it's another delicious Lytton Springs, if straying slightly from the classic "mold." Find this wine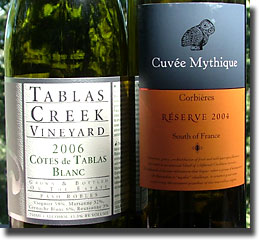 2006 Tablas Creek Cotes de Tablas Blanc, 59% Viognier, 32% Marsanne, 6% Grenache Blanc, 3% Roussanne, 13.5% alc., $18.99: I've enjoyed the last couple of vintages of this wine, and we're big fans of Tablas Creek in general, so it was really no great risk to pick one up and see what it has to offer. Medium straw in color, with a lemon lime tinge, it exudes musky mineral and lanolin on the nose, coming off more Franco than Cali. Add a thick, rich core of white peach and melon in the mouth and you get the picture as to what this is all about. Full bodied and almost (but not quite) oily, this is a big boned gal, with zippy acidity to keep things moving right along, and to give structure for several years of development; in fact it probably wants some time in the cellar. It's very good now, but will be even better in three to five years. On the second day, the acidity tones down some and it drinks even better. Tasted blind, it could easily be mistaken for a white Rhône. Find this wine

2004 Cuvée Mythique Corbieres Reserve, 35% Shiraz (?!), 30% Mourvedre, 20% Grenache, 15% Carignane, 13.5% alc., $17.99: Our previous encounters with Cuvée Mythique were more than simply positive; we loved both wines, and this one captures much of the character of those previous bottlings. Showing good, dark color with a slightly smoky tinge, it offers leather and a little smoke over more red than black fruit on the nose. Flavors echo on a medium full to full bodied frame; it's not as deep, dark and earthy as previous models, and at first, seems to have a more strawberry-cherry Grenache-like component than the percentage would account for. It's nicely perfumed, and as it opens with air, a black olive character emerges and sets the tone for the wine so nicely. Structured for a minimum of five years worth of aging and development, but with air, it sings already. My only complaint is that the producers (or perhaps the importer?) felt the need to label the Syrah component as Shiraz. What's up with that?! Looks like a cheap marketing tool to me. Find this wine

Imported by Pasternak Wine Imports, Greenwich, CT


Taltarni Victoria and Tasmania Brut Taché NV, Pinot Noir 52%, Chardonnay 42%, Pinot Meunier 6%,13% alc., $18.99,: If anything, this peach pink colored bubbly is even better than in the past (and I liked it quite well before); it gives a fine active bead, with ample mousse, along with smoky, yeasty dried cherry flavors and aromas underscored with a subtle earthiness. With good weight, acids and concentration, this does everything that a good Brut rosé should, and it provides a fine match for a spicy vegetable stir-fry. Find this wine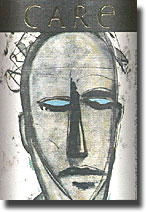 Imported by Clos du Val Wine Co. Ltd., Napa, CA

2006 Care Rosado Cabernet Tempranillo Carinena, $12.99: Raspberry pink in color, with an attractive raspberry, strawberry and cherry personality, underscored with a dusty minerality. Good concentration and excellent acidity keep this pumping out the flavors as long as there's some left in the glass. Excellent with a wide variety of foods, and just as good all by itself as a summer sipper, which was exactly how we enjoyed it on this occasion. Tasted twice with consistent impressions. Find this wine

Imported by Axial Wines USA, Manhasset, NY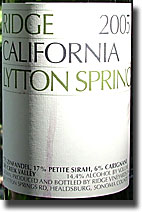 2005 Ridge Lytton Springs Dry Creek Valley, 77% Zinfandel, 17% Petite Sirah, 6% Carignane, 14.4% alc., $24.99: This has come around nicely since last summer; when it reminded me of "The Prisoner," which is never a compliment in my book, but it has since shed its excesses and objectionable qualities that we've previously noted. With clean, dark color, it delivers flavors and aromas of ripe black raspberry, blackberry and black cherry, shaded with well integrated oak, subtle earthy briar bramble and a hint of what might be described as "Draper perfume." Smooth, rich and drinking well, yet structured for several years of improvement. It may not be "classic" Lytton Springs, but it is certainly quite tasty at this point, and worthy of the name "Mr. Ridge." Find this wine


~~~~~~~~
"You can be a real cheap date up here, Dad," she laughed.
Day 1: I'd heard about the lack of oxygen at high elevations, and it wasn't long after Rosie collected me from the Denver airport that I experienced it firsthand. By the time we stopped in Conifer for supplies, I was already gasping for breath, and for the next few hours, I was sitting down every five minutes to regain my wind. I'm told that it takes about 6 weeks to acclimate to the elevation, 5 weeks longer than I was there. The daughter warned me that I also had to be careful with alcohol consumption, because apparently, the altitude exaggerates the effects on the uninitiated. "You can be a real cheap date up here, Dad," she laughed.
Rosie had plans for the evening. Steely Dan was performing at Red Rocks, and she was damn well sure that there was no better way we could spend my first night in the state than going to the show. I was in full agreement, so after a short nap and with a large bottle of spring water in tow (drinking plenty of H2O is supposedly one of the best ways to counteract the effects of thin air), we were off to Morrison.

Red Rocks is an amazing place; the Native Americans considered it sacred, and it's not hard to see why, even so long after they performed their various ceremonies there. It is not only one of the finest entertainment venues in the world, built into a natural sandstone amphitheatre, it is in larger part a property that was incorporated into the Denver Parks system in 1927.

It's a long climb up many, many stairs just to get to the amphitheatre; we had to stop and rest before we reached the top. Then we had to make an even longer climb to get to our seats in Row 64. Let's just say that we got our exercise for the day! The view is unbelievable, although our best glimpse of Steely Dan was on the big screen next to the stage. However, because we were so far up, almost all of Denver and surrounding environs was laid out before us, and as it got dark and lights came on, it was a sight to behold. Unfortunately, I didn't take the camera, not sure as to whether they'd let me take it in, and not wanting to leave it in the car. We'd return a few days later to catch up on that…
Steely Dan was killer; they played for two hours or longer, with an unscheduled 20-minute intermission to move mikes and Donald Fagen's piano back because it was sprinkling. It never really "rained" but I'm glad I had a waterproof windbreaker; otherwise, I would have gotten cold and wet. I played it safe and didn't have so much as a beer or a split of whatever cheap merlot they were pushing during the show, just water, and still I had a great time. The band was tight, very well rehearsed, and gave out all of that classic sarcastic Steely Dan sound and attitude. Fagen was in good voice for an old guy on tour and the considerable crowd was on its feet throughout the entire performance. (Sidebar: The first time I saw Steely Dan was back in around '74 in Mount Pleasant, Michigan; don't ask me exactly when, but it was the last tour of the original band, with Michael McDonald playing keyboards and singing his brilliant harmonies. He and Skunk Baxter would later move on to make the Doobie Brothers a great rock and roll group, instead of a biker party band.)
The mountains where Jess and Dan live are beautiful, and their house is at around 9,200 feet above sea level. Wildlife is plentiful. I watched a red fox snooze about 50 yards beneath the back deck on the afternoon I arrived, and saw it again a few days later, dancing away from my clumsy attempt to climb down the mountain. There were deer in abundance, including one on our way home from the concert that didn't run, but rather sauntered leisurely across the road in front of us about a mile from the house.

The most amazing creature we saw was about halfway back from Red Rocks, when a mountain lion ran across the freeway in front of us. We were never close enough to hit it, but we were more than close enough to see that it was BIG! Rosebud freaked. Neither she nor Dan had seen one since they moved here last September, and then we both got a look at one on my first day in the neighborhood. It was a very quick glimpse of one of North America's most reclusive predators, but thrilling nonetheless.

We didn't get back to the ranch until 1 AM, but that didn't stop me from pulling the cork of the 2003 Ridge Lytton Springs I found in the local hole-in-the-wall wine shoppe, and what a treat it is! (The place, Aspen Park Wine and Liquor, doesn't have the greatest selection; I couldn't find a decent French or Italian white that I'd take home. Still, they carry Mr. Ridge, so that's a plus.)
Day 2 was pleasantly uneventful, for the most part. Rosie and I enjoyed each other's company and the wonderful view from her back deck as we gazed at the mountains across the valley. We went back to the little wine shoppe, thinking that there were more '03 Lyttons to be had, but alas, we'd bagged the last. There were 2004s in its place, however, and remembering having quite enjoyed it on first taste, I decided to see how it was coming along.

At around 7 PM, we were back out on the deck. It had cooled off, so I went in to put on a long sleeve L. Mawby jersey, when I heard her calling as softly to me as she could, "Dad, come quick, there are two deer in the back yard!"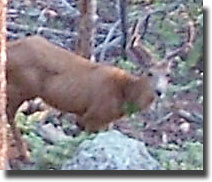 I ran down quietly and got to the door just in time to see two males walk right by the deck and go down the back of the mountain, though not very far, as they were foraging. I watched them for at least 20 minutes, taking pictures, not knowing if they'd turn out or not; one turned out well enough to use here, despite the fact the the critter was a good 35-50 yards below. Both had those beautiful mid-summer antlers that looked as if they are covered with velvet.

After that, it was time for a glass of '04 Lytton Springs.

Day 3 saw us finding the REAL wine store in Conifer, Biggie Wine and Liquor. They have a very good selection, and the prices are reasonable. In keeping with the Lytton Springs theme, I decided the give the '05 a second chance at the urging of my good friend, Bob Henrick. (The fact that it was discounted at close to Detroit wholesale influenced my decision as well.) I also picked up two new versions of some old friends and a nice rosé.

I mentioned to Rosie that I was surprised I'd seen no hawks in the neighborhood. She told me that there were some Red Tails, but they were AWOL during my stay. She and Dan were both impressed at the fauna that I had already encountered, however, and he told me, "You'll see an elk before you leave." His words proved prophetic, and sooner than he might have guessed.
The house in which Rosie and Dan live is almost literally a stones throw from the Arapaho National Forest, and despite the fact that there are a respectable number of people living in the neighborhood, much of it is still heavily wooded. I went exploring out back of and below the house in the late afternoon, and not long into my walk, I found a trail, which I followed. I wasn't 100 yards down the path, when up jumped a bull elk and bolted off it the opposite direction, which was a good thing; had he come my way, I would have been in trouble. He had to be the most impressively powerful and majestic creature I have ever seen, at least in the wild. His rack of antlers was enormous, and again, I was most fortunate to have caught a glimpse of this magnificent beastie; it was yet another thrilling sight to behold, if only a brief one.

In the evening, we drank good wine with and after dinner in the form of the Cotes de Tablas Blanc and Cuvee Mythique.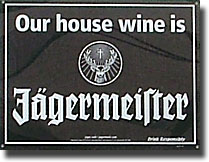 Day 4 found us taking a drive down to Evergreen, a picturesque, if touristy little town that Jessica tells me was a haven for artists and musicians 20 years ago. There is a nice dammed lake there (though I'm not sure I'd call it damned nice), and we had burgers and Boulder Beer Company Mojo IPAs at Cactus Jack's Saloon, where all 21 burgers are named in honor of the band Widespread Panic. (I had The Diner, and it WAS a tasty burger! Not sure I want to go with the "house wine" though...) We headed back to the ranch, where I again submitted to the irresistible lure of the trail. This time, I scuttled straight down the mountain from the house. The fox was hanging around again, and he kept his distance, watching me with an ever-wary eye. It was the only wild creature I saw on this walk, but I did visit briefly with a beautiful, off white mare at one end of the path that I'd noticed the day before. She was friendly enough and let me rub her forehead for a minute; then she got bored with the fact that I had no treats for her and wandered off to another part of her corral.

For dinner, Rosie and I collaborated on a spicy veggie stir-fry that went very well with some Taltarni Brut Taché.

Day 5 began like the previous three, with yoga and coffee, followed by bananas and an apple at my little retreat on the rock and pine island behind the house. It's a very peaceful spot that I wish I could return to often. I took Rosie to visit the mare, and this time we came bearing halved apples, which our new friend munched on pleasurably. She graciously allowed us to stroke her neck and head, but again, got bored when we had no more treats to offer and wandered off. What have you done for me lately, huh?

Later, we returned to Red Rocks to take advantage of the missed photo opportunities. Then, after a short stroll through downtown Morrison (that's all there is, folks), we had a nice dinner at Beso de Arte (below), "an upscale Latin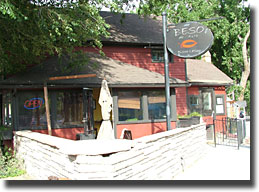 bistro" where Rosie and Dan both are gainfully employed. The food was excellent, but one word of warning, wine-wise; the reds are served at "room temperature" (dining is exclusively outdoors during the summer), and when the temperature is 90 degrees, so is the wine. Order a chilled Burgans Albarino like I did and you'll be fine.

We still had the Care Rosado and that Mr. Ridge when we got home, so we enjoyed those on my last night on the mountain.

I never did get into Denver or Boulder. I was happy to stay mostly up on the mountain for the therapeutic effects on the body, mind and spirit, and of course, to hang out with my baby girl. It's a very special spot up there during the summer, but Rosie and Dan tell me that it's not quite as alluring during a blizzard with 80 mile an hour winds…

Reporting from Day-twah,
geo t.

Other Recent Wine Explorations
Not So Random Samples: 6 From Cameron Hughes
Red Wings and Red Rhônes
Playoff Diary 2008
WELCOME HOME STANLEY!!!
Red Wings and Red Rhônes
Playoff Diary 2008-Round 3
Red Wings and Red Rhônes
Playoff Diary 2008-Round 2
Red Wings and Red Rhônes
Playoff Diary 2008-Round 1
Old Friends-New Vintages

Back to the July 2008 Index
Back to the Underground Index

Back to the Top



© George Heritier July, 2008