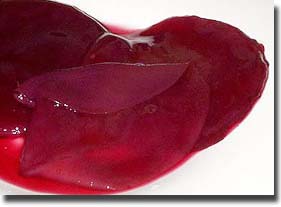 Little rounds of mère de vinaigre (Mother of Vinegar)
fished from the crock
by Kim Adams
Every now and then the topic of how to make vinegar from leftover wine pops up in casual conversation amongst us winos and foodies. Having been involved in vinegar-making for nearly 16 years I have amassed a nice little collection of articles and, of course, that wondrous gob of goo called Mother of Vinegar you see above.
In a circa 1990 Detroit Free Press article, "Leftover Wine Can Make a Fine Vinegar," then wine critic, Christopher Cook wrote, "It's enough to make a wine lover cringe. All those bottoms of wine bottles that end up being dumped down Detroit sinks because they sat around uncorked a few days." Well, that doesn't happen too often around here at Gang Central, thank you very much!
To be fair, 90% of my vinegar base is made with new wine I buy just for vinegar. Any young Zinfandel, Cabernet, Merlot, etc. will do. Once the wine is transformed the resulting vinegar is intense and with a smell so overpowering it indeed stinks up the kitchen - but it's a good stink! Here's how I started 19 years ago...