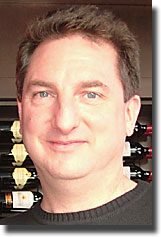 Brian Loring brought his one-man traveling road show to Day-twah as January waned and he had half a dozen of his 2006 Pinot Noirs in tow for tasting and consideration. I like Brian a lot; we last hooked up with him in 2004, at Moe's Cool Summer Offline, so I wasn't about to let him get this close to Gang Central and not take the opportunity to renew acquaintances and see what's new with the Loring Wine Company. The tasting, under the auspices of Loring's Michigan distributor, Midwest Wine Exchange, was held at the new and well-appointed Grapevine Wine Bar in Novi, which proved to be an excellent location for the early afternoon event.
The short story is that Brian is now a full time winemaker, having given up his day job in missile technology; he and his sister Kimberly are the only full-time employees at their new 20,000 square foot winery, located in Lompoc, California. Brian showed his usual bubbly (no reference to his jones for Champagne and sparkling wine) enthusiasm as he told me that, much like some of the chais (barrel rooms) in Bordeaux and California, none of their barrels are stacked; all are on floor level, so that you don't have to climb a stack with a wine thief for tasting, and damage and loss of wine is far less likely in the event of an earthquake. Production is now in the neighborhood of 7,000-8,000 cases, with a goal of just under 10,000 somewhere down the road, as always, with the intent of making wines that are ready to drink upon release. The Lorings have gone exclusively with screwcap enclosures, having had their fill of dealing with TCA issues. One thing to look forward to down the road is a Loring sparkling rosé that's in the works. Brian loves his Champagne even more than I do, so I can't wait to try this one when it's ready in a few years.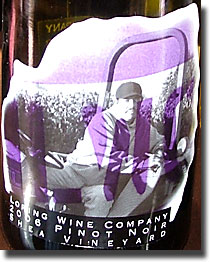 Like any bright winemaker, Brian is a wealth of information, and had I turned on a recorder, I could have easily written a report in excess of 3,500 words, but I was looking to see what the wines were like after not having them for three years, and in that regard, I was most impressed. Loring says that he's no longer interested in making Zin-like Pinot Noir with alcohol levels in the 15-16%, and it shows. These 2006s are the most balanced and enjoyable of his wines that I've tasted, not that I didn't like his previous efforts. I just like these even more, and to me, they exemplify Brian's development as a winemaker. I intend to spend more time with as many of these as I can; after all, Kim needs to try them too!

Here are my snapshot notes on what we tasted on this occasion. It should be noted that all of these were processed in exactly the same manner, so that the different wines allowed the various terroirs to express themselves on their own behalf, in the Loring style.

2006 Loring Wine Co. Willamette Valley Pinot Noir Shea Vineyard, 14% alc., $50: Pretty ruby red color, with an effusive perfume of sweet oak, plum and cherry; flavors echo in a toned down manner. Velvet smooth texture, with good structure and length. Brian says that 2006 was "an unbelievable vintage in Oregon," with fully ripe fruit, and this certainly gives evidence to support that. 400 cases made. Find this wine

2006 Loring Wine Co. Santa Lucia Highlands Pinot Noir Garys' Vineyard, 14.3% alc., $50: A darker ruby red than the Shea, with focused candied high-toned fruit offset by a dry, somewhat earthy character as well; not at all a fruit bomb, almost (dare I say it?) Burgundian in character. Velvet smooth in texture, balanced and deceptively well structured. Impressive. Pisoni clone; 700 cases made. Find this wine

2006 Loring Wine Co. Santa Lucia Highlands Pinot Noir Rosella's Vineyard, 14.5% alc., $50: A lighter ruby red that the Garys,' but like that one, this has a certain "Burgundian" character; the soft sweet oak and cherry nose carries over onto the palate with a subtle note of briar/bramble, perhaps a little more obvious structure than the previous selection and a very smooth texture. Owned by Gary Franscioni (one of the two Garys) and named for his wife, this vineyard was planted with Pisoni, 667 and 777 clones in 1996 and lies just a few miles north of Garys' Vineyard. 800 cases made. Find this wine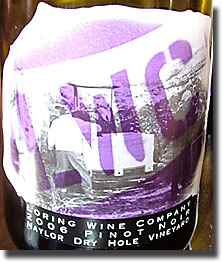 2006 Loring Wine Co. Chalone Pinot Noir Naylor Dry Hole Vineyard, 13.4% alc., $50: Clean ruby red in color, with a hint of sulfur (Loring describes this as an "earthy funk," calling it a vineyard trademark) over black cherry and plum on the nose; flavors echo without the funk, but with a soft creamy kiss of sweet oak in the background. Perhaps the most structured wine of the six, not restrained, not reserved, but like the others, not a bomb either. 125 cases made. Find this wine

2006 Loring Wine Co. Paso Robles Pinot Noir Russell Vineyard, 14.6% alc., $50: Another clean ruby red in color, with a soft sweet oak, vanilla, cherry raspberry nose and subtle earth, black cherry and plum flavors showing a nice balance of fruit and that dry personality. Unobtrusive tannins, good acids, very nice. The vineyard is owned by Erich Russell of Rabbit Ridge and is located on the west side of the Paso Robles appellation in the Templeton Gap. 200-300 cases made. Find this wine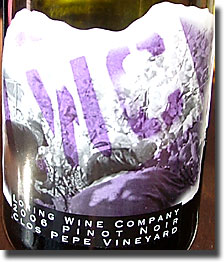 2006 Loring Wine Co. Santa Rita Hills Pinot Noir Clos Pepe Vineyard, 14.7% alc., $50: Lighter ruby red in color, with a pretty nose of balanced spicy sweet oak, cherry and plum, which echo and expand in the smooth, well structured flavors. With regard to said structure, Brian opined, "this might be the best wine we've made." Whatever the case, it's very nice and gets even better with just s little bit of air, and a few years in the cellar should do it well. 600 cases made. Find this wine

There were also two wines opened from P2, the project of Loring's second protégé, Mike Padrick. (Andrew Vignello of A.P. Vin was his first.) Interestingly, we'd already met Mike a few months earlier, when Midwest Wine Exchange's Peter Woods brought him by to taste these same wines; we liked what we tasted then, and I liked what I tasted again on this occasion.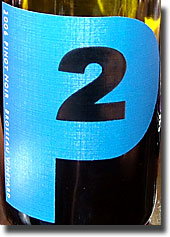 2006 P2 Winery Santa Rita Hills Pinot Noir Cargasacchi Jalama Vineyard, 14.5% alc.: Clean ruby red color, with straight-up black cherry and plum flavors and aromas, shaded with a subtle kiss of sweet oak. Good depth and structure, and a little darker character than the Loring wines. Find this wine

2006 P2 Winery Chalone Pinot Noir Brosseau Vineyard, 14.5% alc.: Ruby red color, and again, a nice, straightforward Pinot Noir with darker plum and black cherry, subtle oak and good weight and structure. If this and the Cargasacchi lack some of the charm of the Lorings, they nevertheless more than acquit themselves admirably on their own terms. Find this wine

Reporting from Day-twah,

Bastardo

Other Recent Wine Explorations
More Red Wings & Red Rhônes 2007:
New Wines from Perrin & Fils and More
Champagne Tablas Swan Zin (a real mixed bag of goodies)
Chateau Grand Traverse: Where Riesling is King

Back to the February 2008 Index
Back to the Underground Index

Back to the Top



© George Heritier February, 2008