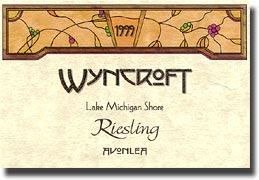 Located in the southwest Michigan town of Buchanan, about 10 miles from Lake Michigan, and just 4 miles from the Indiana border, the Lesters have homed in on a site - specific region that can produce vinifera grapes in the classic French models of such quality that I would have thought impossible, based on past experience. But then, this region boasts an average of 3100 degree days of heat unit accumulation, compared to 2300 - 2400 in the Leelanau and Old Mission Peninsulas, so right away, they have a distinct advantage. (Compare these to 2210 in Alsace, 2520 in the Medoc and 3600 in the Russian River Valley.) And then of course, there is the soil. The wines are produced primarily from two vineyards. Riesling and gewurztraminer is contracted from Madron Lake Hills Vineyard, which Lester owned back in the late '80s when it produced grapes for his now - defunct Madron Lake Hills Winery. The Lesters own Avonlea Vineyard, planted in 1990, located only 500 yards away from Madron Lake Hills, and there they grow chardonnay, riesling, pinot noir, cabernet sauvignon, cabernet franc and merlot. They scrupulously farm the vineyards to produce low yields of intense concentration, and it shows in the wines.

2002 Wyncroft Lake Michigan Shore Riesling Madron Lake Vineyard, 13.6% alc.: Much as I remember it from a few months ago, this medium straw shows hints of lime green in its color, with that green apple, pear, lime and mineral character; Rae Lee mentioned some peachy stone fruit and cumquat on the nose. Fruitful, yet bone dry, this shows excellent acidity, a nice finish and a density that one might better expect from an Alsatian Riesling than one from Michigan. From 22 year - old vines; half of the production was cold fermented with Assmanhausen yeast to emphasize the sweet fruit aromas and full body, while the other half was cold fermented with Prise de Mousse Champagne yeast to enhance the structure; given a modest bentonite fining and lightly filtered. 270 cases produced.

1999 Wyncroft Lake Michigan Shore Riesling Avonlea Vineyard, 13% alc.: Jim and Rae Lee like to pour this pale to medium straw colored riesling along side the '02 Madron Lake Riesling to compare and contrast the characteristics of the two vineyards, and also to show what happens as they develop with age. And indeed, the nose is dominated with the kind of petrol character that good riesling develops with bottle age. This carries over into the flavors with softer apple than the '02 Madron Lake, some minerality and a certain herbal quality, and Rae Lee added an impression of white grapefruit. Rich and fairly viscous, the acidity has toned down some with time and the finish is long. Fermented at a cool temperature to dryness, with a hardy French yeast strain which produces clean, dry, crisp flavors, and left on the lees over the winter; given a modest bentonite fining and lightly filtered, then bottled while still cold to preserve a slight petillance (spritz or effervescence). 60 cases produced.

About these two wines, Jim had this to say: "I see the differences in the soil at Avonlea and Madron Lake and I see how the same vines grow in each soil type. I have Riesling planted on both sites. The vineyards are 500 yards apart. The grapes taste different and wines taste different. So I ferment and bottle them separately and my customers usually prefer one over the other. Experience has shown that our vineyards in Southwest Michigan can produce very age - worthy rieslings."

2002 Wyncroft Lake Michigan Shore Gewurztraminer Madron Lake Vineyard, 14.6% alc.: Pale to medium straw in color, this exudes exotic, almost incense - like aromatics that resemble something like a peach and litchi perfume. Flavors, which start out sweet, but finish decidedly dry, are more peach than litchi, with notes of pear and mineral adding complexity; Kim described it as "all apple and melon." Young and tight, thick and viscous, this is very much in the Alsatian style, being fairly low in acidity, with a rather oily mouth feel. I'd love to taste this again in 3 - 5 years. From 22 year - old vines; Epernay 2 yeast chosen for primary fermentation to emphasize the distinctive bouquet of gewürztraminer; cool fermentation to complete dryness, according to classic Alsatian technique, racked off its lees, given a modest bentonite fining, cold stabilized and bottled early to retain freshness. All of 19 cases produced.


1998 Wyncroft Lake Michigan Shore Chardonnay Avonlea Vineyard, 13.9% alc.: This pale to medium gold has a slight green tinge to it, and is a revelation for this taster, since I never thought chardonnay of this quality was possible in this state. The nose is rather reticent initially, but the flavors jump right out with rich, fat tropical fruit, butterscotch and praline characteristics, being spicy and somewhat honeyed. It has a complexity that is much more Burgundian than most chardonnay from California, reminding us of a couple of Chassagne - Montrachets we've tasted recently; as it opens, a note of maple syrup emerges as well. Kim called it "thick, unctuous, dense, creamy and complex," and was reminded of what she described as an "orange-sicle," elaborating with "cream vanilla orange, but not distinctively vanilla." I like this as well as any of the wines tasted for this report, and Jim believes that it proves that "the moraine hills of Southwestern Michigan will soon be known by wine experts right along with names like Cotes de Beaune and Carneros." Barrel fermented using native Burgundy yeast, in Allier forest, medium - plus - toasted French oak, 40% new, 60% one - year - old; aged 18 months sur lie, with battonage every two weeks during a full malolactic secondary fermentation, according to classic Burgundian technique. 338 cases produced.

1999 Wyncroft Lake Michigan Shore Pinot Noir Avonlea Vineyard, 15% alc.: The aromatics of the ruby dark garnet are somewhat shy at first, but open quickly to reveal rich black cherry with hints of smoke and mushroom, a nice touch of chocolate and an earthy quality as well. These follow through impressively in the flavors; Jim says it's drinking like a '95 instead of a '99 because it spent a year too long in barrel. Kim reported impressions of "dusty cherries and pencil shavings, with a soft burn on the finish." The wine continues to open and evolve in the glass, reminding me more of Burgundy than the Left Coast, but it's also quite distinctive, like no pinot noir I've tasted, and certainly nothing from Michigan. Given a 5 - day maceration a froid to extract aroma and deep color, then quickly warmed to commence fermentation using a French Pasteur Red yeast; three weeks maceration on the skins, then lightly pressed, settled off its gross lees and put into one - year - old Allier forest, medium - plus - toasted French oak. Left to settle clear and undisturbed in barrel until bottling, according to Burgundian tradition, lightly fined and bottled unfiltered. 35 cases produced.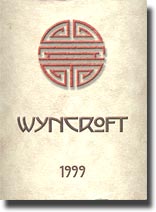 1999 Wyncroft Lake Michigan Shore "Shou" Avonlea Vineyard, 76% Cabernet Sauvignon, 19% Cabernet Franc, 5% Merlot, 14.8% alc.: The dark garnet "Shou" (pronounced "show") is named for the traditional Chinese symbol for longevity, which appears on the label. Medium full to full bodied, it exudes rich black currant, black berry and black cherry flavors and aromas, accented with notes of coffee and more and more chocolate as it opens. Smooth and fairly dense, this is drinking very well right now, and again, Jim says it spent one year too long in barrel. While it will certainly develop with further aging, I'd be very hard pressed to keep my hands off of any that I had, it's that good already. Unbelievable quality for a "Michigan claret." Fermented with Bordeaux yeast, macerated for over three weeks to extract fine tannins, according to classic French technique, gently pressed and put directly into one - year - old Allier forest, medium - plus - toasted French oak, undergoing secondary malolactic fermentation and remaining for 36 months.

Wyncroft wines are only available from the winery, through its mailing list, and at fine restaurants throughout Michigan. These include Five Lakes Grill, in Milford, Tribute, in Farmington Hills, The Lark, in West Bloomfield, Cuisine and The Rattlesnake Club, in Downtown Detroit, Shiraz, in Bingham Farms, BooCoo, in Royal Oak, The Earle, in Ann Arbor and Tapawingo and The Rowe Inn, in Ellsworth. As Jim Lester told me, "We are primarily aiming our marketing efforts at establishing a solid retail clientele that buys our wines directly from us by the case. We only have one price--they pay the same as the restaurants, and we are not in retail shops. We can legally ship to 27 reciprocal trade states as well as anywhere in Michigan. If possible, we try to deliver the initial order in person, as we like to get to know our customers personally. We have also sold our wines to a few hand-selected restaurants, so that we can get exposure that way as well. Someone may be able to order a bottle of our '99 Shou at a restaurant to get a taste of it, as we are sold out of that vintage. After tasting that, they may want to order a case of '02 Riesling to get on our mailing list. We want to build a base of retail customers that buy every wine we make. Wyncroft prices are as follows; riesling - $240.00 a case, gewürztraminer - $300.00 a case, chardonnay - $360.00 a case, pinot noir and Shou - $480.00 a case."

Jim also tells me that, as of this writing, there are 170 cases of the 2002 Wyncroft Riesling available, so the intrepid wine explorer might do well to order up a case now, to benefit not only from the excellent quality of that wine, but also to have the opportunity to purchase selections from future offerings.

Sounds to me like an opportunity that's too good to pass up.

Contact information:
Email: wyncroft@earthlink.net
Telephone:269-695-8000