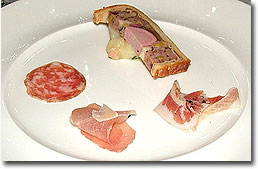 First Course:
* Pork, House-Smoked Ham Pate en Croûte
* Lardo with Tellicherry Cracked Black Pepper &
White Truffle Oil
* Lonza with Parmesan Reggiano Curls
* Tuscan Salami


Montesel Prosecco Extra Dry NV: Pale straw in color, being light, clean and refreshing in personality, with a fine, active bead, moderate sweetness and flavors and aromas reminiscent of apples, pears and, dare I say it, green grapes. With plenty of froth in the mouth, it seems to evaporate on the palate, and that's not a bad thing. A pleasant Prosecco, and a nice match for the variety pork plate. Find this wine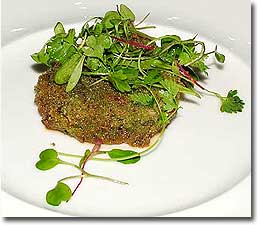 Second Course:
Hog Shank en Gelée in Herb Crust with Werp Farms Micro Salad and Mustard Vinaigrette

No wine service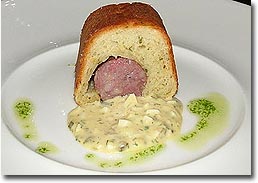 Third Course:
Garlic Sausage and Marjoram en Brioche with Sauce Gribiche
1999 Arcadian "Sleepy Hollow Vineyard" Chardonnay: Golden colored, showing hazel nut with a hint of vanilla on the nose, and some maple syrup as it opens; rich and nutty on the palate, with just enough acidity to keep it moving along. Secondary – tertiary in character, with nothing resembling any primary fruit left, but it's not oxidized; viscous, but food friendly, working well with the Garlic Sausage and Marjoram en Brioche. Probably a year or two past its prime, or at least when I would have preferred to taste it, but certainly not over the hill. Find this wine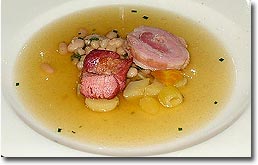 Fourth Course:
Hog Belly "Pot au Feu" and Shoulder Confit with Organic Baby Vegetables, Michigan White Beans in Rich Natural Broth
2003 Felsina Berardenga Chianti Classico: Dark garnet, fading to pink at the rim, offering sour cherry, underbrush, blackberry, leather and a hint o' licorice; opens beautifully, with a smooth, lovely texture, moderate tannins and a very nice finish. Quintessentially Tuscan, drinking very well now, with at least a few years of improvement ahead of it, and very hog belly friendly. One more reason why we've been fans of this producer for some time now. Find this wine


Fifth Course:

Slow Roasted and Smoked Hog Loin, Spatzles with Guanciale, Sweet Potato Puree with Aged Maple Syrup and Shallot Glazed Haricot Vert



2000 Remelluri Rioja: Dark garnet, fading to pink at the rim, showing dark plums, berries and cherries, along with accents of soft chocolate; thick, moderately rich and food friendly. Oak? Yes, but it takes a backseat to the fruit. Pleasantly plump, but not fat, with moderate tannins, just enough acidity and subtle cream and earthy undertones that coexist harmoniously, and yes, it works well with the hog loin. Find this wine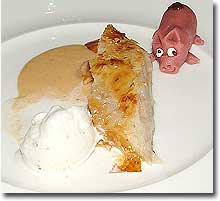 Finale:
Warm Pear Strudel with Armagnac Sauce, Cinnamon Gelato and Pink Marzipan Pig

No wine service
All-in-all, the modestly plated food was very tasty. The intense Hog Shank en Gelée was my favorite with an extra nod to the Spatzles with Guanciale (although you could barely find the guanciale).
Since receiving this book, I've prepped a 35 pound ham to make prosciutto, dry cured 4 duck breasts for duck breast prosciutto, confited a pork belly and made bacon. I'll be following up soon with a page devoted to the prosciutto.
I hope that you have as much fun with these old world curing techniques as I do.
Now get out there are cure some pork!
:-)



Other Recent Wine Explorations
Cassoulet Fest with Wines From the Languedoc
Some New World Clarets and a Single Sauvignon
Back to the Underground Index

Back to the Top



© George Heritier January 2006