or some time now, Kim has been fascinated with the rustic craft of charcuterie, various methods for the preservation of meats, involving salting, smoking and curing. She's spent some time pouring through such reference sources as Charcuterie
, by Michael Ruhlman and Brian Polcyn. She made her first slab of bacon last summer, smoking a pork belly for the better part of a day, and in fact, it turned out quite well!
During the course of these explorations, Kim also began to look into the food and wine of the Languedoc. We've been fans of this region's vinous delights for some time, but it's not like we can just go out to a local restaurant and order up a bowl of cassoulet whenever we want, a marvelous dish in which charcuterie provides essential elements. Inspired by a book about travel, food and culture of the Languedoc, Hot Sun Cool Shadow
, by Angela Murrills and Gang of Pour contributor Carolyn Tillie's 2003 eGullet California Christmas Cassoulet, Carolyn's Conversion to Clay Cookery! Kim started preparations for her own holiday cassoulet in early September by making the confit of duck legs. As she later explained, "I wanted to create a great dish to share with friends on a cold winter's night, along with wines from the Languedoc."
Cassoulet traditionally takes three days to make – the soaking of the beans on day one, cooking the beans, sautéing the meat, onions and carrots and assembling the dish to cook further on the stove top on day two. Day three involves reassembling the dish into a special casserole to be baked for approximately three hours.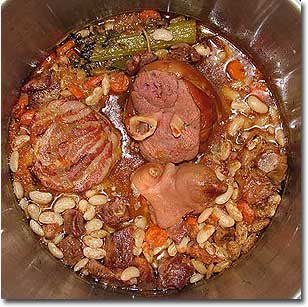 Kim said, "The pot (left) includes 2 pig's feet quartered, 1 ham hock, 1.5 lbs of pork shoulder, a one lb slab of prosciutto, 1.5 lbs of lamb, 2 lbs of cannelini beans, 2 quarts of stock, about a half bottle of day old Champagne, carrots and onions, two heads of garlic, 3 bundles of pork rind and a bouquet garni.

The following day I layered the bean mixture with the meat from 5 confit of duck leg and about 16 inches of garlic sausage into the casserole. This was baked for about 2.5 – 3 hours then topped with parsley, minced garlic and bread crumb to make the crust and baked it for about a half hour more. This was served with a warm bacon vinaigrette frisee salad."

On the designated date of December 28th, Alan Kerr arrived in mid – afternoon to lend his expertise in the final preparations.
That evening, we were joined by Margaret Marchak, Mark Schreier, Sharlou Douglas and Ken Heibenstreit for what was to be a most memorable repast. We started off with some nice white wine (from the Languedoc, of course), broiled mussels with garlic/parsley butter, a large pissaladiere (onion tart) hot out of the oven, and a few cheeses from the region.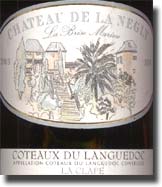 2003 Chateau de la Negly Coteaux du Languedoc La Clape La Brise Marine, 60% Bourboulenc, 20% Marsanne, 20% Roussanne, $16, 13.5% alc.: I picked up a few of these from the gang at Cloverleaf to accompany the appetizers; the first bottle shows a bright medium straw color, and offers rich melon, peach and pear flavors and aromas, with a nice note of minerality emerging on the finish. Fairly low in acidity, with just enough cut to make it work, it seems to show some creamy French oak, and complimented the mussels and onion torte nicely. The second bottle is a deeper, richer color, and seems to show less oak and more apple; I preferred the first. Find this wine

Imported by Eagle Eye Imports, LLC, Bloomfield Hills, MI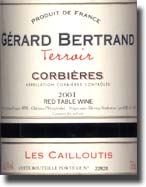 2001 Gérard Bertrand Corbières "Les Cailloutis," 40% Carignane (50+ years old), 30% Syrah, 20% Grenache, 10% Mourvedre, $15.99, 13% alc.: I was already a fan of this dark garnet, and thought it would be an excellent choice for the evening's cuisine, not to mention our guests' enjoyment. Much as I remember from last September, it features earth, mineral, smoke, dark plums and berries, black olives and a subtle kiss of sweet oak, all impeccably balanced with moderate structure and a lovely presence. Mr. Kerr added an impression of licorice, and the wine was well received by all. Find this wine
2000 Gérard Bertrand Chateau l'Hospitalet Coteaux du Languedoc La Clape, 60% Syrah, 20% Grenache, 20% Mourvedre, $23.99, 13.5% alc.: Dark garnet in color, with a somewhat sweeter, brighter personality than the Corbières, yet again, eminently balanced, with dark plums and berries, subtle earth and a nice sense of place. While this is quite nice, Alan and this taster both prefer the "Les Cailloutis," which shows more complexity. It also seems to lack some of the pizzazz of the '03 model tasted last September. Find this wine Imported by Vin Divino, LTD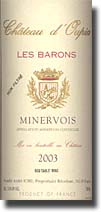 2003 Chateau d'Oupia Minervois Les Barons, $18.99, 13.5% alc.: We loved the '92 back in the mid – 90s (we went through more than a case), and until now, we were always disappointed that it dried up in Michigan. Happily, that has been rectified, as our friends at Cloverleaf market brought in a substantial stock to sate our thirst. Alan describes this deep, dark, inky garnet as "tarry," and there is that element to the wine, but even more, it gives up big, rich black plums and berries, with notes of chocolate and soft new leather adding interest and complexity. Denser in texture, and rather different in character than the Bertrand reds, it isn't too tannic to drink now, given some air, but it really needs several years to show its best. From the oldest vine blocks of the d'Oupia estate, aged for 18 months in little barrels. Find this wine Imported by LDM Wines, New York, NY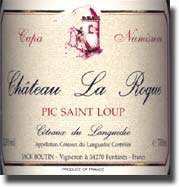 1999 Chateau La Roque Pic Saint Loup Cupa Numismae, 60% Syrah, 40% Mourvedre, $17.99, 13% alc.: It's been a while since we last enjoyed this deep dark garnet, and given the Canadian importer, I wonder if it saw any difference in treatment than Kermit Lynch's version; it does have a similar chocolate character to its prune, plum and berry personality, and Alan commented on its density and a note of sweet spice. Not corked, but somewhat musty (in a good way), this can still go awhile, so perhaps we'll luck out and Mr. Kerr will pull another one out on our next visit to London, Ont. Find this wine Imported by Vin Passion (Canada)
Other wines were opened, including a 2002 Mas des Chimeres Languedoc, a 2003 Cuvee Sainte Agnes Pic Saint Loup and a 2004 Chateau d'Oupia Minervois (regular bottling), but by that time, no notes were taken, as the party was in full swing.
As for the cassoulet itself, it was simply marvelous, and most well enjoyed by all. Kim was spot on when she remarked, "It's all about contrast, every bite is different; ...pure flavor." Certainly the best compliment of all came from Chef Kerr himself, who asked for a piggy bag to take home the next day.
Bravo, Kim!
Reporting from Day-twah,
Bastardo

Other Recent Wine Explorations
Some New World Clarets and a Single Sauvignon
Red Wings and Red Rhônes: The Boys Are Back In Town!
Three Grand Cru Champagnes and a QPR Shiraz
Back to the Underground Index

Back to the Top



© George Heritier January 2006