Three Napa Cabs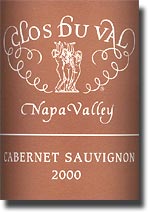 2000 Clos du Val Napa Cabernet Sauvignon, $21.99, 13.5% alc.: Inky, almost opaque purple garnet in color, with a deep, dark cassis, plum, black currant and blackberry bouquet shaded with hints of sea air and cigar box. The flavors echo with "a lot of cherry essence," according to Kim, and more and more tobacco and cigar box emerge as it opens. This saw sixteen months in French oak, but it's not an "oaky" wine; it shows classic cabernet sauvignon character, with rich dark fruit, silky tannins, good acidity and a fairly long finish. It needs a couple of years yet to show its best, but still, it's quite enjoyable already. Almost more in a Bordeaux style than Napa, and excellent QPR at this price.

2000 Franciscan Napa Cabernet Sauvignon Oakville Estate, $20.99, 13.5% alc.: Both this and the following wine came with high marks from the Wine Spectator, which only goes to show why ratings should be taken with the proverbial grain of salt. Upon tasting this, Kim immediately exclaimed, "Yuk, vanilla," and sure enough, there's a big hit of toasty oak with just a hint of dill over the cassis, black cherry and raspberry flavors and aromas. Moderately tannic, with lively acidity, it turns earthy and almost woody on the finish, and some maple syrup comes out as it opens. A cookie cutter Napa cabernet, this is all oak and mirrors, lacking the depth of the '00 Clos du Val. It was so unimpressive, I didn't even mind smoking a good Cohiba while drinking it.

1999 Markham Napa Cabernet Sauvignon, $29.99, 13.5% alc.: Kim found this to be "a little better than the Franciscan, but lacking on the mid-palate," and I quite agreed with her. It features cassis, plum and a mint-y thing going on, with a hint o' licorice on the nose. It's not nearly as oak laden as the Franciscan, with soft tannins and good acidity, but there's not a lot of charm here either, especially for the price. Just a good, slightly dull Napa cabernet, nothing more and nothing special; overpriced and under-qualified.

Three from Xanadu





2000 Xanadu Margaret River Chardonnay, $16.99, 14% alc.: After a year and a half since last tasting this medium straw chardonnay, it's still going strong, with concentrated pear, honeydew melon and tropical fruit flavors and aromas, accented with pretty notes of oak and just a hint of asparagus. The acidity is still there, as is the intensity of fruit, and the finish is still as long as one would expect, given the rest of the package and the price. I'm not a chardonnay kind of guy, but I could drink this on a regular basis. Very nice.

1999 Xanadu Margaret River Cabernet Sauvignon, $21.99, 14.5% alc.: As with the Xanadu Chardonnay, this was the first taste of this in a year and a half, and it too is still going strong. The dark garnet color has yet to rust, and it still exudes a most attractive cassis, plum, blackberry, black cherry and blueberry bouquet that carries over into the bright, luscious flavors. There are little earthy hints here, especially as it progresses through the mid-palate to the fairly long finish. Smooth and quite pleasurable, it still has some tannins to shed, but not nearly enough to keep one from opening a bottle now, and it should continue to improve for at least the next few years. As was the case the last time we tasted this, it shows true varietal character, and provides excellent QPR. Much more enjoyable than the Markham and Franciscan Cabs noted above.

2000 Xanadu Frankland River Margaret River Shiraz, $16.99, 14.5% alc.: Having had another glass of this just this past spring, I was interested in spending a little more time with it, and had the opportunity to do just that not long ago. Nothing about the color has changed, it's still a dense purple garnet, and there's still the lovely bouquet of restrained sweet oak and spicy plum, black cherry, black and blue berries that is warm and inviting. And whilst the flavors echo darkly, with that certain "candied" aspect that many so shiraz exhibit, this seems to have just a bit of a lean streak that I don't remember from that first encounter in 2002. It develops some subtle, creamy, soft chocolate nuances with extended air. There're still some tannins to shed from the medium full to full bodied frame, with good acidity and a fairly long finish, and while it's no means in decline, I'm not sure that it's still on the way up, either. I'd probably opt to drink this over the next year or two at most, whilst the fruit is still fresh and vibrant. It's not a "wow" wine, but it is quite an enjoyable one.

Xanadu Wines imported by William Grant and Sons Inc, Edison, NJ.




Three Rockin' Zinfandels



1999 Haywood Sonoma Valley Zinfandel Los Chamizal Vineyard, $20.99, 15% alc.: A pretty ruby garnet in color, this shows an even prettier nose of spicy raspberry and black raspberry, with a big kiss of sweet toasty oak (but not TOO big), and some peppery, brambly thingies lurking in the background. These follow through on the palate with a somewhat creamy mouthfeel, tannins that don't interfere in the least with the ebullient fruit, nice acidity and an equally nice follow through, turning a bit more brambly at the very end. I can't think of a good reason to age this very long, as it's drinking very well right now, and provided a very nice match for some baked chicken, of all things.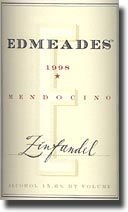 1998 Edmeades Mendocino Zinfandel, $20.99, 15.6% alc.: Dark garnet, just hinting at starting to turn rusty; brambly blackberry, black raspberry flavors and aromas with a hint of Rhone-like smoke and a little sea air. Rich and fairly luscious on the palate, with tannins mostly resolved and low to moderate acidity, and while the finish seems to fall off a bit at first, it lengthens as it opens, becoming more plush and velvety as well. A very nice effort from a producer we'd not tried before.

1999 Fife Napa Zinfandel Chiles Valley Dalraddy Vineyard, $25.99, 14.5% alc.: As with the other two Zins noted here, we've had little experience with Fife wines; the one or two times we've tasted them previously, they haven't been that impressive, so we've not pursued any others until now. This one's a deep, dark garnet, with heady aromatics of black raspberry, black cherry, road tar, sweet oak in just the right proportion and some briar and bramble lurking in the background. The flavors echo loudly, and in the mouth, the wine has excellent concentration and density. It's not too tannic, with good acidity and a nice long finish. A very nice Zinfandel, and worth every penny of the price tag.




Three from Costieres de Nimes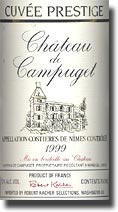 1999 Chateau de Campuget Costieres de Nimes Cuvee Prestige, $11.49, 13% alc.: Dark garnet robe, with a pretty, if somewhat stingy blackfruit bouquet accented with notes of violets and chocolate. Straightforward earthy black currant flavors are a bit tight at this point, not showing the charm of the nose. Still good tannins here, and good acidity as well; the tannins don't allow this to finish as long as it might somewhere down the road, as it shows a mostly stemmy character. Fairly dense and concentrated, so this one is all about promise at this point, which I think it has a good deal of. This does open some with air, gaining a nice leathery quality, but give this another five years to show what it really has.

2001 Chateau Grande Cassagne Costieres de Nimes "S" Les Rameaux, $11.99, 13.5% alc.: The back label of this deep dark garnet seems to indicate that this is mostly, if not entirely comprised of syrah, and the big whiff of road tar does nothing to dispel that notion. The tar subsides, but never quite entirely, allowing the otherwise less than effusive deep, dark black fruit to show itself. The flavors are much more expressive, and yet at the same time, they're still rather tight at first, with some hard black currant, dark plum, black berry and a little bitter chocolate. It does open more and more with air, showing added leather and coffee notes, and it becomes quite approachable (like night and day, really); it would be best to give it an hour in a decanter before pouring. You can see taste the promise here, and it has the structure to go the five years minimum that it needs to really exhibit charms that are only hinted at now.

2000 Chateau de Valcombe Costieres de Nimes, $13.99, 13% alc.: This deep dark garnet is a blend of Grenache and Syrah, with subtle aromatics of toast and meat, and black fruit in the background. The flavors are more exuberant, with some upfront garrigue, along with the breakfast menu noted on the nose; the tannins are present, but not intrusive, and the finish is fairly long. Perhaps not as deep as the Campuget or Grande Cassagne, it IS one to drink in the near term, while waiting for the other two to shed some of their substantial tannins.

Chateau de Campuget, Chateau Grande Cassagne and Chateau de Valcombe Imported by Robert Kacher Selections, Washington, DC