By George Heritier
Dinner at Bree's
"Holy shit, he's cooking with Rochioli!" - Anonymous
That Bree can cook. He may not be quite up to recreating my 2 specialties, Hot Dog Soup ® and the famous Rusty Pan Sauce ®, but then, not many are. Still, he's good, he's damned good. And whenever we show up at his doorstep out Left, looking for a free meal and a glass of wine, he obliges us most kindly, and he does it right.
"It always starts with the wine. There will be a particular bottle, or a vertical, or a variety that I want to open, then I start thinking about food pairings. In this case, it was a small group of my favorites, and a couple of prized bottles I had been holding – waiting for the right 'Special Occasion'. Certainly, there would be no better occasion than having the Gangsters all here together – the first time the four of us would all be in California." Bree
Such was the case in early May, when he once again pulled out all the stops on our 2nd night in Sonapanoma. He'd even sent us the menu 2 weeks before our arrival, so we could salivate in anticipation of the culinary delights that he had planned for us. And when it all came together, it didn't just NOT SUCK, it didn't suck BIGTIME!
"With some dinners, it's best to keep the dishes simple in order to let the wine take the spotlight. That's what I decided to do this time around - simple, but elegant small plates – a "tasting" menu." Bree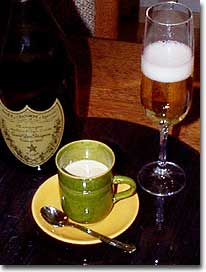 Caramelized Shallot and White Truffle Panna Cotta
"The Panna Cotta is my attempt to replicate an amuse bouche I had at the Dry Creek Kitchen. I've had sweet versions as dessert, but never a savory version. I had tried this once before using a white truffle honey, but it turned out a bit too sweet. This time I used a white truffle puree that Kim had gifted to me, and I was very pleased with the flavors. I thought the texture was just a bit gritty, but straining once or twice should restore the velvety texture of the original." Bree
1990 Dom Perignon: This Dom is a medium straw showing a yeasty bread dough, smoke and pear bouquet. These follow through on the palate, and while this particular bottle is a little light on the bead, it's big on flavor, with a long finish. The Zinfan later added impressions of herbaceousness and butterscotch candy. It was a fine match for Bree's Panna Cotta and Hoagie Carmichael on the box.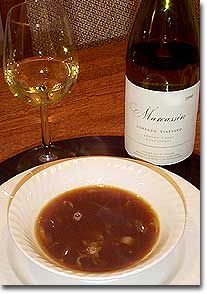 Spring Onion and Saffron Soup with Rock Shrimp
"A recipe I saw in a winery brochure a few months ago inspired the Spring Onion Soup. For a number of reasons, the dish wandered a bit from my original intent, but it turned out to be light and refreshing and allowed the wine to dance on the palate." Bree
1996 Chardonnay Marcassin Lorenzo Vineyard, 14.1% alc.: Bree calls this medium straw "the most exciting California Chardonnay I have ever tasted." Indeed, it's all about big toasty, smoky oak over pear, with undertones of pineapple, butterscotch, asparagus and other unidentified tropical fruit. Mr. Kerr would add notes of canned pineapple and caramelized pear. Very unctuous, and ultra smooth, like velvet (or is it satin or silk?), it has more than enough acidity to keep it moving right along, and causes Bree to utter, "The texture in the mouth makes me weak in the knees." When I commented that there's no ponderous buttery qualities to this, he added that it has "the best that oak has to offer without the oaky attributes that wines often undergo." This is a very special Chardonnay, one that goes marvelously well with Hot Dog… I mean Allan's Saffron Soup.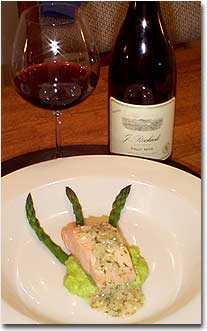 Pan Roasted Salmon with Fava Bean Puree and Tarragon Beurre Blanc
"This time of year means fava beans for me, and I've served versions of this dish for the Gang from time to time. Salmon and Pinot is a match made in heaven, and the tarragon in the sauce really highlights the herbaceous qualities of the wine." Bree
1995 Rochioli Russian River Valley Pinot Noir Reserve West Block, 13% alc.: Upon her first sip of this slightly rusty ruby dark garnet, Kim began making sounds that are usually reserved for other areas of the house besides the dining room. It's another velvet textured lovely, with flavors and aromas of well integrated oak over smoke, flint and black cherry, fully resolved tannins, nice acidity and a long lovely finish. When Kerr tasted it, he exclaimed, "Oh my God! Dense layers of plum, blueberry, strawberry, black cherry and spicy notes of cinnamon and anise!" It's silky, seductive and sublime, and just about as good as California Pinot Noir gets in my book. Bree said, "It's not a knock your socks off kind of wine, it's a slide your stockings down kind of wine."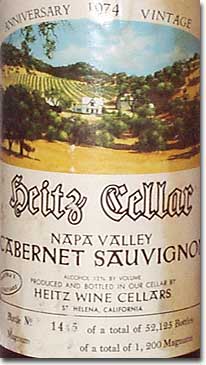 The Best Cheeses with Seasonal Fruit

"Over the last few years, and especially after a recent trip to France, I've come to prefer a simple cheese course to a sweet dessert. It's good way to finish any open bottles, and in this case, it gave me an opportunity to open a heavier red wine without needing to add a red meat course. Good cheeses really bring out the fruit in fine Cabernet Sauvignon. It was my great pleasure to prepare this dinner and open these wines for the Gang. As I said in my remarks Saturday on Spring Mountain – one could not ask for better colleagues or better friends." Bree

1974 Heitz Cellars Napa Cabernet Sauvignon Martha's Vineyard, 13% alc.: The Zinfan took over the note-taking when we reached the final wine of the evening, not only jotting down whatever we threw out, but also his own inimitable stream of consciousness spiel that goes as follows…
Bricked dark garnet… Nose: Leather, spice, prune, black licorice, rubber tire. Still more primary than secondary, Provencal herbs, sage, charcoal, lead pencil, cigar. 30 minutes later: mint, eucalyptus, caramel, chocolate, damson skin.
Palate: Lacquer, very pure, cassis, teeth coating rich stewed plum, thyme; quintessential, textbook Cab, could go 10 more years.
Finish: Long, oh so long; strawberry, milk chocolate, tannin, juniper, bacon, hangs on the mint/eucalyptus thing. Mag – f*ckin' – nificent!
Bree had this to say about that: "I think this is a wine that transcends the common notion of primary fruit evolving into secondary aromas and flavors – this wine has it all."
I couldn't have said it better myself…

B A C K T O T H E T O P
Introduction

Friday

Saturday


Sunday

Epilogue

Extra Stuff