"It's a wine that asks the question, 'Why are you bothering me,' and I don't have a good answer." Bree on the 2001 Carlisle Syrah

As has become tradition, things got started with aperitifs in the "Stooge Lounge," but I went for a red first, because that's just the kind of hairpin that I am.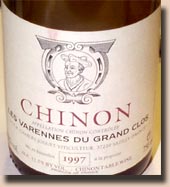 1997 Joguet Chinon Les Varennes du Grand Clos, 12.5% alc.: Seeing this slightly cloudy, somewhat rusty ruby garnet made me forget all about the various whites situated in its proximity, as I've just recently discovered this producer and have been knocked out by their wines. Larry described this as "pitch tar with acid," and I'd like to think that he meant that in the kindest way. I found a little bit of the barnyard, some forest floor and cedar over black currant and blackberry flavors and aromas. Smooth, rich and delish, this little lovely is showing its maturity very nicely.
2001 Jermann Pinot Grigio Venezia Giulia, 13% alc.: Pale, almost the color of water, this is clean and crisp, while still showing a little heft for a pinot grigio, and a slightly oily texture. Appealing lime and mineral flavors make for a nice glass of white wine, but $30 worth (the going price in the Detroit market)?! I don't think so!
2002 Peninsula Ridge Niagara Peninsula Viognier, 12.5% alc: This pale to medium straw is carried by the upfront toasty oak, with some rather weak peachy pear in support, shaded with hints of honeysuckle and smoke. Pleasant enough, but not up to previous encounters we've had with this producer's wares.
So much for the whites for this taster (with two distinct exceptions a bit later); it was time to move to the main lounge and get on with the "theme" wines, those being 10 year old zinfandels, and of course, what better way to start with those than some good ol' Mr. Ridge?
1992 Ridge Lytton Springs, 88% Zinfandel, 8% Petite Sirah, 4% Grenache, 14.9% alc.: This old friend is still a deep dark garnet, and exudes huge aromatics of Draper perfume, chocolate, and overripe black raspberries, shaded with hints of cedar. The flavors echo with some reserve, being somewhat drier than the bouquet would indicate. Very intense and concentrated, with some tannins still to lose, good acidity and a long finish; Brad B. and Blackie agreed with me that this particular bottle may have been just past its peak and on the downward slope.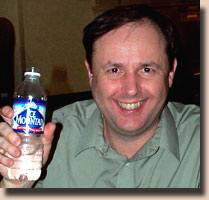 1992 Ridge Lytton Estate Zinfandel ATP, 88% Zinfandel, 7% Petite Sirah, 5% Alicante, 14.7% alc.: The aromatics of this deep, dark garnet aren't nearly as expressive as the '92 LS; Mark Horvatich (left) opined that "that's because it needs another ten years," and he may have had a point. Showing some stingy dark berries, with just a hint of Draper perfume and a bit of the barnyard on the nose, the quintessential Ridge blackberry and black raspberry flavors explode on the palate, giving everything that the bouquet isn't, at this point. Don't be in any hurry to open one of these if you have any; the wine's still on its way up.
1992 Ridge Geyserville, 65% Zinfandel, 15% Petite Sirah, 13.9% alc.: This deep, dark garnet, poured from a magnum, didn't seem as lush and overripe as the one we enjoyed in November, but still, it showed a nice claret-like character with plenty of dark berries accented by a little barnyard, a hint of Brasso ® and of course, all that Draper perfume. It actually went pretty well with some delicious raw oysters, but the following two wines were much more appropriate in that regard.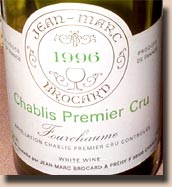 1996 Brocard Chablis Fourchaume, 13% alc.: Medium straw to pale gold in color, this only gives hints of caramel on the nose, but there are plenty of nice apple, pear, citrus and mineral flavors to pick things up. Clean, crisp and delicious.
1993 Luneau - Papin Le L d'Or Muscadet Sevre et Maine Sur Lie, 12% alc.: Still going strong, this 11 year old Muscadet is all about wet stones and river water, and matched the oysters even better than the previous selection.
1994 Cornerstone Napa Zinfandel Howell Mountain Cuvee Mysterieuses (Park Muscatine), 13% alc.: Dense color and flavors here, with a woodiness that almost suggests it's corked, but it's not. Tight black fruit flavors; a bit of a bring down after the Ridges.
1995 DeLoach Russian River Valley Zinfandel OFS, 16.5% alc.: Bree called this dark garnet Zin "oak and turpentine," and he wasn't exaggerating all that much. There's still a lot of oak showing here, some of which has taken on a mahogany – like aspect; a note of chocolate also makes itself quite apparent, along with a good dose of tannins and acidity. Interesting, but that's all.
1991 Storybook Mountain Napa Zinfandel, 13.5% alc.: This dark garnet is everything that the previous selection is not; it's finely balanced, tasting like nothing so much as a blackberry claret, with some tannins and good acidity to keep it developing for at least a few more years. Bree added an impression of "a menthol thing going on, whilst Kerr described "a leafiness, I don't know if it's mint," and "a lovely black currant thing." A very nice expression of the zinfandel experience.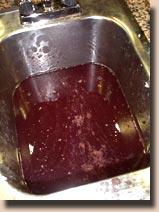 Bree brought along a '90 Coturri Zin to add to the oldsters, but one sip was all that was needed to proclaim this DOA. One taster remarked, "I had to hawker into that swill (a backed up sink, stage left) to get the taste out of my mouth."
1982 Chateau Ducru – Beaucaillou Saint – Julian: There was some disagreement as to whether or not this wine was corked; I was in the camp that thought it wasn't, although it did have a decidedly "woodiness" to go along with the black currant, cassis and tobacco character. A wine that needs to be tasted on its own terms, this was lost in the crowd. Kerr and Tania thought that it just needs some "rhubarb and vanilla ice cream…"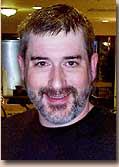 1997 Joguet Chinon Clos de la Deoterie, 12.5% alc.: I was pleased as punch to see Chris Shearer (left) pull this smoky dark garnet out of his bag of tricks: it's showing lovely berries and black cherries accented by flowers, a little smoke and "cigar leaf," according to Mr. Shearer. Smooth and delicious, with silky tannins and nice acidity; I hate to say it, but I like the two Joguet Chinons even better than the Ridges. This one may have been my Wine of the Night.
1999 Dugat – Py Gevrey Chambertin Vieilles Vignes, 13% alc.: A deep dark garnet with smoky black cherries and violets on the nose; Mr. Kerr observed that this has "a lot of dark fruit for a pinot." This is fairly hard and tannic in its youth, so try it on its 10th birthday and see how it's coming along.
2000 Verset Cornas, 12.5% alc.: The one wine that gave the Joguet Chinons a run for their money as WOTN in my book, this inky dark garnet is incredibly approachable, showing a ton of black olive character right out of the bottle ("five month cured Kalamata olive from Santa Nori" according to Kerr), along with bacon fat and garrigue. It's all black olives on the palate, and not too tannic or astringent as some young syrahs can be. A wonderful future is in store for this, and I was most surprised when Kerr expressed his dislike for it. He was in the distinct minority on that count.
1997 Chateau Gruaud – Larose Saint – Julian, 12.5% alc.: This dark garnet is all chocolate, tobacco and coffee beans, being more than approachable at this stage. Thick, rich and delicious.
1978 Ridge York Creek Cabernet Sauvignon, 95% Cabernet Sauvignon, 5% Merlot: This one didn't last long, so I had to swipe a few swigs from Kim just to jot this quick snapshot: dusty cocoa, cassis and black currant; distinctly Mr. Ridge; mature and lovely; a little chocolate in the flavors.
1996 Barnett Rattlesnake Hill Napa Cabernet Sauvignon Spring Mountain: This deep dark garnet shows a dense extracted black currant, plum and dark chocolate personality, along with some aquarium on the nose and a little coffee. Kerr mentioned some "huge eucalyptus and star anise," and Bree added an impression of "a lot of alcohol," calling this "pretty muscular." Shows a lot of promise, but still young and angry.
2001 Carlisle Syrah: Of this deep dark garnet, Bree quipped somewhat cryptically, "It's a wine that asks the question, 'Why are you bothering me,' and I don't have a good answer." It's showing huge, fat coffee, dark plum and chocolate, with notes of tobacco in the background; it's another angry young wine, but what a youngster! The youthful bite demands five years minimum.
BACK TO THE TOP