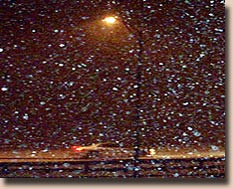 I suppose it was too good to be true.
After granting unseasonable warm weather for the last three years of the Midwestern online winos' break from cabin fever known simply as "Toledo," Mother Nature decided to remind us that February is still located smack dab in the middle of winter.
Things started off well enough on Friday the 22nd, with temperatures in the low to mid 40s, but by Saturday morning, conditions had deteriorated to a cold steady rain that gradually turned into snow in the middle of the afternoon, leaving upwards of 6-8 inches of the fluffy white stuff by Sunday.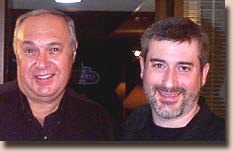 Sam Leone and Chris Shearer

Foul weather did nothing to dampen the spirit of the festivities however; indeed, longtime attendees were heard to comment that it was one of the best "Toledos" ever. Most of the usual suspects showed up again at the Courtyard Marriott on the corner of I-75 and I-80, including the Gang of Cleve (Larry and Mary Meehan, with little Michael in tow, Amy McClellen and Jeff Faunce, and Pam Gilliken, sans hubby Jeff), the Indy Contingent (Bill and Norma Paumen, Rick Dayan and Tim and Susan Thomas, Susan being a first-timer), and the Cincinnati Three (Chris aka "Chairman Moe" and Cathy Gross, along with the Ice Cream Man himself, Bob Graeter). Scott Thiede and Andy Keillor (whose wife Linda remained at home this year) were on hand once again to create their own brand of merry mischief, while Brad Ballinger was back for the second year in a row, and Mark Horvatich, Sam and Jean Leone and the Gang's own Alan Kerr returned after a year's hiatus. Add rookies Mitch Tallan, John Blackwood and Chris Shearer, and throw in Kim Adams and this taster as well, and you had the makings for an excellent two-day wine-fest.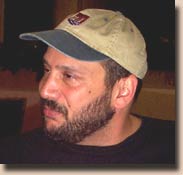 Rick Dayan

There were no "official" themes to the event, just plenty of good food, and some of the better wines ever to hit Lucas County. Friday night pizza was replaced by seared tuna and a variety of delectable grilled sausages, while Saturday night saw some serious roasted leg o' lamb, Larry's "mock" white bean cassoulet and an imperial Caesar salad. Rick Dayan did the lion's share of the food preparation, and he performed that task quite admirably. And of course, Bob Graeter provided the desserts once again, and if there's a better ice cream around than Graeter's ® Black Raspberry Chip, I'd like to know about it.
Happily, "Cousin" Larry was once again most diligent in his note taking, recording impressions of a number of wines I either never tasted, or else never bothered to write down. Larry's TNs are included in their entirety.
Sadly, there was no chanting this year, as the pool has been taken over by four mean-looking trolls (below), who when queried about their usual haunt, replied, "Bridge? What bridge?! We don' gotta show you no stinkin' bridge!!!"